'The Leftovers' Adds More To Its Cast For Season 2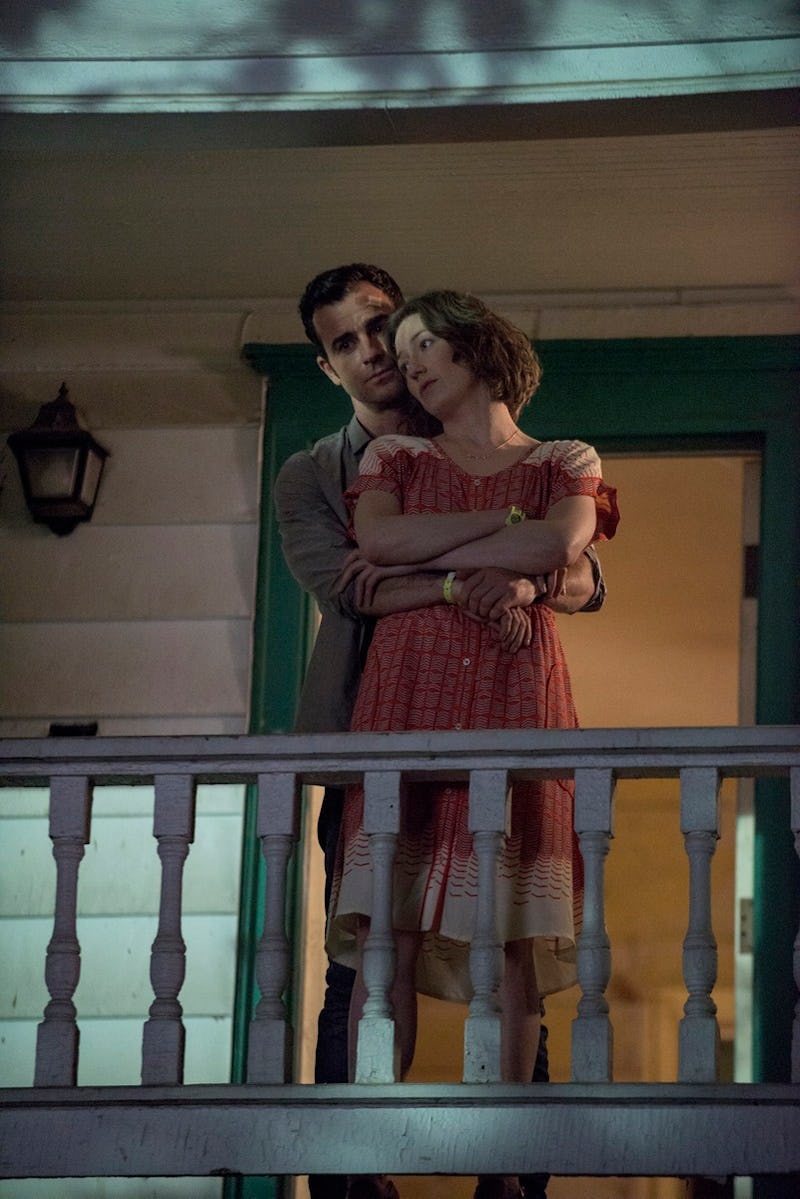 The Leftovers is returning for its second season on HBO, and, even though it seemed like the first season finale wrapped up a lot, there's still plenty for Justin Theroux and Carrie Coon's characters to get teary about. And, Season 2 of The Leftovers is adding new characters to the cast, too, so the deceased Holy Wayne or Patti (who might not be so dead after all) won't be missed. The big shock in the trailers for Season 2 is that the Garvey family + new addition Nora Durst will be traveling to a city named Jarden, nicknamed "Miracle," in Texas where there were, according to the very first teaser, literally no departures. And, a new city means that some of the Mapleton residents and their baggage will be shaken off in order to make room for new storylines, because the series has started to move even farther away from the content of Tom Perotta's book.
But, of course the show won't be replacing the whole cast. In addition to Kevin, Jill, and Nora (plus the baby and dog they picked up along the way), there's also Nora's brother, the reverend, who was one of the standouts of the first season. And the powder keg of the Guilty Remnant may have pulled off their greatest stunt, but it still hasn't been addressed how Laurie feels about her participation in the cult after her daughter was nearly killed and her son returned to town. The new cast members will easily fit in the series' remaining space, and trailers have hinted at plenty of new mysteries beyond the Departure.
1. Regina King As Erika Murphy
Fresh off of her Emmy win, King is going to be playing the matriarch of the mysterious Murphy family, who live next door to the Garveys when they move to Texas. Regina King is fantastic in everything, but her recent stretch of roles in dramas like American Crime and Southland have gotten her more attention (even though she's just as brilliant in, say, The Boondocks), so she could be looking at back-to-back Emmys.
2. Kevin Carroll As John Murphy
The first hint that the Murphys might have more to them than meets the eye, John is the model father... but HBO's behind the scenes clips have revealed that John has been to prison and is trying to put his life back together. Carroll is an actor who's been in some quirky movies before, like Being John Malkovitch and Margaret, but this could be a major breakout for him.
3. Jovan Adepo As Michael Murphy
The teen characters on The Leftovers had a tendency to be a little melodramatic in Season 1, but maybe Michael's seemingly devout Christianity will set him apart from the hookup-app obsessed Mapleton teens.
4. Jasmin Savoy Brown As Evie Murphy
Evie's disappearance is going to be a major plot point over the course of the season, especially if she becomes close with Jill. Teenagers are usually a barometer of what's going on in The Leftovers, and if she has a reason to run away or hide, it might be a sinister one.
5. Janel Moloney As Mary Jamison
While she was briefly in Season 1, Moloney was made a series regular for the second season, so it's almost like a brand new character is being added. It'll be nice to see Mary become a fleshed out character.
6. Darius McCrary As Isaac Rayney
McCrary's first major role came at a very young age, playing Eddie Winslow on Family Matters. Aside from a role on Anger Management, McCrary hasn't been acting much recently, but his role in The Leftovers might have some darkness at its core — his friendship with John Murphy could go sour.
7. Turk Pipkin As Pillar Man
The Leftovers often uses visuals to represent major themes throughout each episode. I'm not sure what "Pillar Man" is going to represent, but my guess is something about what "Miracle" really is and the truth or fiction behind its miraculousness. Casting a successful author, charity founder, and character actor in a role that looks like nothing more than a crazed homeless man proves once and for all that nothing on this show can be trusted or taken at face value. With these additions, the Season 2 cast should easily rival the success of the first.
Image: Van Redin, Screenshot (3)/HBO; Giphy