'The Widower's Accuracy Makes The Show Scarier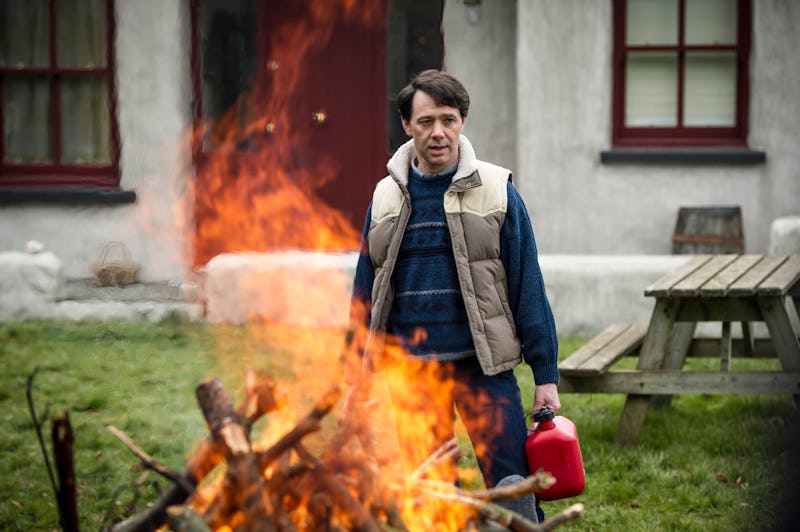 When a new TV murder mystery premieres, usually realism goes out of the window. But you'd be surprised at the shocking accuracy of The Widower , a PBS miniseries about a killer who targets his own wives. What makes this show unique among the thriller genre is that The Widower remains very faithful to the news story it's based on. The trailers give it a lurid tone because the real story of Malcolm Webster is actually terrifying. Two of Webster's former partners, fiancee Simone Banerjee and second wife Felicity Drumm, even consulted on The Widower to help bring their story to life.
As detailed in a look at the case from the BBC, Malcolm Webster's crimes began in 1994, when Webster and his new wife, Claire Morris, were in a fatal car accident that took Morris' life at only 32. According to the BBC, "he received a large insurance payout after her death," and then moved to New Zealand, where he married Drumm in 1997. It's here where a pattern emerges: according to The Daily Mail, Webster was then in another car accident with Drumm, who survived, but then Webster disappeared, moving back to Scotland. Despite still being married when Webster met Simone Banerjee, he allegedly pretended he had cancer, planning to marry her in order to steal her money, for what The Daily Record called "chemotherapy treatments" when he allegedly wasn't sick at all.
Before he could go through with his alleged plan, The New Zealand Herald reports that Drumm's sister reported Webster to the UK police in 2006, and after five years of investigation and trial, Webster was convicted of Morris' murder and the attempted murder of Drumm, as well as theft, fraud, and attempted bigamy. Webster still claims innocence and has tried to appeal his sentence, according to the BBC, and his lawyer stated on his behalf in March 2014, "He maintains he did not commit the crimes and the verdicts of the jury represent a gross miscarriage of justice."
Drumm gave an interview to Radio New Zealand about the accuracy of the series based on Webster, calling The Widower "strange to view," but also said that was probably due to the inherent limitations of adapting real life into a television show, particularly one about a highly emotional time in her life. "He used parts of the truth in almost all of his lies," Drumm claimed, so the manipulation seen in The Widower might not be just a TV invention. Also to keep in mind: Drumm claims that Webster drugged her for years, while the show speculates that Morris was also drugged repeatedly, leading her to be distracted from some of his plans. Webster denies this.
One note Drumm did have for The Widower, though — Webster wasn't as dark and brooding as he's shown in the series. She emphasized, as did The Daily Record in their coverage of the case, that Malcolm Webster had a fun, outgoing personality. It's difficult for an actor to demonstrate that a character is bright on the outside but disturbed on the inside (though Reece Shearsmith does seem to be trying for that effect). The TV version of Webster radiates more palpable evil, while in real life he was apparently incredibly good at disguising his dark side. But even with that inaccuracy, the facts of the case remain very faithful to what Morris, Drumm, and Banerjee faced and their ultimate triumph over The Widower.
Images: Steffan Hill/Courtesy of ITV (2)