How To Host An Adult Halloween Party Like A BOSS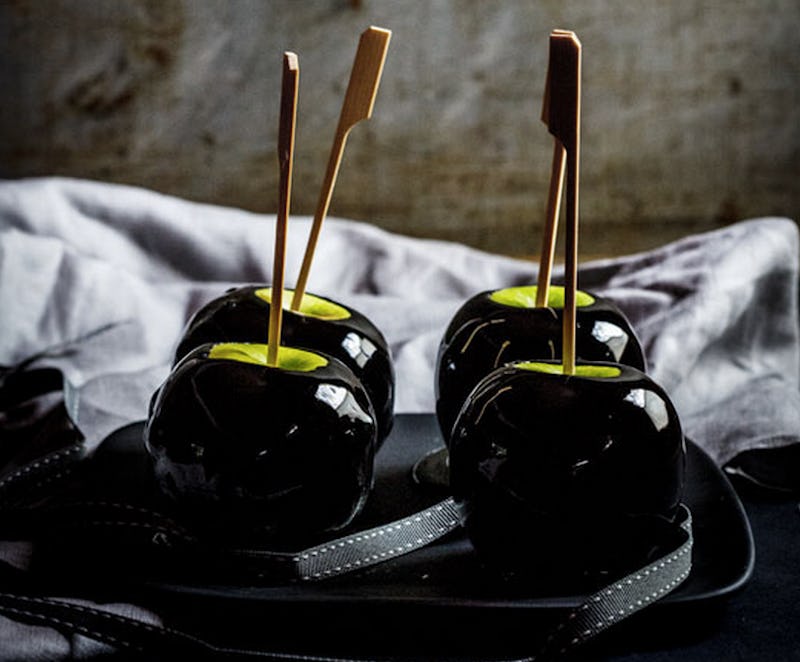 It's that time of year again. Stores are decked out with ghoulish decorations, the costume party shops are all open, and everyone knows the night of creepy crawly fun is just around the corner. As an adult, Halloween is a very different experience. Instead of going door-to-door asking for free treats, people are piling in your house as you host an adult Halloween party that hopefully isn't a complete bust.
Hosting an adult Halloween party isn't as easy as it sounds. Many of us have been to those dud parties, complete with too many organized games and not enough booze, willing the minutes to tick by faster so you can go home. No one wants to be that kind of host; I don't care if it's Halloween or a birthday party. Hosting a lame party will be a label you'll be stuck with for a long time.
Personally, I love hosting parties, so throwing a Halloween party is an annual treat for me. I am all about those epic parties that I'm always trying to top the following year, so I'm here to save your butts. This year, you are going to host an adult Halloween party like the boss you know you are. Here's the ultimate rundown of what to do for party success. It's going to be… wait for it… LEGENDARY (oh yes, I said it).
1. Invite EVERYONE
Invite everyone you know using invitations (if you want to put in the effort), or get on Facebook and start texting. If you know them, they should be on your guest list (unless they are creepier than Halloween itself or you can't stand them, but why would those people be your friends?). You have to pack the house to max capacity. Nothing's worse than limiting the invitations, and ending up with 12 people at your party standing around awkwardly.
2. Pick A Kickass Theme
As hilarious as it is, themes are necessary for adult Halloween parties. You can go with superheroes for the nerds out there, best couples throughout history (Never Been Kissed had a good idea with that prom!), togas — take your pick. You can even pick a TV show or movie as the theme if you have really indecisive friends; it'll make their costume decision for them!
3. Yes, It Has To Be A Costume Party
Before you ask, the answer is yes. It must be a costume party. There is no way to avoid it. It's Halloween for heaven's sake! What's the point of celebrating the holiday without costumes? All you have to do is get into the spirit, thus the theme advice above. If you're into the idea, everyone else (even the most stubborn of friends) will follow suit.
4. Stock Up On Booze
Stock up on the booze! Grab tons of pumpkin beer, make some big batch cocktails (in a cauldron of course!), and whip up some jello shots. Your bar has to be well stocked and ready for anything. Let's be real, most people come for the booze anyway.
If you're trying to pinch pennies, just make the party BYOB to share!
5. Do It Up With Decorations
Don't even think about skimping on decorations for a Halloween party. It's the key to getting your guests into the party mood. Throw up some spooky cobwebs, and blow up black and orange balloons. If you raid your local dollar store, you'll end up with a decked out party for less than $20, guaranteed. Don't forget to decorate every room in the house! That means the kitchen and the bathrooms.
6. Have Fun With Your Food
Skip anything that requires you sitting down with a fork and knife to eat it. You don't want this to be a dinner party! People want to mingle and move around, so the food has to be easy to eat. Give it a little ghoulish flair with homemade treats, or throw the Halloween candy bag on top of a store-bought cake. As long as it fits with the theme of the party or Halloween, that's all people will care about.
7. Go Easy On The Party Games
Let's just face reality, no one wants to shove his or her head in an icy bucket of water to pull out an apple. Now if it was a beer, I bet you'd have some takers halfway through the evening. Forcing people to play games is a big no-no at adult parties, because it kills the mood and ends up being awkward. Have some fun drinking games in your back pocket to pull out in case of an emergency, but otherwise just let the party flow.
8. Hit The Jams
No music? Huge problem. A silent room is the final nail in the coffin of a dead Halloween party. Pick a mix, and have it playing in the background. Just make sure it's not all corny Halloween music or rump-shakin' stripper music. Variation goes a long way!
Now pick your theme, and get those invites out! You've got a lot to do before Halloween rolls around.
Images: Simply Delicious; The Kitchn; The Kitchn; The Kitchn; Cookies and Cups; taymtaym, Kevin Dooley, Maryland GovPics, Rob Swystun, iClassical Com/Flickr