Why Are We Selfie-Shaming These Sorority Girls?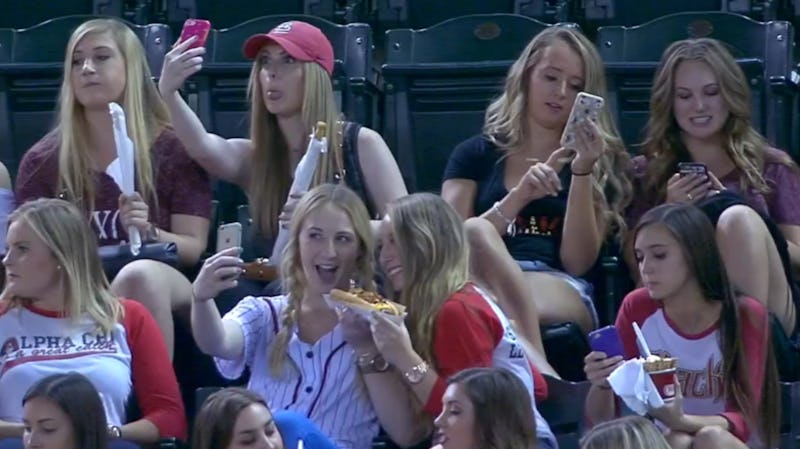 In the last couple of days, a video of two sports announcers making fun of sorority girls who were taking selfies while the Arizona Diamondbacks played the Colorado Rockies on Wednesday has gone viral. In the video, the commentators, Steve Berthiaume and Bob Brenly, spend two minutes mocking a group of young female spectators who seem absorbed in taking selfies, at one point lamenting, "Welcome to parenting in 2015!" Many viewers have lauded the announcers for skewering these women for their behavior, but this episode leaves a bad taste in my mouth. I mean, I get it: Selfies and the people who take them are easy targets, often derided as symbols of Millennial narcissism and tech-obsession. But whatever your personal opinions of selfies may be, publicly shaming these sorority sisters for taking them at a baseball game isn't funny — it's gross and unfair.
As Nicolas DiDomizio at Mic has pointed out, the fact that these women — sisters in Alpha Chi Omega at Arizona State — were targeted as somehow exceptional for taking selfies is ridiculous given the context in which the video was taken. At the very start of the clip, one of the announcers encourages fans to take "fan photos" and post them to Twitter, as part of a promotional campaign by T-Mobile. You can see the ad on the screenshot below:
It's very silly that, less than 30 seconds after announcing, "Now's the time fans, get on the Twitter," one of the announcers laments, "Every single one [of the sorority girls] is dialed in. They're all just completely transfixed." Given the fact that fans had just been instructed to take selfies, it's highly doubtful that these girls were the only spectators taking pictures with their phones. Why were they the ones singled out?
Some of the choice comments from the incident include:
"Do you have to make faces when you take selfies?"
"That's the best one of the 300 pictures of myself I've taken today."
"Oh, hold on. Gotta take a selfie with a hot dog. Selfie with a churro. Selfie ... just of a selfie."
"Can we do an intervention?"
Nice, fellas.
There's just something generally icky about two grown men publicly commenting for an extended period of time on a group of younger women who don't know they're being discussed. And we should remind ourselves that this happened at a baseball game, which lasts hours. These games have a lot of downtime (as evidenced by the fact that the people being paid to announce the game have the time to spend two minutes ragging on a group of random spectators). Of course people will not be focusing on the game for every second. Who cares what they choose to do in during the lulls in play? And for that matter: Why do we care at all about what people are doing on their own time? If they're not harming or bothering anyone, who cares?
Fortunately, the Alpha Chi Omega sisters in question took the incident in stride, tweeting a group selfie of themselves in the stands on their page and the Diamondbacks'.
When the Diamondbacks and Fox Sports reached out to the sorority with an offer of free tickets, the sisters responded in the best way possible. In a Facebook post posted last night, the sorority thanked the organizations for the offer, and used their new-found fame to bring attention to Domestic Violence Awareness Month and their favorite charity:
Alpha Chi Omega at Arizona State University would like to thank the Arizona Diamondbacks and Fox Sports for reaching out to the chapter after last night's game and subsequent media frenzy. We appreciate their generous offer of tickets to tonight's game. However, instead of chapter members attending the game, we have asked the Diamondbacks and Fox Sports to provide tickets to a future game for families at A New Leaf, a local non-profit that helps support victims of domestic violence.
Today, October 1, marks the beginning of Domestic Violence Awareness Month. If everyone who viewed this statement took the time to make a donation in recognition of domestic violence awareness, which is Alpha Chi Omega's national philanthropy, we would be so grateful! We are happy to have the opportunity to shed some positive light on such a sensitive subject.
There's a delicious irony in the fact that these young women — skewered for their supposed selfie-taking self-absorption — are using their publicity to help others. Nicely done, ladies.
You can watch the original clip below:
Images: MLB.com (2)