Be Your Favorite 'AHS' Character For Halloween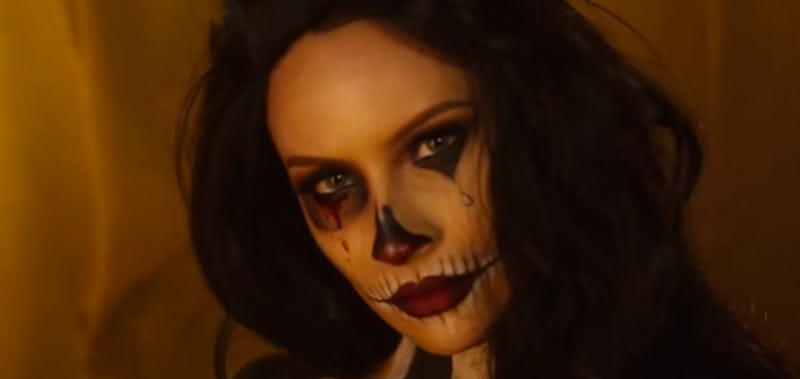 When it comes to Halloween, the best costumes are the ones that combine terrific style, on-point makeup, and a little bit of horror. If you're looking for a costume that has all of the above, these American Horror Story makeup tutorials are just the thing. Whether you're looking to channel your slightly spooky side or keep it absolutely terrifying, there's a character for you.
All four seasons of AHS (and the previews for the fifth) have unveiled bone-chilling story lines and creep characters that make for the perfect Halloween costumes. It makes it so easy to combine your love of pop culture with the true spirit of the holiday — to scare the living daylights out of your friends, of course! Whether you're looking to shock everyone by looking like you walked right out of Asylum or keeping it witchy chic with Coven, dressing up this year is such breeze.
From the traditional sexy maid with a twist to an unconventional clown, these tutorials take your stereotypical costume ideas and turn them on their heads. Why just be original when you could be totally over the top? This show is done so flawlessly that it will easily give you nightmares for weeks, and these clever costume ideas bring that eerie magic to life.
1. Tate's Skull Mask
Take it back to the first season with this iconic look that started it all.
2. Freak Show Fortune Teller
Who knew googly eyes could make for such a terrifying costume.
3. Flawless Coven Makeup
You could wear this makeup anywhere, which makes this the chicest AHS costume ever.
4. Bloody Face
If you looking to terrify your friends, this tutorial is the one for you.
5. Bearded Woman
Man buns might be going out of style, but bearded ladies are obviously always in.
6. Lady Gaga's Hotel Look
Get a jump on the newest AHS season with a Gaga-inspired costume.
7. Twisty The Clown
Why be just any old clown when you could be Twisty?
8. Moira The Maid
Whether you choose to go sexy or spooky is completely up to you.
9. The Astounding Lizard Girl
Combine your love of reptiles and AHS with this elaborate makeup.
10. Madame Marie Laveau
If voodoo is more your style, try this tutorial.
11. Freak Show Face
If committing to Twisty is a little too much for you, opt for this look instead.
12. Perfectly Pepper
This one will take you a little more time than the others, but the results are definitely worth it.
13. Dr. Arden's Experiment
Stand out from all your friends by looking like you just stepped, err, crawled, out of Asylum.
14. Two-Faced
If you can't be a Siamese twin, this is the next best thing.
15. Iconic Asylum
Everyone will be thinking of the most terrifying Asylum moments with this iconic look.
Want more beauty tips? Check out the video below, and be sure to subscribe to Bustle's YouTube page for more hacks and tricks!