Ranking The Songs On Janet Jackson's New Album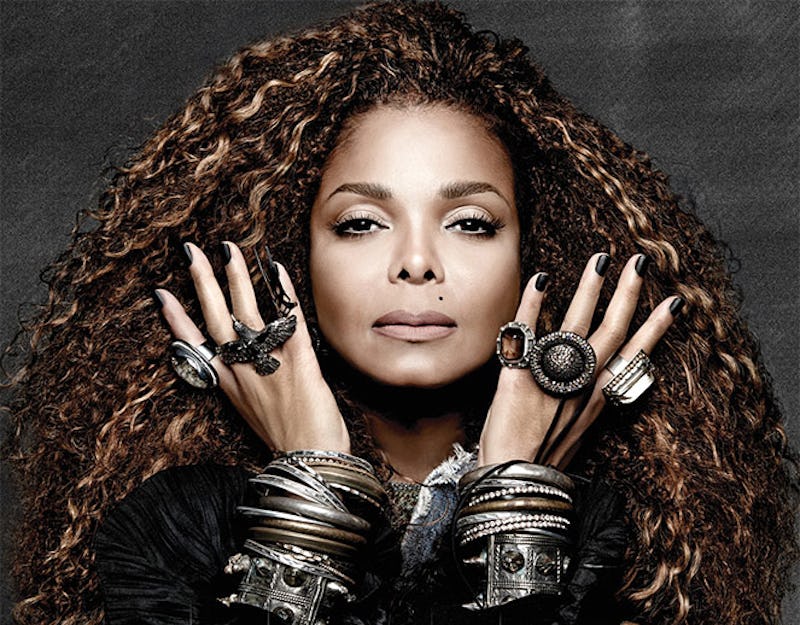 Rejoice, music lovers! On Friday, Janet Jackson dropped her new album, Unbreakable — her first full-length release in over seven years — and you need to stop whatever it is you're doing right now, put on a good pair of headphones, and check it out. Now, some people like to listen to a new album for the first time all the way through, hearing the tracks in the order the artist intended. Others (like me, for example), prefer to skip around and check out the best tunes right off the bat. If you fall into the latter camp, you may be wondering: Which Janet Jackson Unbreakable song should I listen to first? Excellent question. Fortunately, I gave the LP a listen earlier today and ranked its songs in order of awesomeness! It was a tough job, but someone had to do it.
Jackson reunited with long-time collaborators Jimmy Jam and Terry Lewis to create Unbreakable's 17 tracks, which range from modern R&B to country-pop. They're not all winners (if you ask me, the track list could've used a little editing), but if you're a big Janet fan, I think you'll find a lot to love. Here's my ranking of Unbreakable's songs, from most awesome to least awesome:
#1. "Take Me Away"
"Take Me Away's" soaring chorus is nothing short of pop perfection.
#2. "BURNITUP!" (Feat. Missy Elliott)
"BURNITUP!" is a massive club banger.
#3. "Shoulda Known Better"
A great dance track with a great message.
#4. "Unbreakable"
I love the retro flourishes in "Unbreakable's" production.
#5. "Broken Hearts Heal"
Janet's voice reminds me so much of Michael's here.
#6. "Well Traveled"
Janet Jackson goes country? Look out, Carrie Underwood!
#7. "Lessons Learned"
Definitely the best ballad on the album.
#8. "Night"
"Night" has a pulsating electronic groove that you won't be able to resist.
#9. "The Great Forever"
"The Great Forever's" bridge is delightful.
#10. "Dammn Baby"
"Dammn Baby" sounds a bit too cluttered at times, but it's still tremendously catchy.
#11. "Black Eagle"
"Black Eagle" has an almost hypnotizing quality to it.
#12. "No Sleeep" (Feat. J. Cole)
"No Sleeep" has grown on me quite a bit since it premiered, but it still feels a little uninspired.
#13. "2 B Loved"
"2 B Loved" doesn't make much of an impression. It's OK, but it's kind of just... there.
#14. "After You Fall"
Boring.
#15. "Gon' B Alright"
Listen, I'm a pop music fan, so I'm cool with cheesy... but "Gon' B Alright" is cheesy in a really dorky, really unappealing way.
#16. "Dream Maker/Euphoria"
Skip.
#17. "Promise"
Generally speaking, I think album interludes are pretty useless. Unfortunately, "Promise" didn't do anything to change my mind.
Unbreakable is available on iTunes and Spotify now. Happy listening!
Image: Black Doll, Inc.; BMG