New Details About Oregon Shooter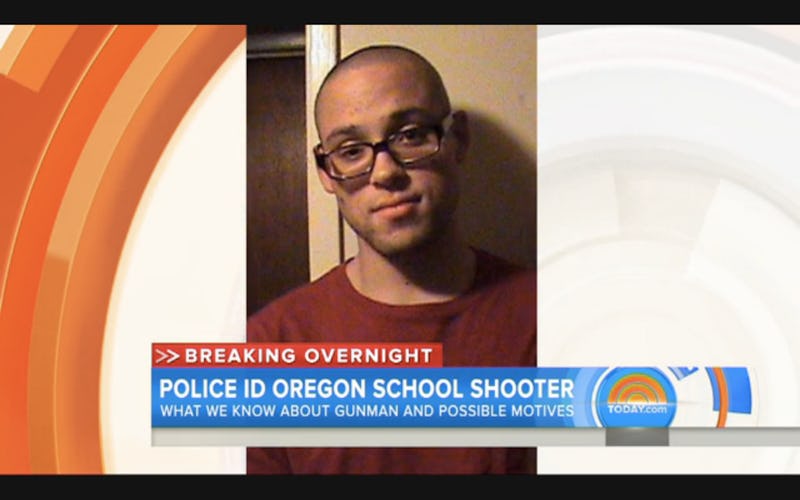 As authorities on Friday released the names of all nine victims killed in the horrific Oregon shooting, new details about suspected gunman Chris Harper Mercer have emerged. The 26-year-old, identified by law enforcement sources to The New York Times, was withdrawn and close to his mother, the newspaper reports. The chilling account of a young man, alone and depressed, is a familiar narrative that has haunted America with every mass shooting.
NBC News reports Mercer was enrolled at the college and was supposed to attend the writing class where the attack took place. Mercer also reportedly left a note at the scene, in which he wrote he "felt the world was against him" and that he would be "welcomed in Hell and embraced by the devil." The note also reportedly referenced past shootings and complained of not having a girlfriend, CNN reports.
According to NBC News, Mercer once went to a school for emotionally unstable children and enlisted in the army. He was stationed at Fort Jackson, South Carolina in November 2008 and then was discharged after just one month for "failing to meet the minimum administrative standards to serve," NBC reports. Authorities on Friday also said 13 firearms with ties to the gunman were recovered — six at the college, seven at his home — and all of the guns were purchased legally, either by himself or his family.
His father Ian Mercer spoke to Reuters Thursday evening, though the news his son may have carried out the killings visibly came as a shock.
Shocked is all I can say. I can't answer any questions right now. I don't want to answer any questions right now. Obviously it's been a devastating day.
His stepsister Carmen Nesnick said the shooting was uncharacteristic of Mercer, telling Reuters:
I'm actually still shaking and my mom's in there crying and I don't know what to do. ... All he ever did was put everyone before himself. He wanted everyone to be happy. No matter if he was sad, he would always try to cheer up everybody. ... It doesn't sound right. It doesn't sound like something he would have to go through.
Officials have held off on stating possible motives for the senseless shooting, and as the country mourns the victims, the hope is that the coming days will help shed light on what would have driven a young man to take the lives of so many.
Image: Today