Yes, The 'Mean Girls' Cast Is Celebrating Oct. 3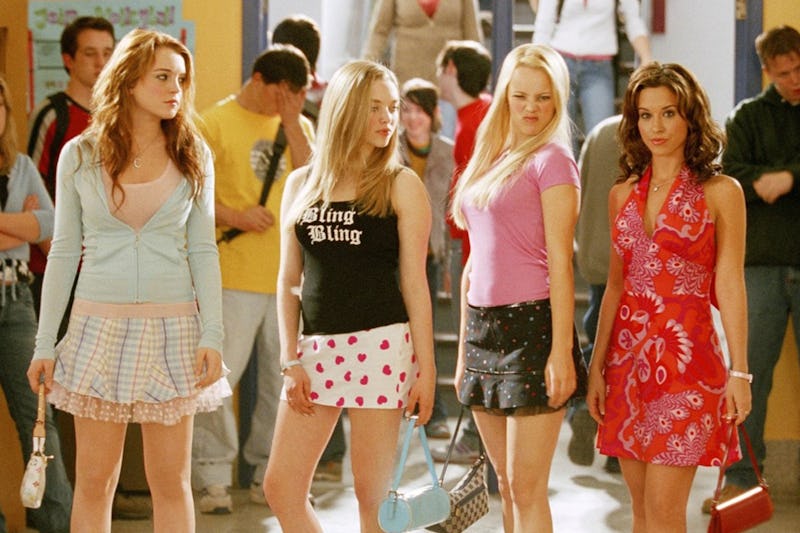 It's the day that will forever be a part of pop culture history: Oct. 3, the day Aaron Samuels asked Cady Heron what day it was in Mean Girls . Much to the delight of dedicated fans, I'm sure, it doesn't look like fans of the cult-classic movie are the only ones celebrating this day — the Mean Girls cast is celebrating National Mean Girls Day too.
Upon its release, audiences quickly realized Mean Girls wasn't "just another teen movie" by any means, and, instead, could very well be the defining teen movie of our generation. It provided viewers with quotes that are still used in every context possible — from the classroom to senior quotes in school yearbooks to the workplace. It has also become something that has not only inspired tons of teen movies after it, but continues to hold a soft spot in our hearts for its unique storyline, talented cast, and so #relatable quotes.
Mean Girls isn't just a movie. Mean Girls is us.
From hilarious quotes to memorable GIFs to smart marketing techniques, it looks like anyone and everyone is participating in the holiday that is Oct. 3. As of now, there are over 101,000 tweets about the #MeanGirls trend, making it one of the top worldwide trends of the day. No one is more crucial to this day, though, than the cast that brought the teen movie of our dreams to life — and it's amazing to see them celebrating just like the rest of us. Here's who's spoken out so far:
Lindsay Lohan
One of the most popular quotes of the day, announcing the cult-classic holiday.
Thank God that Lohan has a trusty friend who was able to remind her of the holiday.
I had that same look on my face when I realized that it was Oct. 3 as well, Cady.
Daniel Franzese
I love that the ABC Family Twitter account took it upon themselves to let Franzese post a video to their page in celebration. Can't wait to see him on his new series Recovery Road as well! (Even though he will forever be Damien in my heart.)
YES. So much yes in this picture. Nothing tugs on the heart strings more than a good ol' reunion selfie — ideally, a reunion selfie featuring Amy Poehler and Lizzy Caplan.
But, is any reunion more exciting than this one between Franzese and Lohan? I think not.
Jonathan Bennett
Aaron Samuels, the original bae. Glad that people blew up his phone, what would we have done if he forgot Oct. 3?
Rajiv Surenda
Kevin G., the one and only O.G.! He's right with this Instagram caption: No matter what we do, Mean Girls will never leave us.
What have you done to celebrate Oct. 3?
Images: Paramount Pictures (1)