You're Probably Accidentally Destroying Your Jeans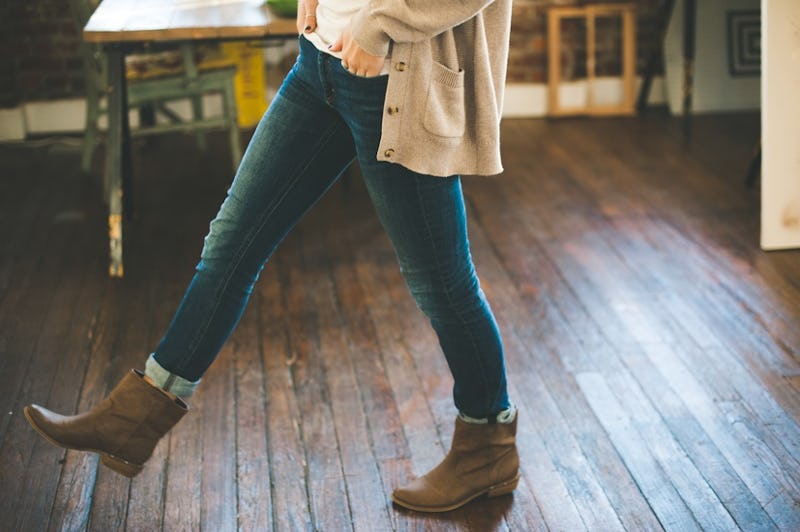 Jeans remain a beloved wardrobe basic. Who doesn't have at least five pairs in all sorts of cuts, styles, and washes? Depending on the brand, construction, color, fabric, and how you care for your jeans, a pair can last for either a few months or they can last years before they start falling apart. However, there are several things you are doing that are totally ruining your jeans in the here and now. Chances are you aren't going for the destroyed and tattered look for all your denim.
You probably had no idea that you were hastening the breakdown of your favorite jeans by washing them after every wear, right? And you might not know that the dryer is murder on denim, either. There's a lot to learn.
Enter Catherine Ryu, who can help solve denim conundrums. The South Korean-born and Toronto-raised Creative Director at Citizens of Humanity, a premium denim brand, offered alternatives to the four key ways you are wrecking your jeans.
It's easy to lengthen the life jeans by changing just a few habits.
The golden rule? "Denim care should be effortless," Ryu tells me over email. Know it. Do it.
Here are four things you are doing wrong, along with corrective tips from an expert who actually collects rare and vintage denim.
1. Don't Wash Your Jeans After Every Wear
If you want to keep your denim in shape and want to care for a pair of premium pairs so you can enjoy them for years at pennies per wear, Ryu suggests going four to five wears before washing them. "Reducing the frequency of washing your jeans will keep color in place," Ryu tells me. "Wash your jeans and then tumble dry low. Or better, hang them to dry." Think of it like a blowout — it looks better the next day.
2. Don't Dry Them
While you might be concerned with over-washing or using the wrong detergent, Ryu warns against the use of a dryer, which is a jeans ruining agent! So either tumble dry on the lowest setting or don't use the dryer at all.
3. Wash With Cold Water
Washing your jeans in hot water? Nope. Try again. "This heat ruins the yarn and the Lyrca in denim. Wash in cold water; it is more gentle on the indigo dye. Always try to line dry, instead of tumble dry," Ryu says.
4. Wash Them Inside Out
Ryu suggests washing jeans inside out to prevent further fading, as well. The more ways you can make your jeans last, the better — right?
5. Don't Ignore The Care Labels
There is a reason there are labels inside your jeans. They are meant to be adhered to. Ryu says, "Always follow the care instructions — every style and wash is slightly different and requires different methods of care."
For example, darker jeans, which tend to look dressier, might require an extra step. Ryu says,"When washing dark indigo or black, always dry clean, if you want it to keep it dark."
6. Don't Hang Them
How you store jeans can also keep them in tip-top shape. "Most jeans can be folded to store," Ryu explains. "I like to hang my flares and trouser-styled jeans to minimize wrinkles."
I am personally struggling with the fact that the process of washing and drying can be damaging to denim, since I personally hate "dirty" jeans and the germ-o-phobe in me wants to wash jeans every single time I wear them. But I am going to follow Ryu's tips and see if I get more life out of a pair.
Sollow these tips from a denim expert and prolong the life of your jeans.
Images: Pexels