Taran Killam Debuted His Donald Trump On 'SNL'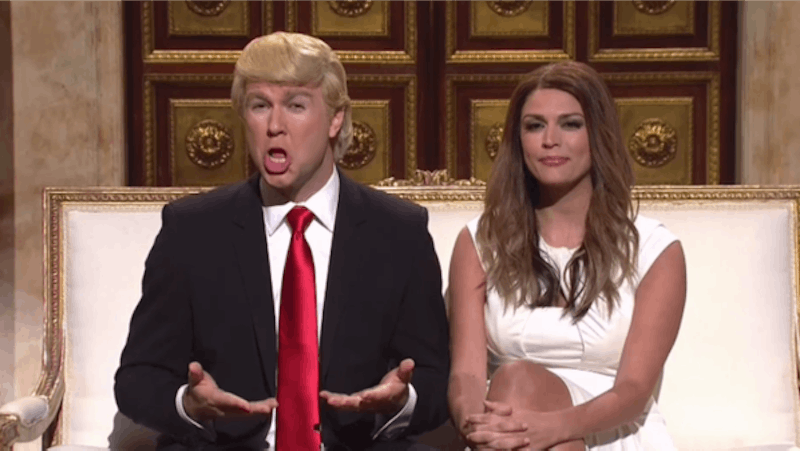 Saturday Night Live is always a big deal during a presidential election. So, for its season premiere, you better believe it was going to come out with a big presidential sketch right off the bat. You were probably who they started with, Hillary, who was rumored to be making an in-person appearance on the episode? Nope — instead, Taran Killam was Donald Trump for the SNL season premiere, debuting a new take on the Republican candidate.
And it was good! Killam really nailed all of Trump's personal mannerisms. He had the squinty face down, along with all of the right body language. And, even better, he totally captured the way Trump speaks to the press about other people, and how he could go from praising a news reporter in one breath to knocking her down in another.
It was a little weird how Trump's wife, Melania Trump, was featured so heavily in the sketch. I mean, it's always good to see Cecily Strong, so she was a welcome presence for the season-opening cold open. But Melania hasn't really been a huge presence in the campaign, so it was odd to make her such a focus of the sketch. In fact, it was even hard to judge Strong's impression, since we've barely seen the real Melania in the press so far.
In any case, Killam and Strong did a great job of bouncing jokes off of each other as faux husband and wife. And Killam had a high bar to clear in terms of Trump impressions. The previous Trump impressionist, Darrell Hammond, was a bit of a master. (He basically was a good mimic of anyone, but he had an especially good Trump.) Hammond is still a part of the show — he announces the cast's names in the beginning of each episode — so I'm sure he'll turn up on screen sometime this season. Maybe he'll dust off his old Bill Clinton. Until then, Killam is a worthy Trump successor.
Watch the full video below:
Image: NBC