5 Reasons 'Parenthood' Deserves an Emmy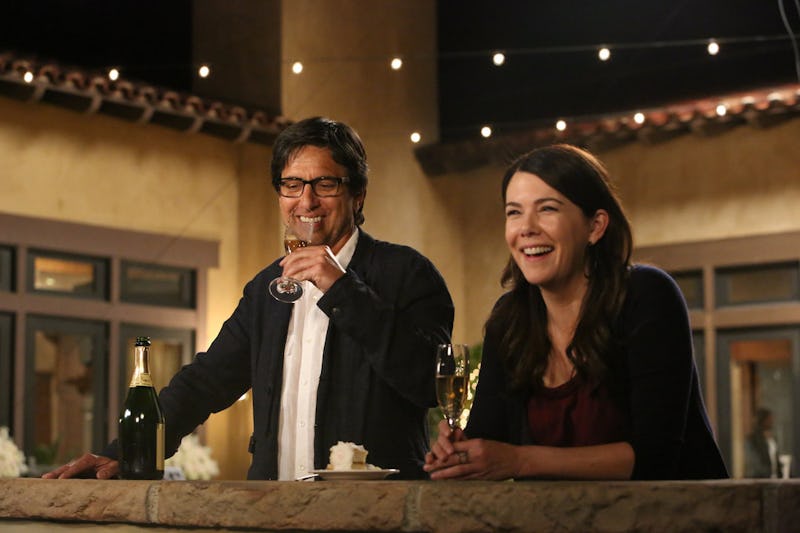 Emmy nominations are announced July 18, and while there's bound to be some surprises (Adam Scott for Parks and Rec? We can only hope), there's at least one sure thing: Parenthood, NBC's consistently underrated but fantastic ensemble show, will be ignored. The ratings-challenged family drama, which will begin its fifth season in September, has never been nominated by the Emmys, despite love from critics and a small but devoted fan base. Only Monica Potter, who plays cancer-stricken Kristina, has any possibility of being recognized this year, having recently received a hugely deserved Critics' Choice nomination for Best Supporting Actress. As for the rest of the show's cast and crew, it's unlikely they'll get any love from the Academy of Television Arts & Science come July. It's a shame — Parenthood is smart, funny, and one of the best shows on TV. Here's five reasons we think it deserves an Emmy:
1. The Cast
Parenthood features the best ensemble cast currently on TV. The incomparable Craig T. Nelson is perfectly gruff as the family patriarch, and Bonnie Bedelia is quietly wonderful as his wife. As Adam, the oldest of the Braverman clan, Peter Krause (Six Feet Under, Sports Night) is excellent. He's the heart of the show, always finding the balance between wise, seasoned older sibling and exasperated father of three. Then there Gilmore Girls' wonderful Lauren Graham as struggling single mom Sarah, whose frustratingly endless romantic dramas are only made tolerable to watch by Graham's unwavering likeability. Dax Shepard (Punk'd) and Erika Christensen (Six Degrees) are equally great as the two youngest Braverman siblings, Crosby and Julia, respectively, taking roles that could have easily fallen into caricature and giving them fully formed, three-dimensional lives.
The other actors are no less impressive. Monica Potter (Boston Legal) gives a powerhouse performance as Adam's strong, determined wife, and if the Emmys get anything right this year, it should be giving her the nomination discussed above. As Sarah's rebellious, flawed daughter, Amber, Mae Whitman (Arrested Development) deserves every accolade the Academy can offer. The rest of the Parenthood cast — Sarah Ramos, Joy Bryant, Sam Jaeger, Miles Heizer, and several others — should be noted, as well, for everyone on this show is fantastic.
2. Jason Katims is Long Overdue.
By recognizing Parenthood, the Emmys would finally be recognizing Katims, the show's creator, executive producer, and frequent writer and director. If you recall, not too long ago, Katims was being ignored by the Emmys for a completely different underrated NBC show, the beloved Friday Night Lights, which he executive produced, wrote, and directed. The show managed to earn a handful of nominations during its five-season run, but only scored wins during its final year, with Katims winning for Writing and star Kyle Chandler for Lead Actor. While those was great and richly deserved, Katims' shows shouldn't have to wait until their series finales for acknowledgement from the Emmys. It'd be great if Parenthood earned nominations any of its cast or crew, but a Best Drama nod would help give Katims some much-needed respect.
3. It's Sweet, But Not Sappy.
First and foremost, Parenthoood is a family show. It's about, of course, parenthood, and its plots center around the trials and tribulations that come with the task. The issues range from small and comical — Crosby not knowing how to make a schedule, Drew (Miles Heizer) taking too much, ahem, personal time in the shower — to large and serious (Amber doing drugs and getting into a near-fatal car wreck, Kristina battling breast cancer with fear and bravery). There are fights and scandals, reunions and confessions. In almost every episode, tears are shed by at least one of the characters, and if you're at all human, probably by you, too. Parenthood is unafraid to take on major conflict, and, through strong writing and stellar performances, manages to handle each situation without turning it into melodrama. It's not NBC's version of Modern Family; the conflicts end and characters make up, but often without the tidy bows TV shows tend to love. Parenthood is smarter than that.
4. It's the odd man out in the drama section.
Most, if not all, of this year's likely Best Drama nominees have one thing in common: violence. Breaking Bad has guns and box-cutters, Homeland has bombs and knives, Game of Thrones has, well, everything. Even Mad Men has the occasional bits of dream violence. Yet Parenthood is refreshingly peaceful. It's the rare drama nowadays that lacks any elements of fantasy, action, or even a setting that's not in the present. It's a show about regular people living regular lives. While there's nothing wrong with violence-heavy dramas, it'd be so nice to see a show succeed that's happily grounded in reality.
5. It's just that good.
Parenthood just works. It's a great show that deserves to gain wider recognition by both fans and award show committees. If you're not watching, which is likely, do yourself a favor and get started (The first three seasons are on Netflix Instant Streaming). It's worth your time. Let's hope that come July, the Emmys will agree.