The 'AHS: Hotel' Soundtrack Is Spot-On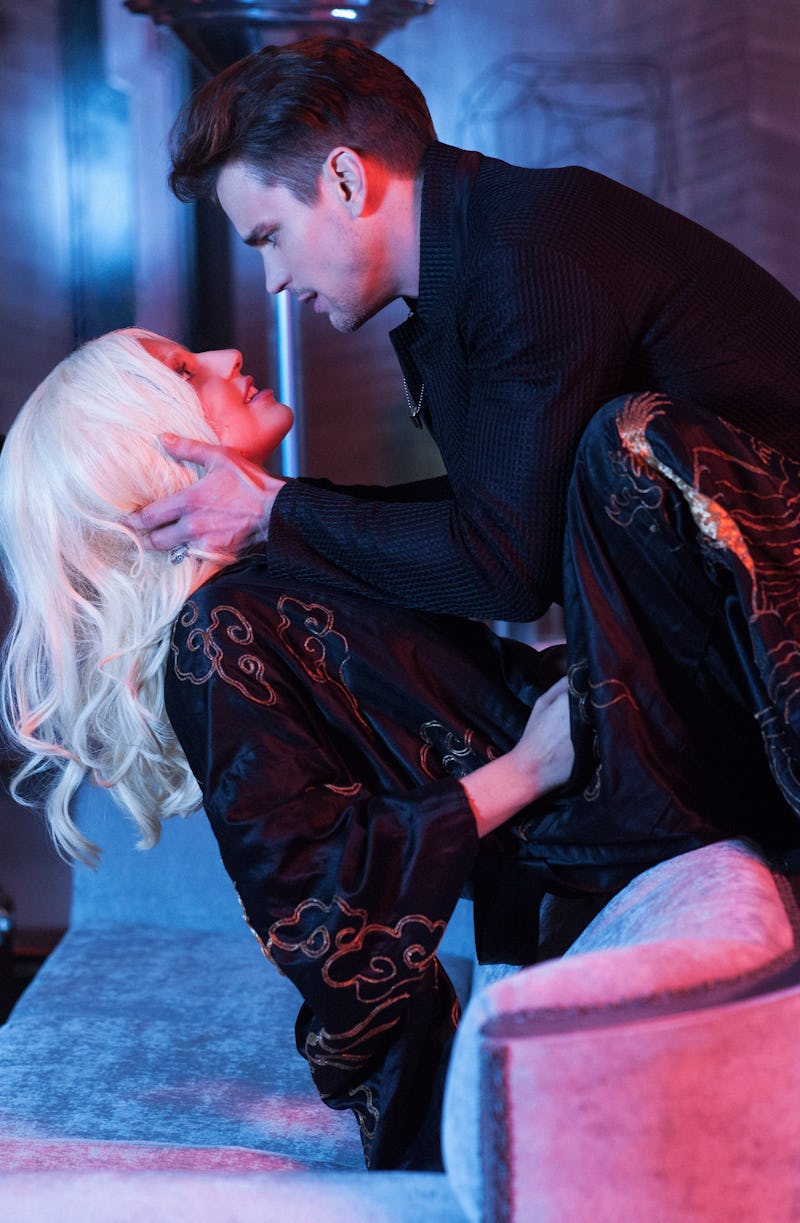 I know that during the American Horror Story: Hotel orgy scene with Lady Gaga and Matt Bomer we were supposed to be paying attention to all the hot, steamy sex followed by that gruesome murder and cascade of blood. But, I also couldn't help but pay attention to the song in the AHS: Hotel sex scene. It was a pretty upbeat ditty in contrast to the horrors on screen. It made things seem strange and other-worldly, which was the point, no doubt.
The song is called "Tear You Apart" by the band She Wants Revenge. And, as if that name wasn't enough of a hint, one look at the lyrics and you'll understand why the AHS team chose it to be the background of the pivotal moment. For example, this is the chorus:
I want to hold you closeSkin pressed against me tightLie still, and close your eyes girlSo lovely, it feels so rightI want to hold you closeSoft breath, beating heartAs I whisper in your earI want to f*cking tear you apart
Pretty fitting considering that Countess Elizabeth and Donovan do just that. But, the rest of the song works for the scene, too. The number is featured in their whole montage from getting ready, to picking up the ill-fated couple, to seducing and killing them.
"Tear You Apart" seems to be about a boy with a crush on a girl, but he's trying to fight his urges. (Not that the AHS pair did that):
Got a big plan, his mind's set, maybe it's rightAt the right place and right time, maybe tonightIn a whisper or handshake sending a signWanna make out and kiss hard, wait never mind
Bu, eventually he caves to being with her:
They took a step back, thought about it, what should they doCause theres always repercussions when you're dating in schoolBut their lips met, and reservations started to passWhether this was just an evening or a thing that would lastEither way he wanted her and this was badWanted to do things to her it was making him crazyNow a little crush turned into a likeAnd now he wants to grab her by the hair and tell her
That he wants to f*cking tear her apart, of course.
Perhaps it's a little hit-you-over-the-head on the symbolism front, but the song is pretty catchy and very fitting for the scene. Enjoy the full version below (and try not to picture Gaga and Bomer drenched in blood).
Image: Suzanne Tenner, Frank Ockenfels/FX