'Arrow' May Have Found Its Greatest Foe Yet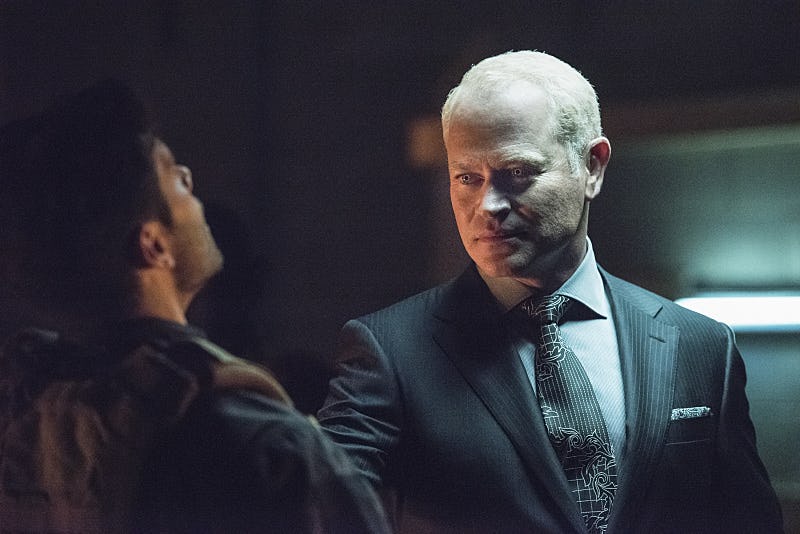 Looks like it's time for Oliver and Felicity's little runaway to end for good, and it's all thanks to the new Arrow Season 4 villain Damien Darhk. He may not seem so ruthless and evil at first glance, but he is in Starling City for one reason only: To destroy it. That definitely makes him a formidable foe. In fact, he might be the greatest villain that Team Arrow has yet to face, even more so than Slade Wilson or Ra's al Ghul.
In DC Comics, Darhk has always been described as a dangerous criminal mastermind and typically works as a foe to the Teen Titans. But that doesn't lessen his potential for destruction. Quite the contrary, Darhk is a smart villain who relies on criminal prowess, has an extremely high intelligence level, and stays in contact with connections that can easily help him take down any opponent. Darhk has even been connected to H.I.V.E. in the comics (aka The Hierarchy of International Vengeance and Elimination), which allows him another level of dread and resources to achieve his plans.
Season 4 won't be the first time we hear Darhk's name on Arrow, but it is the first time we get to see him in person. In fact, it's Ra's al Ghul who first mentions Damien, as shown in the clip below, because the two villains share a dark history.
When Oliver is infiltrating the League of Shadows in Season 3, he learns from Ra's that Damien was actually in the League and rose up the ranks as Ra's' main competitor. When Ra's was chosen as the League's next leader, tradition dictated that he kill Damien. Unfortunately for Ra's (and Oliver's team as a result), he hesitated, and Damien used that moment to find a way to escape, taking with him water from the Lazarus Pit and the loyalists he had gained within the League.
Ra's tells Oliver that Darhk has been plaguing both of them ever since, with secret dealings like trying to buy Malcolm Merlyn's earthquake generator and creating his "hive of agents devoted to his own agenda." It seems like Arrow was setting up H.I.V.E for Season 4. We later learn that Damien Darhk might actually be in Starling City and that Ra's is trying to assassinate his greatest enemy, but when Oliver and team get there, we learn that Darhk has left a lackey in his place, who dies before he can divulge any information.
So what can we glean from all of this information? It's simple, if Oliver's greatest foe so far on the series, Ra's al Ghul, is this hellbent on killing Damien Darhk, "his greatest enemy," then Damien himself must be a rather dangerous man. It's pretty obvious that Darhk has major plans for the destruction of the city, as seen in the Season 4 trailer above, and will use the "Ghosts" to achieve this rather ambitious plan.
When you combine Darhk's resources with his obvious cunning, ruthlessness to take down the city, and team of League-trained assassins, he easily tops the list of the most dangerous enemies Team Arrow has ever faced.
Image: Dean Buscher/The CW