6 Halloween Disney Movies To Watch This Month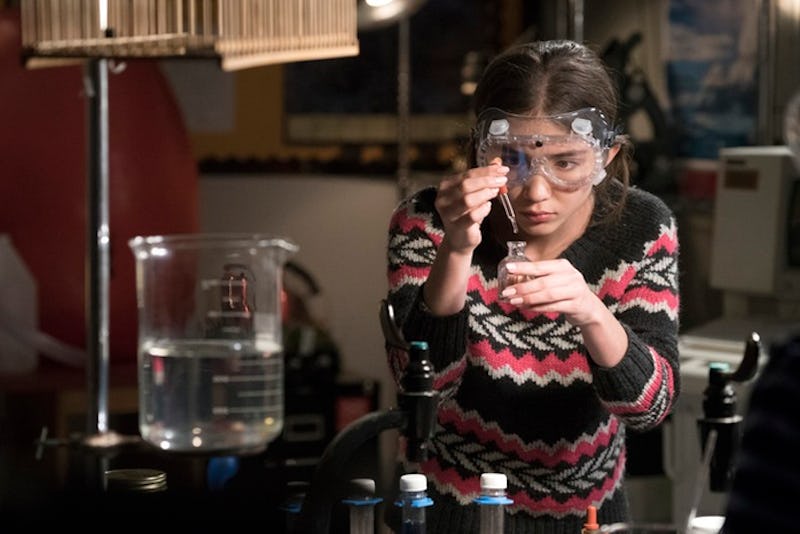 Nothing gets me in the holiday spirit quite as much as watching a Halloween Disney Channel Original Movie — with a massive bag of fun-sized candy bars in hand, of course. I firmly believe that Halloween should be celebrated throughout October, and luckily, the wise folks over at Disney Channel agree with me. This month, not only can we re-watch some of our favorite classics that never get old (Halloweentown, anyone?), but we have a brand new Disney Channel original to look forward to. Invisible Sister will premiere on Friday, Oct. 9, so mark your calendars, buy plenty of candy, and plan on a fun night in.
Invisible Sister has a fabulous premise — a brainy, introverted teen's science experiment goes terribly wrong and she accidentally causes her older sister to become invisible. And, based on Disney Channel's track record of making top-notch Halloween movies, I bet it'll become an instant classic that we'll be eager to add to our Halloween movie rotation. If you are feeling the urge to watch as many Halloween DCOMs as possible this month, here are six movies (including some sequels) to watch throughout October that will ensure you're 100 percent ready for the best day of the year when it rolls around on Oct. 31.
1. The Halloweentown Series
If there was a community filled with ghosts, goblins, vampires, and pumpkin heads (people who have jack-o-lanterns in place of heads, for those of you who aren't in the know), wouldn't you just give anything to live there? I know I would — but since I'm not as lucky as the characters in Halloweentown, I have to live vicariously through them every October.
Marnie Piper's grandmother Aggie is kind of a big deal in Halloweentown, but her mom inexplicably rejected this lifestyle in favor of living among the mortals. After Aggie comes for a visit, Marnie and her siblings follow her back to Halloweentown and help her defeat the evil spirits that are at work there.
Halloweentown was such a big hit that three more DCOMs followed: Halloweentown 2: Kalabar's Revenge, Halloweentown High, and Return to Halloweentown. If you've ever wondered what it's like to divide your time between Halloweentown and Mortal World, or to attend college among witches and warlocks, I highly recommend that you watch the entire series. It's a totally worthwhile use of your time (which is why I watch the entire series every October — with no regrets).
2. Twitches & Twitches Too
Raise your hand if you wish Tia and Tamera Mowry were still on TV every week. Although this gap in our TV viewing can't be fixed entirely, here's a Halloween gift for fans — the Mowry sisters star together in Twitches and Twitches Too, both of which you should treat yourself to watching before Halloween.
Sure, the plot device of twins separated at birth has been used before — but it's so much better when the aforementioned twins also happen to be witches who need to save Coventry, the magical world in which they were born. (It kind of makes the job of reuniting divorced parents seem super easy — no disrespect to The Parent Trap, of course.)
3. Don't Look Under The Bed
As kids, some of us were afraid that the Boogeyman was under our beds at night. Well, just imagine being Frances McCausland and learning that the entire Boogeyworld dimension is underneath your bed. Plus, the Boogeyman is framing this totally sweet girl for all of his unkind pranks. Luckily, Frances (with the help of some imaginary friends) is able to defeat him and goodness prevails. As far as DCOMs go, this is one of the scarier ones — so consider yourselves warned.
4. Mom's Got A Date With A Vampire
What should you do when you and your sibling are both grounded and you need to get your mom out of the house so you can escape to fun social gatherings? Find her a date, of course. In an unfortunate stroke of bad luck, the guy Adam and Chelsea Hansen choose for their mom happens to be a vampire. So instead of spending the evening at a concert and on a date like they planned, the siblings set out on a mission to save their mom from the vampire's trance.
5. The Scream Team
If we learned anything from Casper, it's that there are plenty of friendly ghosts out there. In The Scream Team, there are not one but three kind ghosts. OK, so they have ulterior motives — they need to atone for all the bad things they did while they were among the living. But they lend a helping hand to two children who are forced to contend with an angry spirit after their grandfather's death.
6. Girl Vs. Monster
Like many teenagers, Skylar isn't in the know about all her family's secrets. But on Halloween Eve, she conveniently learns that she's a fifth-generation monster hunter — and the monsters are prepared to thwart any of her plans to begin practicing the family tradition. When they kidnap her parents, the stakes become even higher. In order to defeat the monsters, Skylar and her best friends have to face all their fears — from singing in public to asking out a crush. So, really, aside from the monster-hunting part, this movie is totally relatable.
If you're looking for a fun Halloween movie that won't leave you terrified for days, I highly suggest watching one (or all) of these Halloween DCOMs.
Images: Cook Allender/Disney Channel; Giphy