This New Sex Toy Raises The Bar For Men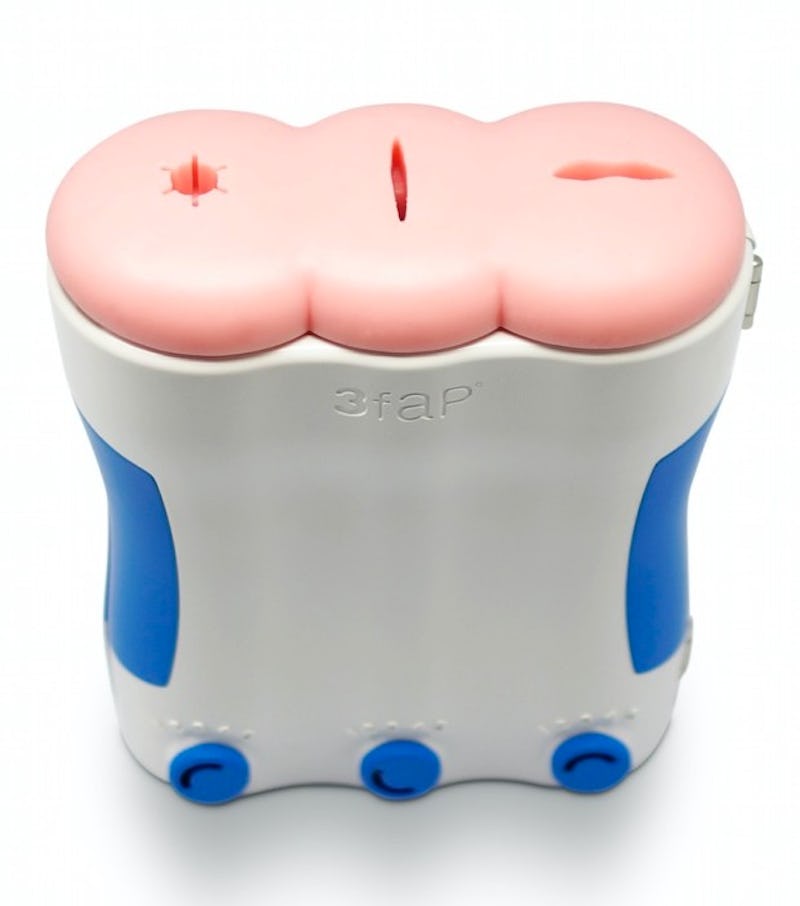 Move over sex robots, there's a new sex toy in town. Now, obviously, there's always something reductive about sex toys — a dildo reduces a man's role in sex to just his penis, a Fleshlight is basically just a vagina in a can. But this one takes it a step further. Brian Sloan of Letsgasm is using Indiegogo to raise money for a 3Fap. What's a 3Fap? It's the big three: a vagina, a mouth, and an anus. All in one. Is it genus? Is it horrifying? I don't know. But it's certainly something. If nothing else, it's the most terrifying name for a sex toy I've ever heard. I mean, they're right to say that "Cows go 'moo,' guns go 'bang,' and jerking off goes 'fap fap fap.'" But I just don't think sex toys should be so onomatopoeic. FAPFAPFAPFAP. I don't like it.
But Sloan may be on to something. As he explains: "3Fap's three openings will have you experiencing three different textures every time you fap. Put it in the butt — it's tight and smooth! Put it in the vagina — it's ribbed! Put it in the mouth —it's a zig-zag pattern!" And they all include suction. I'm not a man, but I can see the appeal. It's a little bit of everything your heart desires. And by "heart," I mean "dick."
Still not sure? Here's what you need to know about 3Fap:
1. There's A Goddamn Jingle
OK, so I wasn't 100 percent sold on the product. But I am completely won over by this jingle. IT'S A JINGLE. It's a jingle about three orifices. It's the jingle of my dreams.
2. It's Molded Off Real Women
The 3Fap is molded off of scans of the winners of the Autoblow Vaginal Beauty Contest. I have previously expressed exasperation with vaginal beauty products, but sex toys based off of real people seems to be a thing.
3. There Are Special Versions
For people donating, there are other options: the 3 Vulva model with three different vaginas, and the non-gender version that doesn't have the female parts included.
4. They've Raised $6,000 In Two Days
At the time of this writing, they've raised about $6,000 in two days. Sloan has previously raised huge amounts of money for sex toys, so I expect this to go far.
Want more of Bustle's Sex and Relationships coverage? Watch people try to figure out how to use these sex toys: