7 Signs Your Underwear Fits Wrong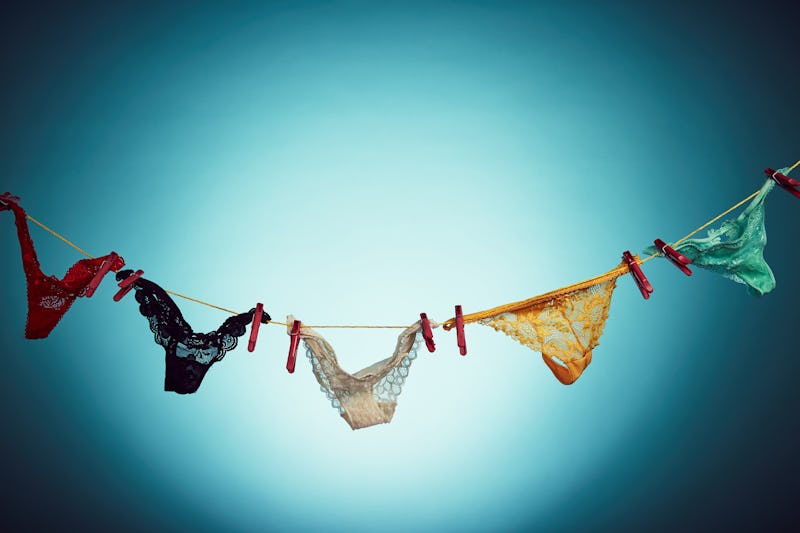 Giant stains and gaping holes are obvious signs it's time to go underwear shopping, but what about issues that are a little more subtle? If you're experiencing any of the signs your underwear fits wrong, it's time to go get a new pair! Or, you know, just join the club and go commando all the time. Muahaha.
Admittedly, underwear shopping is just straight up tricky from the start. With most stores not allowing you to try pairs on for hygiene reasons and the obvious impossibility of trying on an online purchase, it's hard to know your size and guessing is never a good idea. This is why it's incredibly important to get your measurements before you go shopping! Size charts may vary brand to brand, but knowing exactly where you'll fit on each brand's chart means you're at least infinitely more likely to get the right size and avoid wasting your time and money.
If you can already sense you'll soon be shopping for a new pair, scan the round ups Bustle writers have created to help you find the perfect one! Though I do proudly rock commando life as often as possible, you should still see the reasons granny panties are everything, types of underwear every woman should own, cute full coverage panties, and the bliss of boxers.
Seriously, if you're encountering any of the issues below, don't waste your time and go get undies that fit right and feel good!
1. They're Baggy & Annoying Around Your Vagina
Laser Cut Hipster, $8, Urban Outfitters
HerRoom explained that for a correctly-fitting pair of panties, the crotch will always fit naturally against your body and you won't have any excess fabric drooping down. If your crotch area is baggy at all, consider going down a size or reaching for a different brand.
2. They Don't Support Your Booty At All
Lace Boy Short Panty, $15, Addition Elle
If you feel like your booty cheeks are flying right out of your panties every time you twerk, consider investing in booty shorts that provide more coverage. As described by HerRoom, the "buttocks should be cupped." Lolz.
3. They're Made With Itchy Fabric
Geisha Lace Soft Mesh, $17, ASOS
Can't help but tug at your undies and try to discreetly scratch your booty? Panties that are too tight and made of 100 percent nylon could be to blame, according to Livestrong. If you have sensitive skin, look for 100 percent cotton panties since it's one of the most "breathable" fabrics available.
4. The Seams Are Painful
Cheekini Seamless, $15, Amazon
Wikihow suggests that if the seams of your underwear are cutting into your thighs but they would fit perfectly otherwise, make your next purchase a pair of super comfy seamless undies!
5. You're Getting Yeast & Bacterial Infections
Seamless Hipster Brief, $12, Amazon
Livestrong explained how thongs could be to blame if you suffer from yeast and/or bacterial infections down there. The seamless panties mentioned above are a great option for helping treat yeast infections, but I added another cute pair because I'm all about that seamless life. Full coverage and no panty lines? You really can't complain.
6. You Don't Feel Good In Them
Lace Cheekini, $21, Amazon
I know "sexy" means different things to different people, but if your definition isn't matching how you feel when you put on your underwear, it's time to swap. Every single piece of your wardrobe should make you feel strong, confident, and beautiful.
7. They Don't Make You Happy
Cunt Dracula, $10, Rebel Circus
Maybe you can't put your finger on why you hate your current underwear, but you keep wearing them out of habit. Get yourself out of this rut and go freaking get a new pair. Might I recommend period panties? #Obsession
Image Credit: Fotolia; Courtesy of Brands