How The Ideal Penis Has Changed Over Time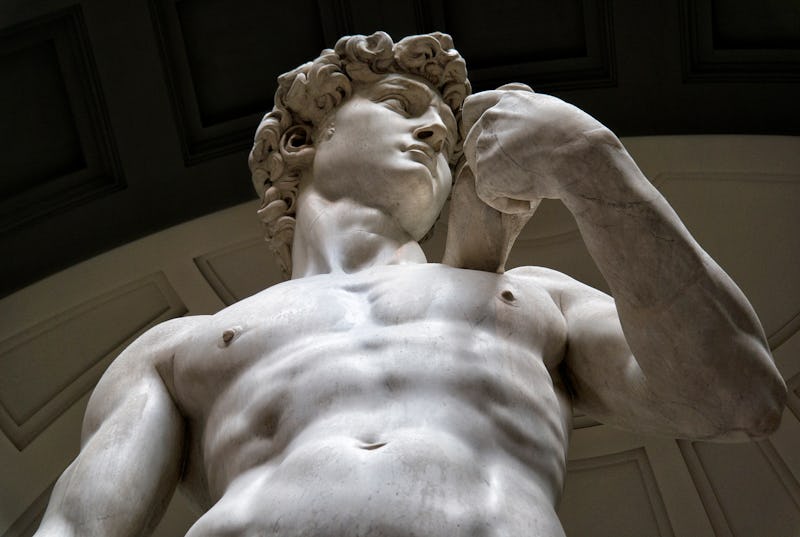 These days, the idea of just what the "ideal" penis is always the subject of a storm of opinions. Is it all about size? What about girth? Is circumcision a necessity, or can male members be just as desirable without it? The answers can differ radically between cultures and continents (Americans, for example, often view circumcision as mostly obligatory, while elsewhere it's less of a problem). It may comfort anybody who feels left out of current trends — which are, after all, mostly driven by the unrealistic standards of pornography — that this conversation has been going on for a very long time, and that there have been some very different answers throughout humanity's history.
It's often quite tricky to find out a culture's specific feelings towards anatomy; few actually write down their guides to a perfect penis for the time, helpful though that would be. We have to go on nude statuary, erotic images, sexual manuals, and other less direct sources to develop our picture of the ideal appendage in each culture. And sometimes, as we'll discover, that's more complex than it seems. Like today, people are drawn naked for a huge variety of reasons — and it ain't always to look at their penis with shock and awe.
So here's a guide to the ideal penis throughout some of history's most powerful and famous societies. The differences may surprise you, or be comforting, but either way, this is hella NSFW, so be warned.
Ancient Egypt: Definitely Circumcised
It's actually quite tricky to figure out what ancient Egyptians thought was an ideal male sexual appendage, because their use of male nudity in art actually wasn't really positive a lot of the time. They'd depict enemies or people they'd defeated in battle in the nude, to show how much they'd dominated them — so it's probable that those guys likely weren't the most ideal naked bodies on the scene. Naked women turn up in a lot of Egyptian art — entertainers in court, for instance, often didn't wear very much — but it's tricky to find Egyptian dudes in a state of undress.
However, one of our best sources for the ideal male appendage in ancient Egypt comes from an actual piece of pornography from the time: the Turin Erotic Papyrus, which dates back three thousand years. But it's not as simple as it seems. While the ladies in the Papyrus are depicted much as they are in formal paintings, the men aren't: they're squat, much shorter, and with absolutely gigantic, tapering penises. The problem is, we don't know exactly what the Papyrus was doing. Was it making fun of somebody specific? Portraying a puny human having sex with a goddess, or customers in a brothel? Whatever the case, it certainly looks like the men aren't exactly the ideal of male beauty — so their enormous, weirdly snake-like penises likely aren't, either.
It's pretty clear that circumcision was the ideal, though. Herodotus, the ancient Greek historian, may have got a lot of things wrong, but most historians agree now that he was probably right when he reported that the Egyptians circumcised their boys "for the sake of cleanliness". Beyond that, though, we're not entirely sure what they really liked under their robes.
Ancient Greece & Rome: Small & Uncircumcised
To understand where the Greeks were coming from on penis size, you have to know what they thought about male lust and civilization. If you've ever been to an exhibition of Greek statuary, you'll have noticed that their appendages aren't exactly big and bold. In fact, they're delicate, small, and uncircumcised. Why? Because that indicates that the man is a civilized one; large penises were known to be objects of lust, and a small one was a sign that the person being depicted was above being driven by such fleshy pleasures.
Uncircumcised penises were definitely the order of the day: as Frederick Hodges notes for the History Of Medicine , the prepuce, or foreskin, was seen as an object of high beauty for the Greeks and Romans. The ideal one was meant to be three-quarters of the length of the penis, and it was often the most prominent part in nude statues of athletes and gods.
Big penises did show up — but not necessarily in flattering lights. One of the most famous figures of Greek mythology for people interested in this sort of thing is Priapus, a fertility god with a whopping member almost the size of himself. Pictures and statues of him appeared in fields to encourage fertile crops, but he was a figure of fun rather than a sophisticated lover: a lot of the myths about him that have survived are about him looking ridiculous. He was also apparently meant to be impotent. Big cocks, for the Greeks and Romans, spelt ridicule — not abject admiration.
Ancient India: One Size Does Not Fit All
A seriously fascinating source for the ideal penis in ancient India is the famous Sanskrit Hindu manual the Kama Sutra — which is, by the way, a lot more complex than just an array of sexual positions. It reflects a much broader concept of what ideal male members should be, and focuses on compatibility rather than a one-size-fits-all "good penis". (A lesson it seems we're still learning.)
The Kama Sutra identifies three different sizes of genital for both sexes. The male ones are the hare (small), the bull (medium), and the horse (large). The size guide is used to identify the right sexual partners for these sizes — a hare male should go for a deer woman, while bulls should be paired with mares and horses with elephants. (No idea why women's genital largeness seems so whopping compared with men's.) There's no mention of which one is "preferable" — it's a matching system based on making sure everybody gets the most pleasure possible. Pretty damn awesome.
Edo-Period Japan: Huge, Uncircumcised & Veiny
Like the Egyptians, one of the prime sources for finding out what the ideal penis was in Edo-era Japan is pornography — more specifically, the genre of erotic art known as shunga. Unlike with the Egyptians, though, there's lots of it.
The big characteristic of shunga art is that the genitals are whoppingly exaggerated, on both men and women. Scholars think this is probably to maximize impact and make it easier for people to see the action — but it also gives us a pretty clear picture of the ideal, sexy male member of the time. They're uncircumcised, with prominent heads (often a royal, triumphant purple), and veins — and, interestingly, the pictures celebrate pubic hair. It's tricky to figure out whether size actually mattered when things are scaled up so much, but girth was clearly appreciated.
Henry VIII's England: All About That Bulge
In pre-Elizabethan England, the much-married Henry VIII understandably stood for a lot of hyper-masculine values, and he declared as much in the way he dressed and moved. The court fashion of the time involved huge padded shoulders to look big and dominant, but it also padded something else. We have entered the age of the codpiece.
It's pretty clear that for Henry and his court, size seriously mattered. Why else would they have made expensive constructions for their crotches, heavily padded, that basically approximated a full erection, and worn them as normal everyday clothing? The codpieces of Henry VIII's time were so outrageous that when the BBC made a film of Wolf Hall, a famous book on his life, in 2015, they had to scale them down so audiences wouldn't think they were watching some sort of bodiced porn film. Codpieces had been around in fashion for a while — hilariously, the French called them baguettes, and they may have been invented to protect things in battles — but Henry and his six wives took the concept to whole new heights. So to speak.
When Elizabeth got the throne, however, it became a lot less appropriate to wander around court flaunting your erection to a queen who'd made her entire image being a virgin. But, privately, it looks like size still mattered. In As You Like It , Shakespeare makes jokes about Hercules' codpiece being "as massive as his club". Cock jokes: they're as old as the hills.
Images: Marco Crupi/Flickr, Wikimedia Commons, Polykleitos/Metropolitan Museum Of Art, Suzuki Hanurobu/Wikimedia Commons, Hans Holbein School/Wikimedia Commons