Makeup Bags To Help You Stay Organized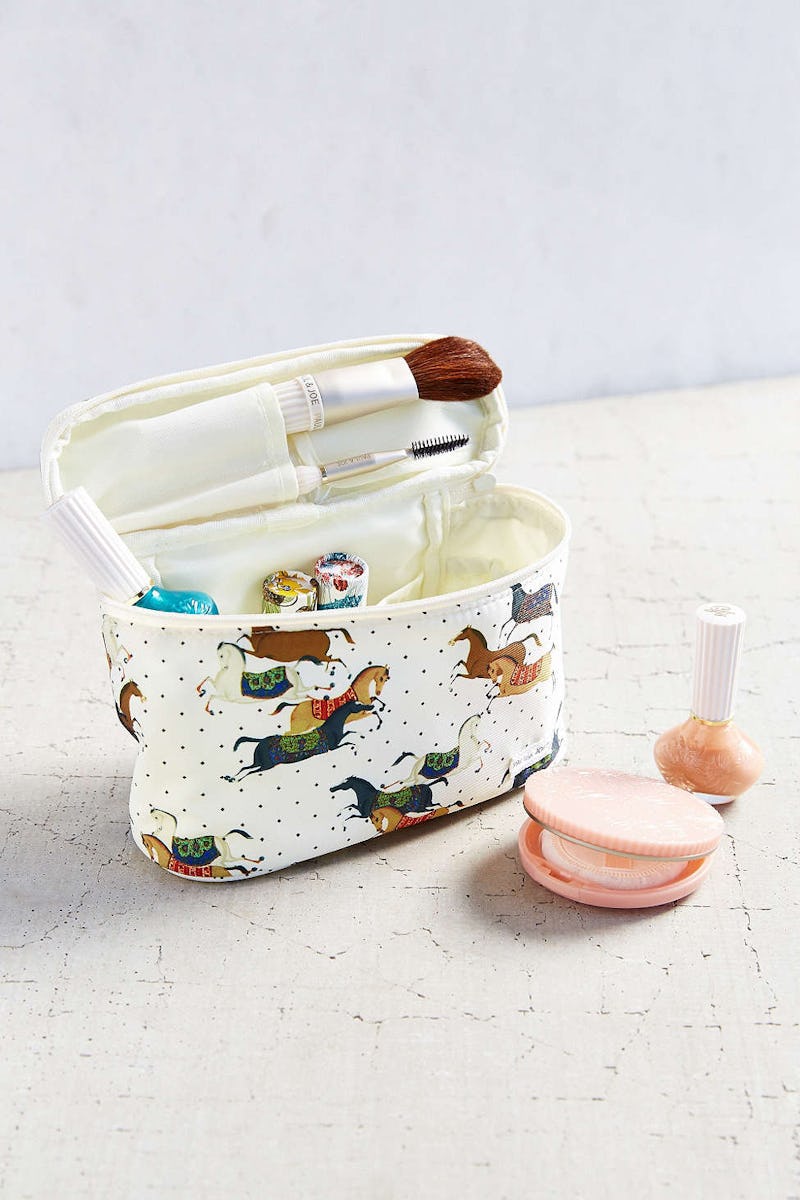 Makeup is glorious, and I love it all. I can't turn down a good beauty deal or new product, but that leaves me with a massive collection sitting on my bathroom counters. The one downside of having an ever-growing makeup collection? Well, you need some amazing makeup bags to store all those beauty products. If you're like me, and your vanity full of products has now flown over onto your bookshelves and into most of your drawers, you are probably in need of a Makeup Freaks Anonymous Meeting and some better storage options.
Cue: The Makeup Bag. The ultimate way to keep your beauty regime organized — and travel friendly. You probably have one laying around somewhere, but what are the odds it isn't torn and caked with the makeup of last year? Probably pretty slim — at least if you are as unorganized (and beauty savvy) as myself, anyway. The best way to turn over a new leaf, for the sake of your mental health and beauty needs, is to invest in a new makeup bag, and preferably one that keeps you calm, cool, and organized as hell. We're talking pockets, sturdy material, and brush holders for days. Here are 11 amazing makeup bags for even the most unorganized beauty lover.
Tartan + Twine Brinton Alley Beauty Organizer , $17, Shop Your Way
Pretty in plaid with enough pockets to fit your extensive mascara collection. And lip liner collection. And your general makeup hoarding tendencies.
Delfonics Quittrie Tresor Pouch, $18, Need Supply
Are you one of those people who casually throws a tube of lipstick into your bag, only to re-discover it again months later, half melted and the cap missing? Time to make the executive decision to stop doing that. The quick trick to keep your lipstick intact? A cute little bag specifically made to keep it out of harm's way.
Sephora Collection "Artful Traveler", $26, S ephora
It's all fun and games until you accidentally use a lipliner brush on your eyebrows. Keep your brushes in order with this travel bundle! It's light, fits even the most elaborate brush collection, and comes with an added pocket to stash whatever else you might need.
ASOS Scuba Makeup Bag, $15, A sos
Made of scuba material, this little bag will keep your prized possessions (read: highlighter) safe no matter what.
Forever21 Blush Floral Makeup Bag, $10, Forever21
This pretty, petite cosmetic bag is perfect for keeping a minimalist makeup collection under control, in a super cute way.
Sephora Collection "The Weekender," $38, S ephora
Going out of town for the weekend sounds great — until you think about packing up all of those beauty products of yours. This weekend beauty bag can hold everything from your hairspray to your tweezers, while keeping everything organized. Plus, who doesn't love a hanging makeup bag? It makes hotel living that much easier.
Sephora Collection Breakups to Makeup Holiday Bag, $26, S ephora
Touch-ups are a breeze with this handy bag. Toss in all the products you might need for the day, and find them all in one place! Easy breezy.
Steph&Co. 'Marissa - Leopard' Nylon Cosmetics Case, $35, N ordstrom
Don't let the leopard print confuse you: This bag is all business. The handles make it easy to transport and two massive pockets leave room for all your beauty needs.
PAUL & JOE Menagerie Cosmetic Pouch, $40, Urban Outfitters
This pouch is the perfect place to store a few key products, so you always know exactly where they are! Plus who doesn't love an adorable pattern?
Cathy's Concepts Personalized Cosmetics Case, $49, N ordstrom
This monogrammed case is basically big enough to fit a laptop. Except it's for all your bronzer and other goodies.
LeSportsac The Frill of Adventure Travel Case, $17, M odcloth
A travel-themed print on a literal travel bag? My heart can barely handle it. It's basically begging you to take your makeup on a little adventure with you.
Now regain control of your small beauty empire with a new organize-friendly beauty bag!
Images: Courtesy Brands (11)