Make 7 Different Costumes With This One Item...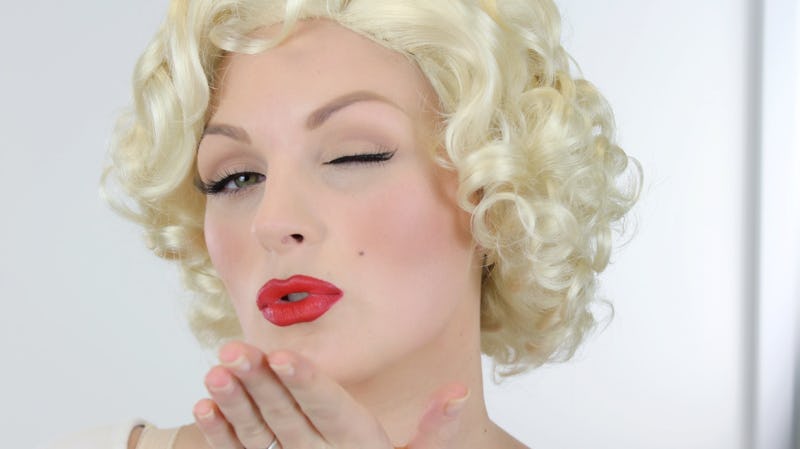 Halloween costumes can get really expensive, but just because your budget is tight doesn't mean you have to skip out on the fun. I've rounded up seven Halloween costumes with this one item: red lipstick. From creative to cute to scary, you'd be amazed at what red lipstick can do to create a costume!
Beyond budget needs, a one item costume is also great for procrastinators like me. While some of my friends literally plan what they're wearing for Halloween months in advance, I think they're crazy and tend to fall into the wait until the last last minute category. This meant that one year I went as a recycling bag (yes, it's literally as thrilling as it sounds), followed by another one where I wore all green and a popcorn necklace and called myself a Christmas tree.
For the record, the ideas below with red lipstick are WAY better.
If you don't already own red lipstick, or just don't want to use up a whole tube of your favorite shade in one night, no worries. I suggest using this MAC one below because of how bright, matte, and non-smudgy it is. Bonus points for the fact that it also comes right off with DIY makeup remover so you don't totally wreck your pores!
MAC In Ruby Woo
Bold, fierce, and vibrant.
Now here's what you can do with it!
1. Lipstick Vampire
Follow the whole tutorial if you want to create the entire look but, otherwise, just focus on the lips and adding layers of lipstick to create a more "blood like" texture dribbling down your chin. Yummy.
2. Cat In The Hat (Or Where's Waldo) Lips
Creating a fun striped lip is simple! You could go totally minimal and create stripes over your bare lips with just the red, but it will look a little better to start with a white base either using your lightest concealer or a white cream eyeshadow.
3. Werewolf Victim/Creepy Red Riding Hood
Adding bloody cuts to your cheeks is simple to do and looks totally eeeeek. Add a little lotion on top to make the red lipstick really glisten.
4. Taylor Swift
Given how much T-Swift loves red lipstick, I'm convinced you could just rock cute red lips, tell people your dressed up as Taylor Swift, and totally get away with it. You'll never go out of style...
5. Betty Boop
Little doll lips are easy to create and instantly transform you into Betty Boop. Add a red dress if you've got one!
6. Bloody Hands
You could also just do no costume at all and then cover your hands in lines of red lipstick to totally freak people out at the right moment. Minimalism at its finest.
7. Marilyn Monroe
Monroe's makeup is similar to T-Swift, but a little more vintage glam and vampy. Make sure to add the lipstick just a touch outside your natural lip line to get that added pout glamour. And if you have time, curl and pin your hair!
Want more Halloween fun? Check out the video below and subscribe to Bustle's YouTube channel!
Image Credit: MAC Cosmetics