Ben Schwartz & James Badge Dale On 'The Walk'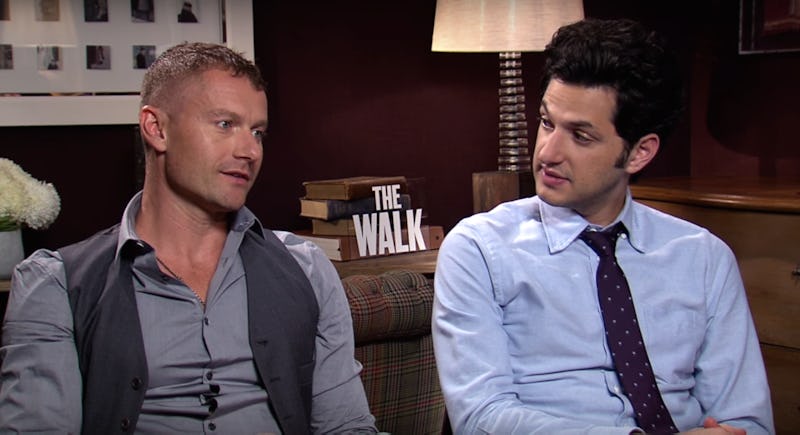 In Sony Pictures' new Robert Zemeckis-directed biographical drama The Walk , Joseph Gordon-Levitt stars as the legendary high-wire walker Philippe Petit — who is, as I'm sure you know, best known for his 1974 stunt that involved him attaching a steel wire between the Twin Towers of the World Trade Center... and then walking across it. About 1350 feet in the air. And then living to tell the tale. (No, I'm not joking.) The film, which follows Petit as he pulls off his historic stunt (what he calls "le coup") delves deep into how exactly he pulled it off — as well as just who he received much-needed help from. Along with his girlfriend Annie (portrayed brilliantly by French-Canadian actress Charlotte Le Bon), Petit recruits a group of French and American accomplices to help him pull off his coup — two of whom were portrayed by actors Ben Schwartz (of Parks and Recreation fame) and James Badge Dale. Of course, working on a film as high intensity as this one is no easy feat — but, as Schwartz and Dale themselves divulged to Bustle, working on a film that covers such a historic moment in popular culture was an unparalleled experience.
Of their involvement in the film, Schwartz and Dale had nothing but kind words for not only the content, but also the real-life Petit — who closely worked with producers during production to ensure that the film was as true to his own experiences as can be. "Philippe was on set, he was hanging out on set... he's such an amazing guy," Dale tells Bustle of Petit. Working with him, they say, was an inspirational experience, because Petit is "always creating" new art and working on different projects.
The Walk hits theaters nationwide on Oct. 9. Check out Schwartz and Dale talking more about their experiences working on the film below:
Image: Tanya Ghahremani/YouTube