Kickass GIFs From 'Pride And Prejudice And Zombies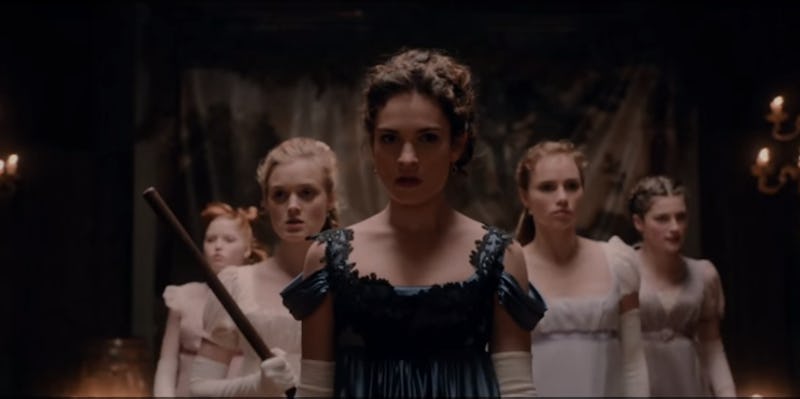 Sometimes the best things in life derive from unexpected combinations, like, say from Jane Aussten novels and zombies. The first trailer for Pride and Prejudice and Zombies was released and boy, does it look weird and in the best way possible. The Pride and Prejudice and Zombies trailer is packed with amazing moments, so many epic moments that it wouldn't do it justice not to list them.
I know, I know. How could zombies and Jane Austen go together in a cohesive way? In case you're wondering what in the world Elizabeth Bennet is going to be doing in a world full of zombies, the official synopsis for the film is as follows:
PRIDE AND PREJUDICE AND ZOMBIES is a fresh twist on Jane Austen's widely celebrated novel. A mysterious plague has fallen upon 19th century England, the land is overrun with the undead and feisty heroine Elizabeth Bennet is a master of martial arts and weaponry. Casting aside personal and social prejudices, Elizabeth and Mr. Darcy must unite on the blood-soaked battlefield to rid the country of the zombie menace and discover their true love for one another..
Though that might have left you with more questions than answers, I am willing to be it got you stoked for the film. Know how to get even more stoked? Check out the trailer for Pride and Prejudice and Zombies below and join me as in basking in all of the wonderfully weird moments from the trailer.
When It Starts Out All Peaceful
And Lizzie Bennet Is Just Doing Her Thing
Then There's That Colin Firth-ish Moment
Then, OMG, There Are Like Zombies Everywhere
So Lizzie & Her Sisters Get Super Badass
And Then Even More Badass
And Then So Badass You Can't Even Handle It
Is It Time To See This Movie Yet?
Images: Lionsgate UK (9)