You Can Dress Like Taylor In "Wildest Dreams"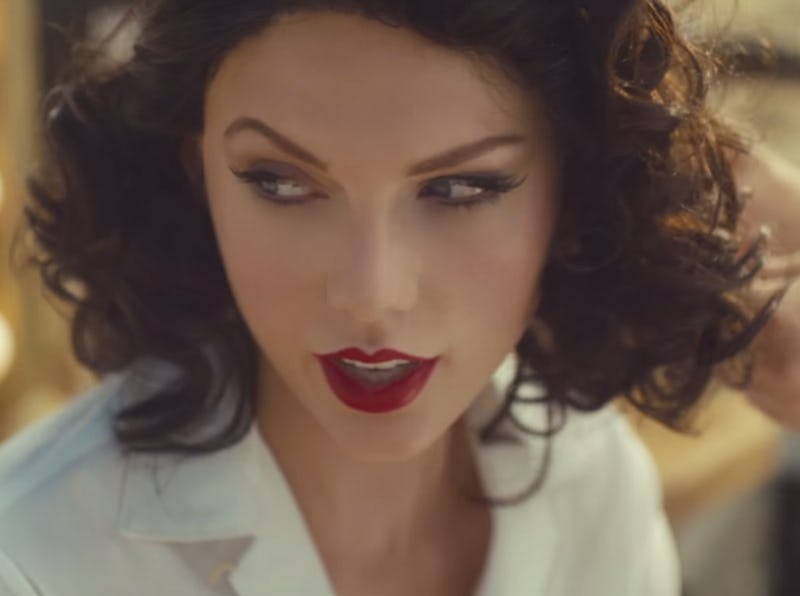 If you're anything like me, you were instantly transported to a different time when you watched Taylor Swift's "Wildest Dreams" video. Not only is the African backdrop stunning, but Swift's wardrobe is vintage and perfect. If you're looking for a Swift-themed Halloween costume, look no further than the singer's breathtaking "Wildest Dreams" video.
In the visual, Swift plays fictional actress Marjorie Finn who has an on-set romance with Robert Kingsley, who is played by Scott Eastwood. Their fling ends with a fight, at which point we're transported to the movie's premiere, where Robert is escorted by his wife. Marjorie is visibly upset and leaves — and tugs at all of our hearts in the process.
In the midst of the storyline are incredible shots of Swift's outfits. She totally embraces the 1950s setting of "Wildest Dreams," rocking everything from crisp khakis and knee-high boots to a baby blue shirt and pants set to a billowing mustard-colored gown. Of course, Swift topped off all of the looks with her signature red lipstick.
Chances are you won't be able to have Scott Eastwood on your arm for Halloween, but you can emulate one of Swift's "Wildest Dreams" looks as your costume! Here's a handy how-to for you.
1. On-Set In Neutrals
Start off this classic look with a crisp white button-down, like this Chaps No Iron Shirt from Kohl's.
Of course, you need to channel a vintage vibe as well. These Solid High-Waisted Jeggings from Aeropostale are perfect for filming a movie or, you know, re-enacting "Wildest Dreams."
Complete this look with a pair of sleek black boots, like this Sadika style from Steve Madden.
2. That Yellow Dress
Since this gorgeous mustard gown is likely couture and therefore out of budget for most of us, you can get the look for a more affordable price. This A-Line/Princess V-neck Floor-Length Chiffon Evening Dress from JJs House captures the billowy effect of the gown in the video.
3. Flying In Sky Blue
You'll need to start with a light blue shirt, like this Ballet Neck Tee from Nordstrom.
Swift rocked an all-blue outfit, so you'll need matching pants. These Steve Madden Light Blue Stretch Rayon Leggings w/ Pockets from Walmart are a close fit.
To achieve peak glam (and keep your hair in check), you'll need this Caitlin Polka Dot Skinny Scarf from Scarves Dot Net.
4. Lounging By A Lion
Once again, Swift rocked a gorgeous gown, this time in silver. You can replicate the look with an equally dramatic dress, thanks to this Extra Length Strapless Crepe Dress with Brooch from David's Bridal.
5. Premiere Gown
The penultimate look in the "Wildest Dreams" video was Swift's look at the movie premiere. You can bring the drama with this Baby Doll Pink Empire Dress from DressSale.
Top off the ensemble with this luxe Ingara Faux-Fur Stole from Anthropologie.
You can totally dress like your "wildest dreams" — at least this Halloween.
Images: Big Machine (screenshot) (6); Kohl's; Aeropostale; Steve Madden; Nordstrom; Walmart; Scarves.Net; David's Bridal; DressSale; Anthropologie