Jordan Smith Should Win 'The Voice' Already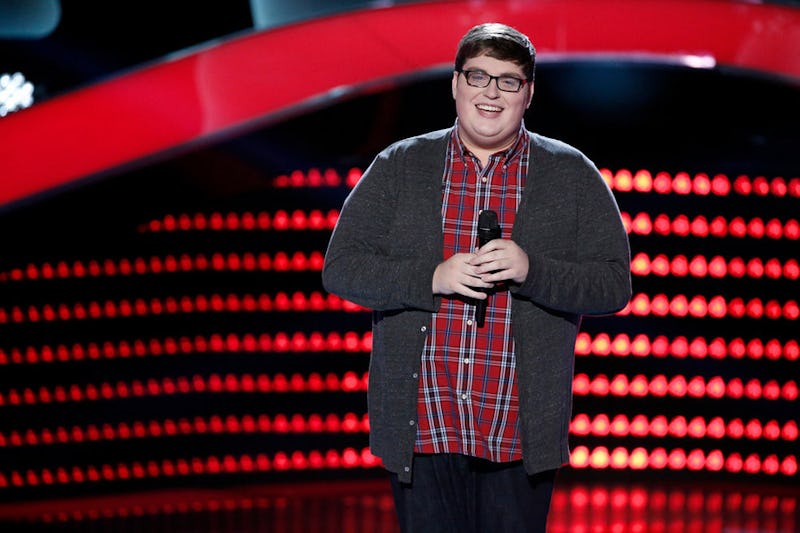 When The Voice gave viewers a chance to experience a so-called "real Blind Audition" a few weeks ago, I thought it was a cool concept, but wasn't expecting anything huge. But, once it was revealed that Jordan Smith was behind the gorgeous cover of Sia's "Chandelier," I was totally on board with his incredible voice and his inspiring story. Those are a few of the many reasons why Jordan Smith should win The Voice Season 9 for Team Adam Levine.
The Kentucky-native's Blind Audition struck a chord not only with the coaches, but with fans of The Voice as well. He totally nailed "Chandelier," which is an incredibly tough song to cover. Plus, Smith's story about how his voice has actually led to some embarrassing moments — Smith noted in his audition that he's been called "ma'am" over the phone due to his voice all the time — proved that the Blind Auditions truly do let the best voices standout, preconceptions be damned. Smith's audition was so moving that it inspired all four coaches to turn around for him and prompted Levine to declare him as the "the most important person that's ever been on this show."
Here are some of the many reasons that Smith totally should win this season of The Voice.
1. Because His Blind Audition Was So Epic
Relive the moment above. The shock in the coaches' faces is genuine, but so is the love for this talented singer.
2. NBC Is Already Rooting For Him
Have you seen the promo commercials for this week's Battle Rounds? I think it's safe to say NBC is firmly in Team Jordan, since he's currently the center of the network's advertising for the show.
3. His Message Is On Point
During his Blind Audition, Smith told the coaches that it took him a long time to accept himself for who he is. "It's OK to be different and it's OK to be yourself," he said.
4. His "Chandelier" Cover Is Already Doing Well
After his Blind Audition aired, his cover made it to the iTunes charts. That bodes well for the singer, who will be giving us more music as The Voice continues through the Battle Rounds.
5. Levine Could Use Another Win
Team Adam has been previously victorious twice in the show's history — under the direction of Levine, Javier Colon won in the first season and Tessanne Chin was crowned champion in Season 5. But, the Maroon 5 frontman hasn't had an artist take home a trophy since. Smith should be the one to bring his coach victory No. 3.
6. Because It's A Show Called The Voice
Coaches have said that the best voice tends to prevail and looks shouldn't matter. And, there's no doubt that Smith has an amazing voice — this one really does need to prevail, even if he doesn't necessarily look like his voice.
Can I say it one more time? Smith is good. I can't wait to see where he goes next — on The Voice and beyond.
Images: Tyler Golden, Trae Patton/NBC