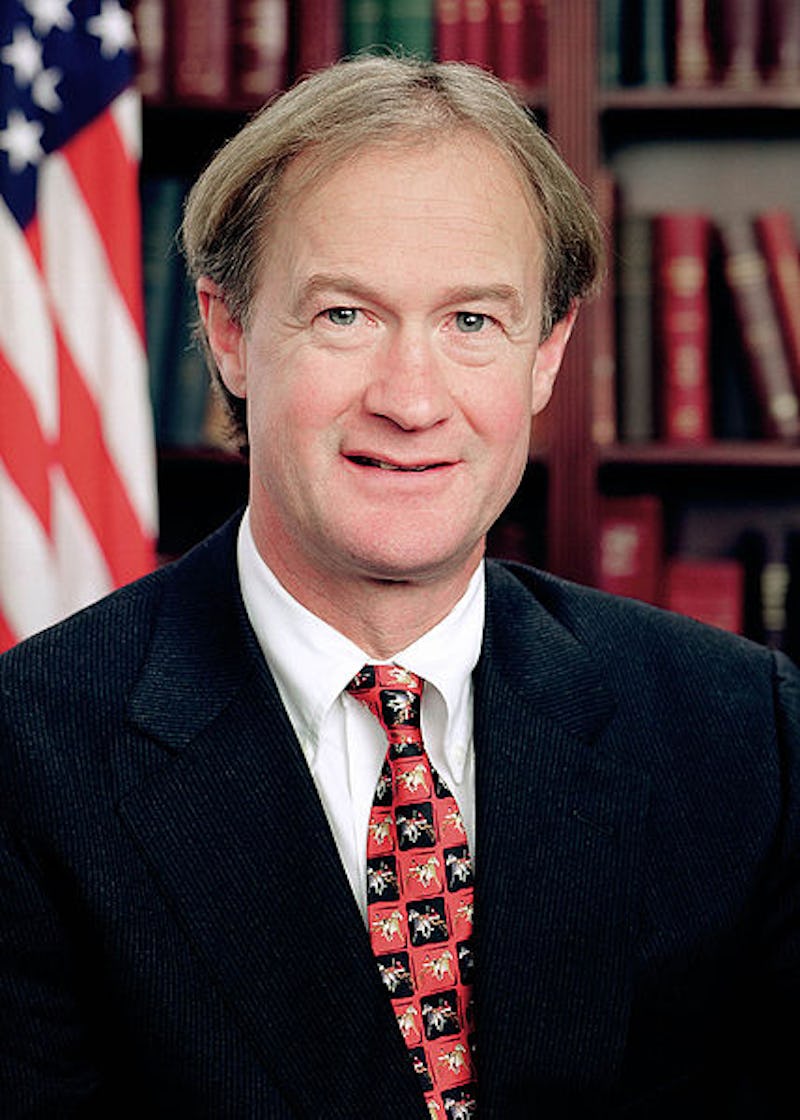 The Democratic presidential debate is being billed as a Hillary Clinton-Bernie Sanders match-up, but what about Lincoln Chafee, the unassuming wildcard? Although the one-time Republican senator and former Rhode Island governor has been polling pitifully — Public Policy Polling currently places Chafee at 1 percent — he has the political chops and background to shake things up a bit on the national stage. After all, Clinton is his biggest target — and on some issues, Chafee may be more liberal than the former secretary of state. Chances are, you're like the rest of America and haven't been paying much attention to Chafee. Here are some quotes that can tell us what to expect from Lincoln Chafee, the unlikely presidential candidate, on these most important issues.
On The War In Iraq
As the only Republican senator to cast a vote against the war in Iraq, Chafee is not afraid to call out his former party on exacerbating tensions and creating instability in the Middle East. Now, he wants his fellow Democratic presidential challenges to chide the Republican Party, too, telling CNN in July:
They [Republicans] were the ones who invaded Iraq and created all the problems. Just politically speaking, it's important for the Democrat Party to say that's a Republican mistake that we now have to fix.
On Abortion
Chafee has long been a supporter of abortion rights — even as a Republican senator. While serving as governor as Rhode Island, Chafee received a 100 percent pro-choice rating from NARAL. Time and again, Chafee emphasizes the importance of protecting reproductive rights:
We believe in personal freedom. We do not want the government controlling our personal lives, or our most personal decisions. ... Believing in freedom, we believe a woman should make her own reproductive decisions.
On Same-Sex Marriage
Chafee supported same-sex marriage all the way back in 2004, and he was one of the only Republicans in the U.S. Senate to do so at the time. In 2013, while serving as governor of Rhode Island, Chafee published an editorial in The New York Times explaining his reasoning for legalizing same-sex marriage and honoring full inclusion in the Ocean State:
When I sign the Marriage Equality Act into law, I will be thinking of the Rhode Islanders who have fought for decades simply to be able to marry the person they love. I will be thinking of how Rhode Island is upholding its legacy as a place founded on the principles of tolerance and diversity. But I will also be thinking, as all governors must, about the economy. With marriage equality becoming law tomorrow night in Rhode Island, we are sending a clear message that we are open for business, and that all are welcome. I hope that leaders in capitals across the country — including Washington — will soon realize that marriage equality is an issue where doing the right thing and the smart thing are one and the same.
On Education
Considering he'll be sharing the stage with free-education-for-all candidate Bernie Sanders, Chafee will likely highlight his student-friendly track record as governor of Rhode Island. During his tenure, Chafee supported tuition freezes and increased funding at local colleges and universities. He said in his 2013 Rhode Island State of the State Address:
We must also do all we can to ensure that motivated and hardworking Rhode Islanders can obtain a quality college education and we must be sure that they do so without taking on mounting levels of debt. The biggest barriers to these goals are ever-increasing tuition rates. Therefore, in an effort to ensure that there is no tuition increase next year at the Community College of Rhode Island, Rhode Island College or the University of Rhode Island, I propose an increase of six million dollars for higher education. However, the leadership of these institutions must meet me halfway. If they can achieve six million dollars in total savings and efficiencies, coupled with the additional funding, we can guarantee the students of these schools no tuition increase next year. They have to meet us halfway.
On Immigration
Chafee may be a former Republican, but don't worry — he's voted against building a giant fence at the U.S.-Mexican border. The Rhode Island Democrat has long supported immigration-friendly policies, including in-state tuition for Rhode Island's undocumented citizens. During his Senatorial primary debate in 2006, Chafee said, "I co-sponsored the McCain bill. He came up with a bill, path to legality but also strong border security. There was a good compromise."
On His Old Party
Chafee's disdain for the current Republican Party is clear, so you can expect for him to come out swinging during Tuesday's debate. He told the Washington Examiner earlier this year:
I haven't changed but my old party changed. They now have more of an emphasis on social issues and less on fiscal responsibility.
On Hillary Clinton
Really, Chafee is known for his anti-war record as a Republican senator. That vote made him an anomaly in Congress, and more than a decade later, it's still a flashpoint in this presidential race. Chafee has used his anti-war profile to attack Hillary Clinton, who voted for the war in Iraq while serving in the U.S. Senate. (Sanders voted "no" on the war.) Chafee told the Washington Post :
I don't think anybody should be president of the United States that made that mistake. It's a huge mistake, and we live with broad, broad ramifications today — of instability not only in the Middle East but far beyond and the loss of American credibility.
Image: Wikimedia Commons