12 Scary Books That Are Based On Creepy True Tales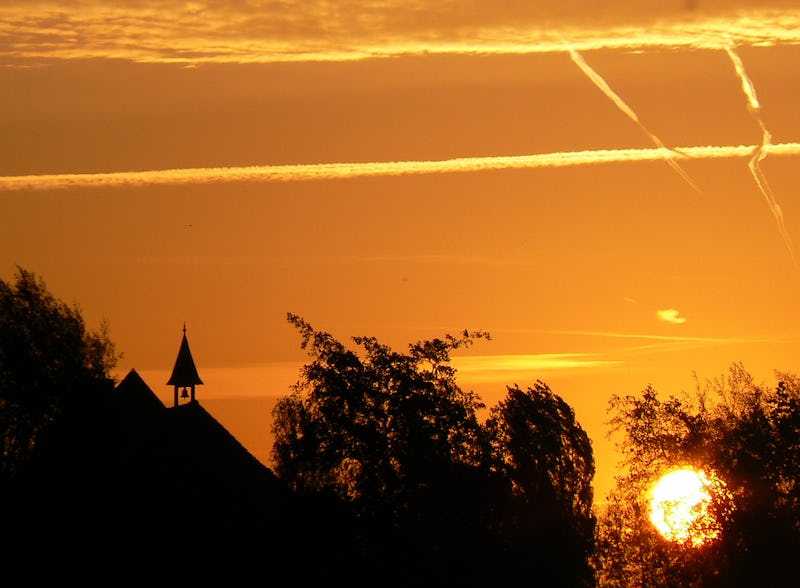 Halloween is a magical time during which we actively seek out the feeling of fear, so it's no wonder that you might be looking to fill your time with scary books based on true stories. After all, who wouldn't want to take part in October's horror wonderland, full of scary movie marathons; haunted houses; haunted hay rides (a personal favorite); and spooky stories of ghosts, murderers, and who knows what else. It's amazing that we get an entire month dedicated to these thrills.
Even in all of the creepiness, you'll probably remember that the ghosts, goblins, and creepy headless horsemen who ride at night on some never-ending quest for revenge can't actually hurt you. Will the fear of the ghostly and supernatural keep you up at night? Perhaps. But if you're really, really looking to get your pants scared off, you know what definitely will haunt you? Horrifying stories that are also true.
I've compiled a list of 12 scary stories that also happen to be based in some truth. Be they fictionalized accounts, inspired by events, or faithfuls rendition of what supposedly went down, these stories will not only scare you, they'll also make you wonder: Will you ever become the subject of such a book?
Jaws by Peter Benchley
Most people, of course, know this as the blockbuster thriller by Steven Spielberg, but the novel on which the movie is based is actually much darker than the film. To make matters worse, it's also based on a series of real-life shark attacks that terrorized the Jersey Shore in 1916, horrifically killing four victims while injuring a fifth. The predator plagued the shore until months later when a great white shark was caught, revealing the remains of two victims in its stomach. It's no exploding scuba tank, but it will do.
In 1974, a man shot and killed six members of his family in their house in Amityville, New York. Thirteen months later, a new family moved into the house and proceeded to report a very long list of paranormal activity, such as members of the family waking up at 3:15 in the morning (the approximated time of the killings), vivid nightmares of the murders, and perhaps the most chilling of all, the children began to sleep on their stomachs in the same way many of the victims were found. Although the reports of the haunting are often disputed, the terrible murders are very much real.
For those who like their horror psychological, we have Twins: Dead Ringers . Michael and David Ross are identical twin gynecologists. Handsome and successful, they nevertheless adhere to that favorite trope of the "evil twin," in which one is ruthless and aggressive, the other sensitive and decent. Their obsession with each other as well as a woman that they both share without her knowledge slowly drives them insane. While this premise is almost too ridiculous to believe, it's actually based on the lives (and deaths) of real-life identical twin gynecologists Stewart and Cyril Marcus, prominent doctors who were found dead in their posh Manhattan apartment.
Erik Larson is the master of literary nonfiction, and his greatest opus is The Devil in the White City . Taking place in Chicago in 1893, Larson tells the tale of Daniel H. Burnham, the architect behind the 1893 World's Fair, and H.H. Holmes, one of the first serial killers in America, and definitely one of the most disturbing. Using his "Murder Castle," a modified hotel that also contained a dissection table, crematorium, as well as a gas chamber, Holmes would lure those who had come into Chicago for the fair and would mercilessly dispatch them, often selling their skeletons to science. The story is both horrifically true and incredibly fascinating.
When attorney Cheryl Keeton's body is found brutally beaten in her van on the Oregon freeway named Sunset Highway, the only likely suspect is Brad Cunningham, her estranged husband. Cunningham was not immediately charged due to lack of evidence, and he moved on to remarry... for the fifth time. Although Cunningham eventually received justice, this story is chilling not because of the murder (OK, maybe a little), but mostly due to the idea that a charismatic man can nearly get away with anything, including murder.
Have you already read The Devil in the White City ? Then The Suspicions of Mr. Whicher will be right up your alley with its tale of historical murder. In June of 1860, a three-year-old boy named Saville Kent was found at the bottom of an outhouse with his throat slit, a murder that rocked the entire country of England. This shocking crime led to Scotland Yard dispatching its best detective, Jonathan Whicher. The case eventually destroyed the man, but gave rise to one of the most enduring tropes in literary, television, and film history.
Helter Skelter by Vincent Bugliosi with Curt Gentry
Helter Skelter is one of the most well known true crime books ever, and with good reason. Written by the prosecuting attorney in the Charles Manson trial, he deconstructs the motivation behind the murders (including that of heavily pregnant actress Sharon Tate). The details of all the murders are terrifying enough, but knowing that they were committed thanks to a cult mentality, and the fact that the victims were chosen at random, makes it all that much more chilling.
Set in an idyllic suburban town, The Girl Next Door tells the story of Meg and Susan, two teenagers left in the care of a distant aunt and her three sons. Told through the eyes of a local neighborhood boy named David, he watches as Meg is tortured by her family members, infected with a madness that swiftly takes over the entire neighborhood. As chilling as the novel is on its own, it has a new dimension of terror thanks to the fact that it's based on the real life torture and murder of Sylvia Likins, a girl who was tortured to death by a foster parent who ended up enlisting children from the neighborhood to help. It's a tragic and horrific story, made all the worse by its veracity.
This lyrical work of literary fiction follows the last days of Agnes Magnusdottir, an Icelandic woman accused of murder in 1830. Although beautifully lyrical, this work is based on the true story of Agnes, a farmhand who murdered two men with an axe, and whose beheading (along with that of her accomplice) was the last execution to take place in Iceland. Bleak and visceral, this book may be wrapped in elegant wording, but there's fear in the isolation and introspection that will stick with you for quite some time.
Written like a Southern Gothic novel, Midnight in the Garden of Good and Evil is nevertheless a work of nonfiction. Set in Savannah, Georgia during the 1980s, the book focuses on the murder of local male prostitute Danny Hansford by Jim Williams, a respected antiques dealer. Equal parts eerie and engrossing, this true tale of murder and lust is ideal for fans of of the Southern Gothic subgenre.
Another book of nonfiction written like a novel, The Monster of Florence centers on the true story of a mysterious and brutal serial killer that murdered couples as they had sex in cars in remote locations between 1968 and 1985, often brutally mutilating his victims. This novel has an interesting twist in that the two authors: Douglas Preston and Italian investigative journalist Mario Spezi, soon became the subject of an police investigation themselves as they worked to identify the killer, with Spezi actually being jailed under accusation of being the killer himself. Full of all the suspense of an old-school slasher film with the terrifying realization that the murderer has never been caught, this is an international mystery that has yet to be solved.
Fear can come from more than just stories told of horrific murders, it can come from any situation we, as readers, know we can't fully control. The Sleep with the Angels tells the story of the Our Lady of Angels school fire in 1958, a terrible incident that took the lives of 92 schoolchildren and three nuns. Although a student at the time confessed to setting the blaze, it was determined that there wasn't enough evidence to prove it, and because of that the cause of the fire remains unknown. To Sleep with the Angels is an extensive account of the fire cobbled together by eyewitnesses, capturing the horror of the situation. Interestingly, David Cowan (one of the authors of the book) was convicted of setting fire to a storage facility in 2005.
Image: Eddy Van 3000/flickr