13 Accessories You Had To Have In The '90s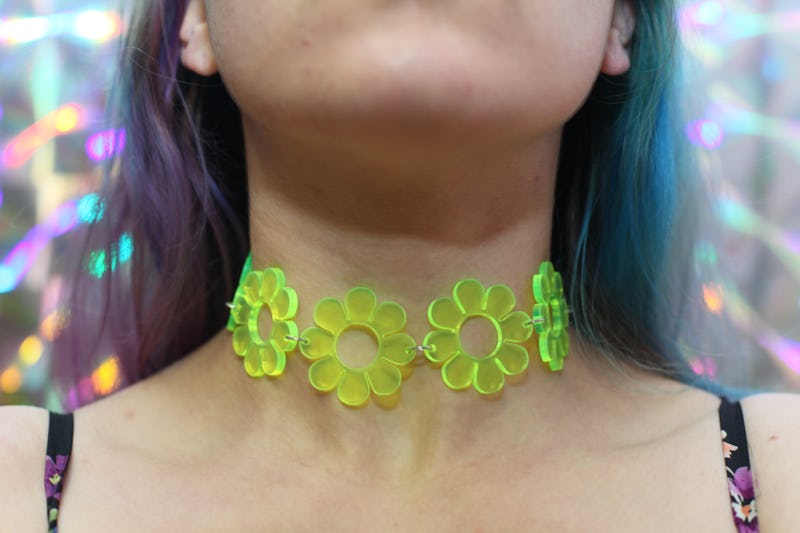 This year, '90s fashion is back on trend again in a big way. From crop tops and overalls to Birkenstocks to matchy-matchy co-ords, your childhood self probably had some serious style credentials. It wasn't just about the hippest '90s clothes, but the must-have '90s accessories as well. Whether you meticulously copied D.J. Tanner's wide array of butterfly clip hairstyles, envied Kimmy's colorful chokers, or based your hairstyle choices on Britney Spears' scrunchied ponytails and bucket hats, our favorite childhood music and television characters have a lot to answer for when it comes to our pre-teen style choices.
Now, there are definitely some throwback '90s looks that I'd personally rather forget (three-piece polyester ski suits and socks plus sandals, I'm looking at you), but dusting off some of your favorite '90s jewelry, purses, and hair accessories in 2015 might make you even cooler than the Groovy Chick herself.
So whether you're a fan of the Clueless '90s look or just want style tips on how to dress up like Kelly Kapowski and Lisa Turtle this Halloween, it's time to relegate those colorful, light-hearted childhood adornments back to your daily dressing-up box for good. Feast your eyes on the lovely array of '90s accessories you just had to have back in the day.
1. Butterfly Clips
Multicolored Butterfly Hair Clips, $6, Amazon
Frequented by a whole host of our favorite childhood celebrities — including Britney Spears and S Club Juniors — the humble butterfly clip came in every bright and pastel color under the sun. They were the ideal finishing touch for any oh-so-'90s ensemble, in fact.
Whether your current hair is newly adorned with pigtails or you simply want to clip those annoying wispy bangs out of your face, these babies might be the makeover your locks have been waiting for.
2. Colorful Tattoo Chokers
Colored Tattoo Chokers, $9, Shop At Lola
Complete with dangling pearls, crosses, and ying and yang pendants, fast fashion has been virtually wallpapered with black tattoo chokers in 2015. But what about their zanier, fun-loving sibling, the rainbow choker necklace?
Adding an eye-catching element to a monochrome outfit or a striking style statement when piled high around your neck, these cute chokers will keep a summer-loving spring in your step right through winter.
3. Power Beads
Power Bead, Mala Bracelets, $3, All Season
Whether pink, purple, or multicolored, these beaded babies were one of my wrist regulars throughout the late '90s. Often touted to be "mystical healing beads," I'm no advocate for their spiritual powers, but they are a great way to give any outfit a bohemian vibe.
4. Snap Bracelets
Snap Bracelets, $8, eBay
Providing me with hours of fun in tedious math lessons and long car journeys, snap (or slap) bracelets were colorful, simple, and usually cost mere cents to purchase. Relive those carefree days in your next boring boardroom meeting with a fierce animal-print version (just make sure you actually get some work done, too).
5. Baby G Watch
Pastel Blue Baby G Watch, $107, Casioonline
Whether you coveted the pastel pink, baby blue, or cool-as-a-cucumber white version, anybody who was anybody (and had the right parental bargaining tools) in the '90s rocked these babies throughout elementary and middle school, despite the extortionate price tag for a preteen on a pocket-money wage. At least nowadays being able to afford one can be more than a pie-in-the-sky pipe dream.
6. Mood Rings
Mood Rings, $5, eBay
These color-changing chameleons professed to have mystical mood-reading abilities, changing intermittently from purple to blue to green depending on how happy, sad, or angry it decided you were about your mountain of homework. These days we know they're more likely heat reactants than mind-readers. But hey, at least with a ring that changes color you're more likely to have jewelry that complements your outfit.
7. Scrunchies
Dolly Mixture Scrunchie, $6, Top Shop
As a school kid in the '90s, your ponytail was likely worth nothing if it wasn't adorned with a pretty, puffy cotton or Lycra scrunchie in pastels, pinks, or prints. Why not rekindle your scrunchie style while professing your love for dolly mixtures with this sweet treat?
8. Bandanas
Red Bandana, $7, Claires
I remember these babies going like hot cakes when sold with my coveted S Club Style magazine in the late '90s. And why the heck not? Equally great when worn as a headscarf, neckerchief, or bracelet, this multitasking accessory makes the perfect accompaniment to bad hair days or nondescript outfits in need of a bit of oomph.
9. Best Friend Necklaces
Best Friend Necklaces, $12, Claires
As a kid, my best friend attended another elementary school and it sucked. However, our one consolation was a set of dolphin-decorated best friend necklaces. I wore mine religiously, until one careless day it got left in a PE locker after my swimming lesson, never to be found again. Now, I can finally buy a replacement.
10. Stick-On Earrings
Stick-On Earrings, $5, Monsoon
As a girl in elementary school, it often felt like your friends were divided into two tribes: Those who'd had their ears pierced since day one, and those whose parents refused to let them until they reached 16. If you were one of the unfortunate wretches in the latter tribe, these were your saving grace.
11. Personalized Alice Bands
Personalized Alice Bands, $11, eBay
As a child graced with an unusual name, personalized velvet Alice bands were one of the biggest bugbears of my tender years. If you were one of those lucky Jens or Jessicas who could adorn their hair with their name at the drop of a hat, fear not: You can relive those heady days all over again. I, on the other hand, will be over here crying in a corner, watching Teenage Mutant Ninja Turtle reruns.
12. Friendship Bracelets
Friendship Bracelets, $9, Not On the High Street.com
Whether you weaved them by hand or cheated and bought them at Claire's, friendship bracelets were worn proudly piled high and were the culprits behind breaking many a school dress code. Release your childhood rebel by making a freshly revamped batch with this DIY friendship bracelet tutorial or buy these brightly colored versions for a quick fix.
13. Blow-Up Bubble Backpacks
Bubble Backpack, $23, eBay
The cooler, more colorful, and altogether more practical little brother of the clear plastic clutch bag, the PVC inflatable backpack was coveted by all kids during the pop-fueled pre-Millennium years...and is there any wonder? They're so light, bright, and cheap. And they come in so many shades! Just avoid standing near any rose bushes.
If there was ever any doubt about the sartorial powers of the '90s, I hope these must-have accessories of the decade have quelled your concerns.
Images: MarinaFINI/Etsy