How To Make A Brain Cake For Halloween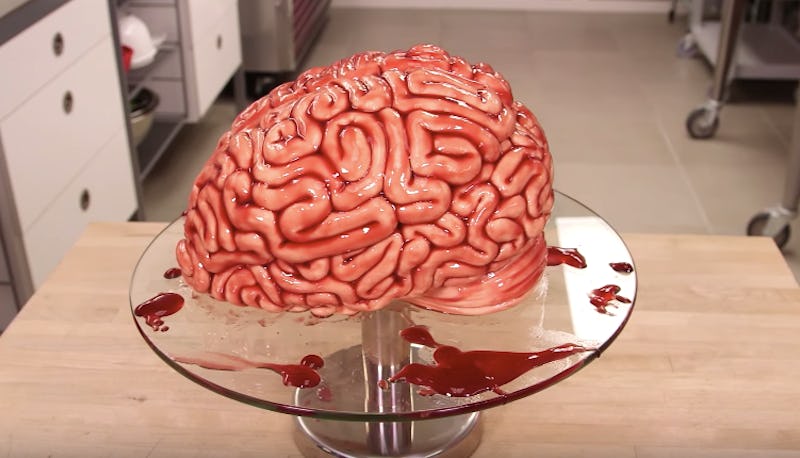 'Tis the season to be creepy, so why not follow this how to make a brain cake guide for your creepiest Halloween yet? The cake is made by Yolanda from How To Cake It, and was inspired by this week's The Walking Dead season premiere, but let's face it, October is the spookiest month on the calendar so the timing is all kinds of right regardless of AMC's schedule. The cake itself is made out of delicious red velvet filling, fondant, and raspberry jam. So while it might look just like a regular old, disembodied human brain, it sounds like it tastes super delicious, which I'm guessing the aforementioned human brain does not.
I'm pretty sure I've settled on attempting to make this brain cake for Halloween. While Yolanda's looks super realistic, I can only hope to pull off such disgusting true-to-life braininess. The next step will be convincing people to eat it, because (as it should), it doesn't look quite as appetizing as it sounds. Meanwhile, Yolanda suggests eating it with your hands, the way zombies do. If you choose to go down that route for your Halloween party, I believe things might escalate quickly. Can anyone say monster mash food fight? Here's how to make the brain cake:
1. Carve Your Red Velvet Cake Into The Vague Shape Of A Brain
2. Spray It With Simple Syrup And Cover In Italian Meringue Butter Cream
3. Use The Fondant To Make Squiggly Brain Bits
4. Cover In Seedless Raspberry Jam
5. Et Viola!
Watch the full tutorial below:
Meanwhile, here are 5 more creepy cake tutorials for Halloween:
1. No Bake Jello Eye Pops
2. Zombie Skull Head Cake
3. Zombie Mouth Cupcake
4. Anatomical Heart Cake
5. Chucky Child's Play Cake
Images: YouTube (6)