Dark Lipstick Tips Every Beginner Needs To Know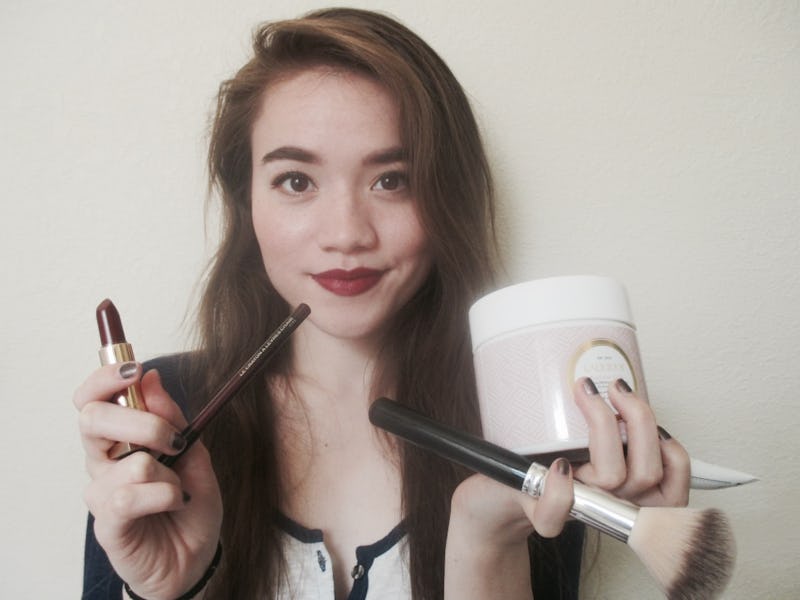 Wearing dark lipstick can be intimidating. But it can also be pretty empowering. So if you're new to the world of vampy lipstick, there are some tips to help you pull off a dark lip. And don't worry: If you're still not quite ready to dive into the world of blackened plums and bruised berries, you can always start with some sheerer options to become more adjusted to the look.
Where I grew up, I never saw many women rocking a dark lip, so I was afraid to start. But after playing around with Clinique's Black Honey (a cult favorite, and perfect place to start testing the deeper shades waters), I slowly tried darker and richer colors as I became more and more comfortable with the idea of dark lipstick. And now, my favorite shades to wear are those ones where you can't quite tell if it's still purple because it's so close to being black. So my first tip is to never be afraid when trying out darker hues. You'll never know how flattering black lipstick can be until you try. And if you've already decided to make vampy lips your new thing, just know that they're high maintenance. But it's nothing these tips can't control. If you're a beginner (or even a seasoned pro looking for a refresher course), here's everything you need to know about preparing for, applying, and maintaining a dark lip.
Tip 1: Exfoliate
Even though we can sometimes get away with wearing lighter colors on dry and flaky lips, dark lipstick will cling much more noticeably to dry patches, making exfoliating a necessity. Whether you simply use a toothbrush, DIY a lip scrub, or use a pre-made scrub, just make sure that you have a smooth canvas before applying any color.
LALICIOUS Extraordinary Whipped Sugar Kiss Sugar Scrub, $40, Amazon
Tip 2: Moisturize
For whatever reason, dark lipsticks (especially in matte formulas) are just inherently more drying than lighter lippies. To make sure that your lips won't shrivel up under your vampy color-of-choice, moisturizing is key. While your go-to lip balm will suffice for this step, I usually prefer something with a waxier or thicker consistency so that it will provide more of a barrier between the lips and lipstick without affecting the finish of the lippie like a glossy balm might.
Product used: MD Rejuvena Rejuvaphyl Lip Renew, $40, mdrejuvena.com (No Longer Available)
Consider: Dermalogica Age Smart Renewal Lip Complex, $23, Amazon
Tip 3: Line The Lips
Although a lip liner is not always necessary with a nude lip color, if a dark lipstick bleeds outside the lip line, it will be noticeable. To ensure this doesn't happen, start by tracing the border of your lips with a lip liner. To keep everything simple, use either a universal, invisible lip liner or one that matches the color of your lipstick. If you're feeling adventurous though, a liner that is a few shades lighter or darker than your lipstick of choice can give you a transformed color or even an ombré effect when the colors mix.
Kevyn Aucoin The Flesh Tone Lip Pencil in Bloodroses, $28, Amazon
Tip 4: Fill In The Lips
If your lipstick is in for a long night, make sure to apply a layer of lip liner first. Lip liner is generally more long-wearing than lipstick. So even if your lipstick fades throughout the night, filling in your lips with liner will ensure that color is still on your lips and that there won't be any patchy business. Think of this step like insurance for your lipstick. You hope that your lipstick won't wear away, but if it does, nobody will notice.
Tip 5: Apply Lipstick To Taut Lips
When applying your lipstick, make sure to hold your lips taut while you do so. This will ensure that color is deposited on every part of your lip. If you were to apply lipstick while your lips are relaxed, when you smile, the cracks or lines in your lips will appear to be lighter than the areas where the lipstick was actually able to touch.
Kevyn Aucoin The Expert Lip Color in Bloodroses, $35, Amazon
Tip 6: Blot, Then Reapply
It might seem counterintuitive to blot off some of the lipstick you just applied, but this will actually help press the color into your lips and sort of seal it. All you have to do is take a piece of tissue or toilet paper and gently press it against your lips without smearing or rubbing. Once you've done this, dab on one more layer of lipstick so that your color will last as long as possible.
Tip 7: Clean Up The Edges
It's easier to see flaws with a darker color. So if your lip line isn't quite right, use concealer or a lip liner that matches your lipstick to go back in and even out any mistakes. Try resting your pinky finger against your chin while you do this to help provide a little more balance so any lines you draw will be straight.
Tip 8: "Pop" Your Lipstick
I'm going to take a guess here and claim that nobody wants lipstick on her teeth. So to prevent having red or purple smears on your pearly whites, put a finger in your mouth, gently close your lips around it, and pull it out. See that ring of lipstick around my finger? That's what could've ended up on my teeth.
Tip 9: Bronze
Dark lipstick has the power to suck color from your face. So especially if you have a paler complexion, bronzer is your friend. Don't forget to add a little color and warmth back into your face by sweeping your bronzer and/or blush of choice over your cheeks.
Benefit Hoola Bronzer, $28, Amazon
Tip 10: Confidence
And perhaps the most important tip (in addition to carrying your lipstick with you for touch-ups), is to be confident. Besides the fact that deep berries and reds are some of the most universally-flattering shades, if you appear confident in your lip color (and yourself), no one will question you. Because, yeah, you're totally pulling it off.
Want more beauty tips? Check out the video below, and subscribe to Bustle's YouTube channel!
Images: Miki Hayes