'Room' Introduces An Incredible Young Talent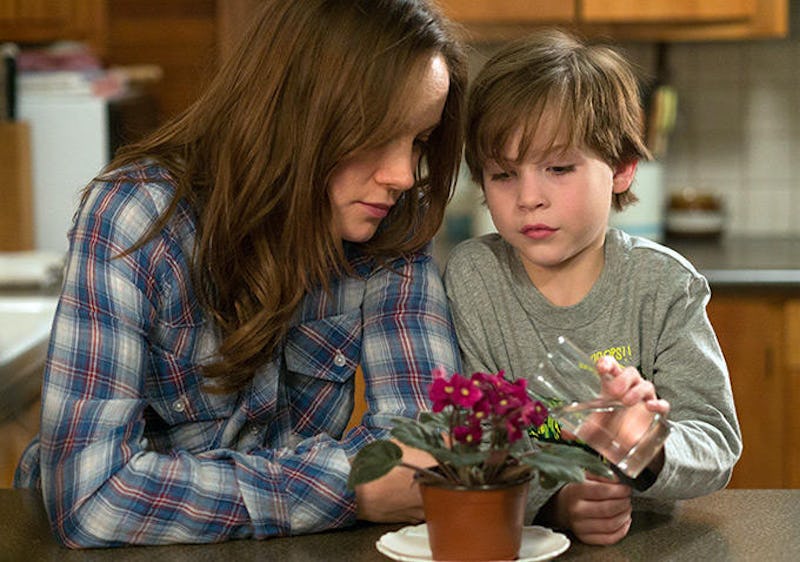 The phrase "child actor" doesn't have the most positive of connotations. It brings to mind unpleasantness like stage parents, cloying performances, and eventual exploitation and ruin. Often, child actors are assumed to have been cast based on their looks, and their ability to stand in a certain spot to deliver lines. But young thespians like Jacob Tremblay are flipping the script, proving that children can perform with the same depth of feeling as adults, with an additional current of innocence. In Room , which will receive a limited release on Oct 16, Tremblay plays Jack, the five-year-old son of a woman (Brie Larson) who has been kidnapped and locked in a garden shed for so long that Jack has never seen the outside world. Tremblay's job playing Jack in Room is generating huge buzz, so here's what you need to know about the young star.
Room is based on a novel that's told in the first person from Jack's perspective, so it's essential to the film that the audience have access to his emotional life, without the benefit of pages of narration. It's a lot of nuance to put on the shoulders of a kid, but the movie works because Tremblay is successful in the part. In its review of the film, Entertainment Weekly said that Tremblay "makes you see the world through a child's naive, trusting eyes, and Variety wrote that "doesn't strike a false note as a soulful, spirited child, also calling him a "major find." Clearly, he was a great choice for the role.
The 9-year-old Tremblay is just starting his career, and who knows if acting will still be his passion when he grows up. But in the meantime, he's winning a lot of fans with what's set to become one of 2015's most talked about performances. Here are a few other highlights of his short but growing resume.
Smurfs 2
Save this one for your day with the nieces and nephews, but Tremblay does appear in the sequel to the live action/animation hybrid adaptation of the classic 1980s television series. It's pretty hokey and definitely setting the bar low with visual gags and gross-out humor. But every actor has to start somewhere, and at least Neil Patrick Harris was there, too.
Before I Wake
Tremblay is a foster child plagued by his own dreams in this fantastical horror film that costars Kate Bosworth and Thomas Jane. This movie was originally set for release before Room, but was delayed due to its studio filing for bankruptcy. It hasn't been shelved for good though, so look out for it, maybe even in an OnDemand release only.
Burn Your Maps
Tremblay just wrapped shooting on a travel movie with an out-there twist. He plays a young boy who's convinced he's destined to be a Mongolian goat-herder, and talks his parents into taking him to his spiritual home. He stars alongside Vera Farmiga, Virginia Madsen, and Suraj Sharma, adding to the list of accomplished actors with whom he's shared the screen.
The Book Of Henry
The latest project by Jurassic World and Safety Not Guaranteed director Colin Trevorrow, The Book Of Henry has a plot that's still tightly under wraps. But the cast is dripping with talent, from leading lady Naomi Watts to Lee Pace to Sarah Silverman to Dean Norris. The screenplay is by crime novelist Gregg Hurwitz, who's also written for Marvel comics. So expect some level of action and adventure. Will Tremblay's character share any screentime with Dance Moms star Maddie Ziegler, who's also part of the cast? One can only hope.
Some critics even predict that Tremblay could receive his first Oscar nomination for Room. Imagine how many more filmmakers will be clamoring to work with him then!
Image: A24