Table 87 Brings Brooklyn Pizza To 'Shark Tank'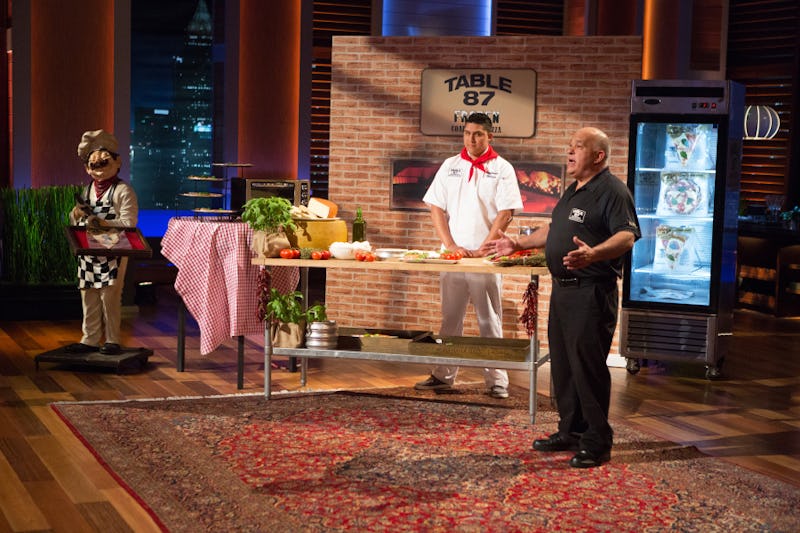 We often see entrepreneurs with far-out products and services walk through those tall and scary Shark Tank doors. Some are so innovative and ingenious, it's amazing that no one has thought to sell something like them before, while others are so out there, it makes you wonder how someone could have thought they were good ideas in the first place. But just because a product is a staple doesn't mean the Sharks would automatically turn it away either. I mean, who wouldn't want to at least hear a company like Table 87 Coal Oven Pizza out on Shark Tank ?
We'll see when this company steps into the Tank during Friday night's episode. But knowing that food companies are usually a hit on Shark Tank and that Barbara Corcoran, who especially loves to invest in tasty treats, will be in the episode, Table 87 certainly has a good shot. Plus, who doesn't love pizza? I know these millionaire and billionaire investors probably eat caviar for breakfast, but even they won't be able to resist the savory, cheesy, doughy goodness of a slice, right?
Now all Table 87 has to do is convince the Sharks that the company's pizza is so delish and different that it's worth a few of their dollar dollar bills. Here's a few reasons why it might be.
It's As New York As It Gets
First and foremost, Table 87 is a pizza place located in Brooklyn, New York. Yes, I do see how that could come off as not very extraordinary, but stay with me here. What sets Table 87 a part is that the restaurant claims to be the first in the borough "to offer coal oven pizza by the slice," according its website. Though some argue coal-fired pizza doesn't do much for the taste, you have to admit that the phrase "coal oven pizza" just sounds fancier.
You Don't Need A Coal Oven To Make It
I suspect the reason why Table 87 is going on Shark Tank is to get some funding for its line of frozen pizzas. They're made to order with the same ingredients as the ones you would find at Table 87's restaurants, but instead of being served to customers, they're frozen and shipped to your door. Any way that I can eat gourmet food in my pajamas is a-OK with me.
It's Easy To Get In Your Belly
If you live near Brooklyn, Table 87 has not one but two restaurant locations you can visit: one in Brooklyn Heights and one in Gowanus. If you're unable to schlep to Brooklyn, you can grab a slice the suburban way, by ordering it online through Goldbely or picking some up at your local grocery store, such as Whole Foods, Fairway, and 7-Eleven locations. But just be forewarned: Table 87 is pricier than your standard frozen pie. Prices range from $59 for two Margherita pizzas to $149 for 16 giant slices or a combination of pies and slices. For that kind of money, this pizza better be mind blowing, am I right?
It'll Put You In A "Pizza State Of Mind"
Or at least Table 87 can only hope this little music video it created, called "Pizza State of Mind," will put you in the mood. If you couldn't tell by the title, it's a pizza-themed parody of Jay-Z and Alicia Keys' "Empire State of Mind." Pizza songs are apparently a thing for one of the song's performers, Joey Summa. Now there's a guy who's living the dream.
You Can Go There For Dinner & A Movie
Pizza and movies have been a match made in heaven for years, and Table 87 capitalizes on everyone's inherent desire to chow down on a slice while watching Ferris Bueller take a day off by frequently offering a free movie with dinner. Of course, you could always do the same thing in the comfort of your own home, but if you've got to go out, you can at least make sure pizza and movies are involved.
It Has Many Famous Fans
Table 87 hasn't been around that long, and it's already got an impressive clientele. Colin Farrell, Vince Vaughn, and Michael Shannon have all stopped in the pizzeria for a slice. Well, that's life in the big city for you.
Image: Michael Desmond/ABC