9 Retro Halloween Books Everyone Remembers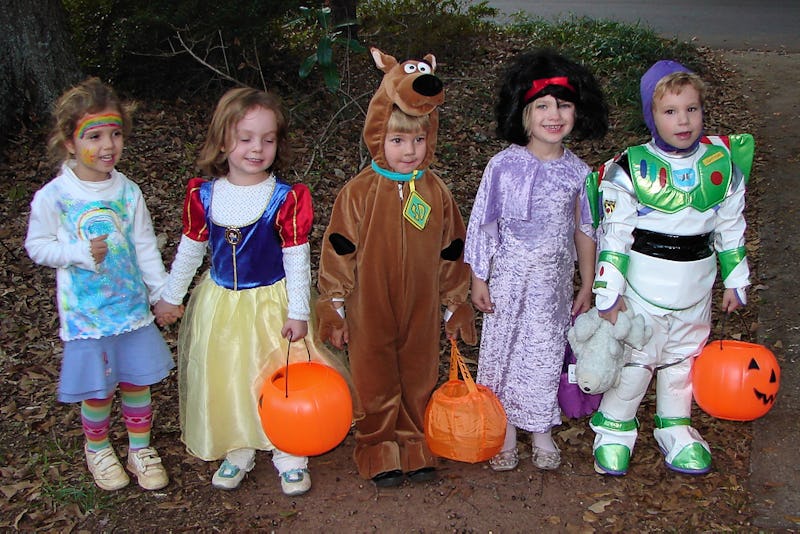 In grade school, there was no better time of year than Halloween. Your classroom was decorated in cobwebs and spiders, your got to do fun art projects with pumpkins, and you even had a Halloween party at school where you could dress up, eat candy, and (if you were really lucky) watch a themed movie. But the best part of being in school in October wasn't the holiday treats or even your teacher's kooky costume, it was the children's Halloween books that you'll always remember reading.
From preschool to middle school, story time to independent reading, your October was filled with fun Halloween stories featuring ghouls, ghost, and witches galore. There were tales of trick-or-treating on dark and windy nights, books about haunted houses and the brave kids who entered them, and mysterious monsters causing all kinds of Halloween mayhem. Chances are that the first book that actually scared you was one you read in school for Halloween.
If you miss the days of scary story time and holiday themed chapter books, then you're not alone. The closer we get to Halloween, the more I miss being a kid — especially because of the books. Here are nine children's Halloween books you probably remember reading in school, because it's OK to reminisce about the good ol' days of trick-or-treating.
Room on the Broom by Julia Donaldson
Who doesn't remember this charming and witty tale about a witch and her cat pleasantly flying through the night, picking up adorable animals along the way? Its delightful artwork and clever rhymes made Halloween seem less scary and a lot more fun.
Big Pumpkin by Erica Silverman
An inspiring Halloween story that teaches readers that it doesn't matter how big or small you are, as long as you work in a team, The Big Pumpkin is a classic childhood school read. It features a witch, a ghost, a vampire, a mummy, a bad, one giant pumpkin, and some delicious pumpkin pie. Does it get anymore Halloween than that?
Five Little Pumpkins by Dan Yaccarino
Ah, the days of rhyming and counting — what I wouldn't give to go back to the simpler moments when my daily activities included snack time and singing along with Five Little Pumpkins. A simple and catchy book that's best read aloud, Halloween wouldn't have been the same without reading this at school — many, many times.
The Little Old Lady Who Was Not Afraid of Anything by Linda D. Williams
When an old woman is followed by two shoes, pants, a shirt, gloves, a hat, and a pumpkin head, she doesn't let them or the spooky, dark night scare her. Full of gorgeous, detailed illustrations and loud action words, The Little Old Lady Who Was Not Afraid of Anything was, and still is, the perfect Halloween read for kids.
The Berenstain Bears and the Spooky Old Tree by Stan Berenstain
Childhood, or school for that matter, would not be complete without a healthy dose of Berenstain Bears books, including The Berenstain Bears and the Spooky Old Tree. The three bears venture out into the dark and eerie woods to explore a spooky old tree, and your 5-year-old self is getting goosebumps just thinking about their nighttime adventure.
Scary, Scary Halloween by Eve Bunting
Green glowing eyes peer out of the darkness and watch ghosts, ghouls, witches, goblins, and more pass by in Scary, Scary Halloween, a spooky Halloween tale whose title says it all. Rhymes and repetition made this scary book a Halloween time favorite and a perennial school read.
Horrible Harry at Halloween by Suzy Kline
I don't know about you, but the Horrible Harry books were among my favorite chapter books to read, including all of the holiday installments. Harry, Miss Mackle, and the whole class in Room 3B always had the most fun, especially in Horrible Harry at Halloween. Talk about reminiscing, this marble cover really brings me back.
The Witches by Roald Dahl
Though not technically a Halloween book, Roald Dahl's terrifying children's book about square-toed witches and children turned into mice was usually assigned for reading sometime in October. A book for older children, The Witches was one of the first books to really scare me as I read it alone, but that doesn't stop it from being one of my all time favorite Halloween reads.
The Halloween Tree by Ray Bradbury
When my teacher assigned Ray Bradbury's The Halloween Tree for reading, my dad smiled and said "Don't stay up to late reading that." Little did I know he was saying that not because of my habit of reading way past my bedtime, but because he knew it would give me the creeps — which it absolutely did. Everyone remembers reading The Halloween Tree for school, and coming in the next day pretending it didn't keep you up all night.
Image: popofatticus/flickr