Manny Cabo Leaves 'The Voice' — But Why?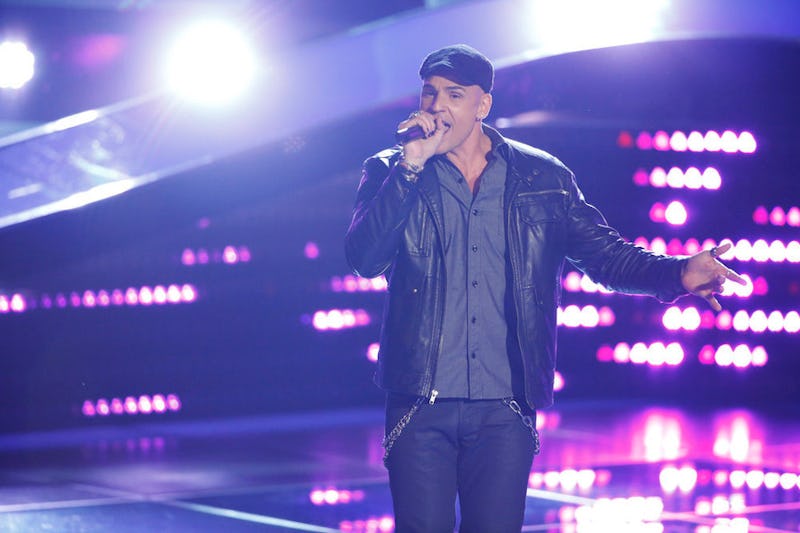 Now THAT'S how you battle. Keith Semple and Manny Cabo duked it to The Who's "Baba O'Riley" during The Voice Battle Rounds and gave the performance of a lifetime. Though they were equally amazing, one of the two talented artists unfortunately had to go home. That unlucky guy? 45-year-old photographer, Manny Cabo. Coach Adam Levine made the right choice by keeping Cabo's rival, Keith Semple, but why didn't Cabo get stolen by another coach? Here are a few theories.
Though Semple and Cabo both gave an amazing performance during the Battle Round, Semple was the clear winner. His voice consistently came out on top — and can we talk about that Irish accent?! Regardless of Semple's victory, though, Cabo deserves to be on this show. He has the sound of a seasoned rockstar and a personality that lights up the stage. So why did the coaches send him home? Two reasons: his age and his style.
It has to be said — at age 45, Cabo would have a pretty short career. He'd also be more difficult to teach. From a coach's perspective, this hurts their chances of producing a victor. If he had a super unique style, then Cabo may have had a chance of staying in the game — but that's his second downfall. As an aspiring rockstar, Cabo has entered a very deep pool. Though he's talented, he sounds just like every other talented rockstar out there — there's nothing that sets him apart. Semple, on the other hand, has a cool tone and fresh Irish accent to distinguish him from the rest of the rock competition — which gives him a major leg up on The Voice.
Despite his shortcomings, Cabo is an extremely talented artist that deserves recognition. He may not have found success on The Voice, but if he keeps pursuing his passion there's no doubt he'll find his place in the industry.
Watch the full battle here:
Image: Paul Drinkwater/NBC