Cara Delevigne: Tea Partyin' With a Horse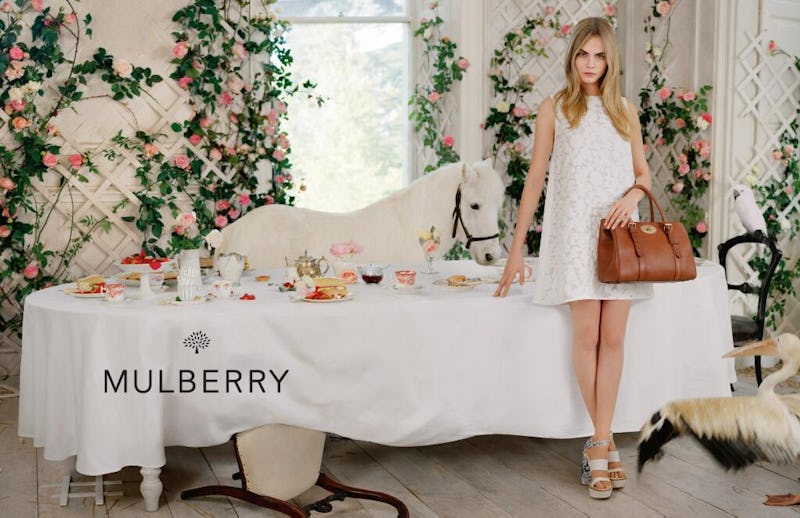 Behold an ad that'll make you wish you were in spring. 2013's most-searched model knows how to quirk for the camera, and Miss Cara Delevigne's latest Spring Summer 2014 collaboration with Mulberry is no exception. After achieving success with Delevingne in its Fall 2013 campaign rife with allusions to Tippi Hedron in Hitchcock's The Birds, Mulberry signed Delevingne for another season with a wildlife motif. The concept? A topsy turvy tea party occupied by an array of farm animals.
Delevingne's Spring ad campaign for Mulberry is twee with a twist, featuring a grazing pony, a pelican, cockatoo, tortoise, and a host of disobedient dogs. Mulberry's eccentric concept behind the shoot is not a stretch for the model, whose signature kooky expressions and outlandish campaigns define her career as much as her sought-after eyebrows. Delevingne's previous idiosyncratic projects include a punk Marie Antoinette-themed Chanel campaign, a neon sportif shoot for DKNY, and a shimmering Disco throwback campaign for Blumarine.
Photographed by Tim Walker, the shoot took place at an 18th century Oxfordshire home where climbing vines of vibrant blooms and a messy table of treats set the stage for Mulberry's sleek bags and streamlined floral ensembles. Mulberry's handbag collection took shape in a number of reinterpreted classics, such as the Bayswater tote, in a range of neutral shades, punctuated by pops of crimson and persimmon. The clothing took a subtly feminine route, an interplay of muted brocade and neutral stripes with punchy patterns.
We are inviting that horse to our next tea party.