How To Make The Perfect Online Dating Profile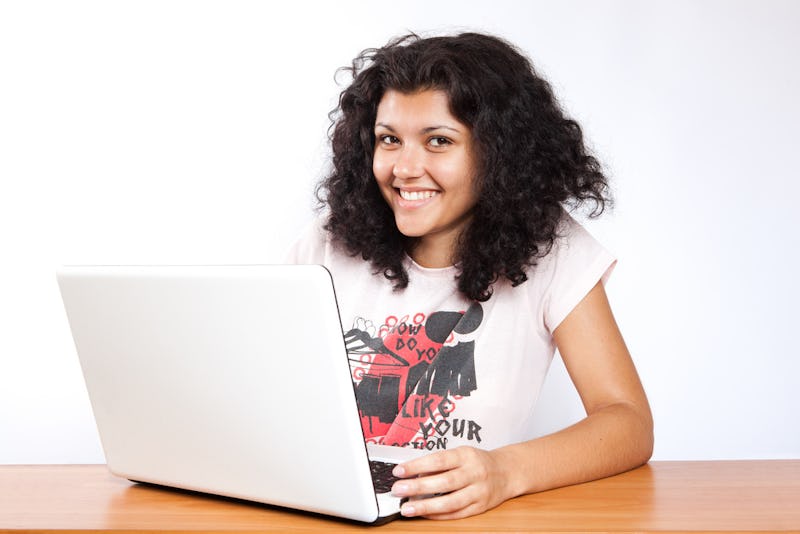 Apparently, January 2 is the busiest day for online dating. People are returning to the office today with time to kill and an urge to get laid. On this day last year, Match.com experienced a 94 percent increase in people signing up compared to their daily average. So how can you make that online dating profile count? Well, according to a study that online dating site Zoosk.com conducted of 4,000 users, there are a few ways to make your profile stand out. Turns out, it's all about full-body shots and proper punctuation.
Not surprisingly, full-body pictures boost both sexes' incoming messages by a whopping 203 percent. For men, that profile picture should be taken outdoors, which increases likelihood they'll receive messages by 19 percent. On the other hand, women get 60 percent more attention when their photo is taken indoors. Whether you're a man or a woman, taking a picture with a pet lowers your popularity by 53 percent, while posing with friends lowers it by 42 percent.
Full-body pictures boost both sexes' messages by a whopping 203 percent.
An interesting double standard: selfies get men 8 percent fewer messages and women 4 percent more. According to The Daily Mail, "when a woman takes a selfie it's fine because it's considered the norm for them to do that – and get away with it." Apparently, when men take selfies, they're perceived as vain or narcissistic.
The way you message matters as well. While use of the :-) emoticon leads to a 13 percent boost in messages, :) reduces replies by 66 percent. A forward attitude is good if you're a woman: those who mention words like "dinner," "lunch," or "drinks" in their first message are 73 percent more likely to get a reply. But men who do so are 35 percent less likely to get a reply. And always, always, use proper grammar and punctuation — text speak and illiteracy make both sexes 13 percent less successful.
"When a woman takes a selfie it's fine because it's considered the norm for them to do that – and get away with it."
The results of the study also show that women should keep their past relationships hush-hush until later in the game, while men benefit from being upfront. Mention of words like "divorce" and "separated" get men 52 percent more messages, while giving women a 7 percent dip.
So Zoosk's study reveals some information we pretty much knew already. Full-body shots are good, and double standards still exist between genders. Women who are forward and hide all that cumbersome baggage of failed relationships are most successful, while men should never risk seeming vain but can come across as more sensitive and transparent when they mention the dissolution of a marriage. With all this discouraging news, maybe we can find another way to kill time this January 2.
Image: CollegeDegrees360/Flickr