Mr. March Has A Dark Past On 'AHS: Hotel'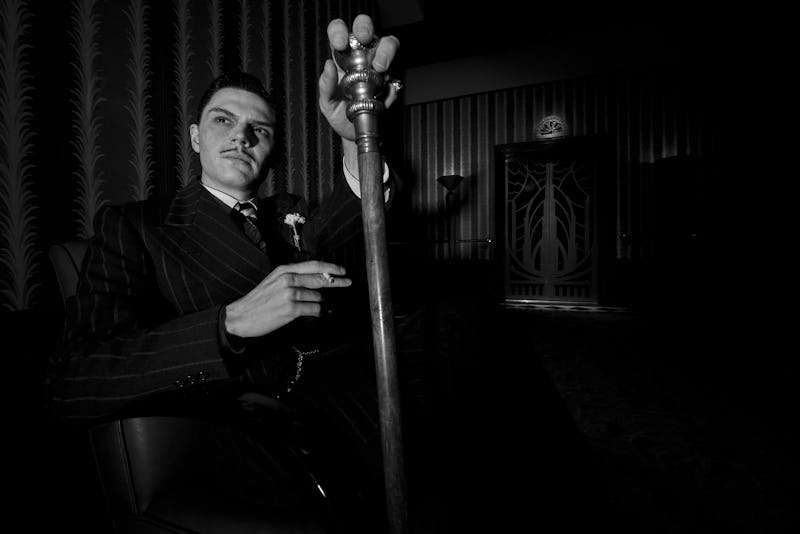 As intriguing (and somewhat nightmare-inducing) as the American Horror Story: Hotel premiere was, fans couldn't help but notice a certain AHS vet that was MIA throughout the entire episode. I'm referring, of course, to the oh-so dreamy Evan Peters, who is portraying AHS: Hotel 's Mr. March — aka, the original owner of the Hotel Cortez. But make no mistake, Mr. March is not the typical role Peters has been known to inhabit on this series. (Let's just say, this character is no Tate Langdon or Jimmy Darling.) No, Mr. March is a whole new breed of villainy — and with a Vincent Price accent to boot! — that could potentially put all other Big Bads to shame. (And given that this is AHS we're talking about, that's really saying something.) But, much like many of the other hotel residents that we've met thus far, he is not of this world, which begs the question: how did Mr. March die?
Now, granted, Ryan Murphy is a pro at leaving viewers wanting more, but this time we were able to scrounge up a few interesting details regarding March's backstory. You may have heard by now that March is loosely based on the infamous real-life killer, H.H. Holmes, who was known for creating a "torture hotel" in Chicago. Gas chambers, windowless rooms, huge ovens to burn bodies — you name it, this guy had it at his hotel. And given the fascinating tale that Iris told, March's story is pretty much the same type of gist.
Back in 1925, March set out to build one of the finest hotels in Los Angeles, or at least that's what he told people. In reality, though, he was constructing his very own, perfectly designed torture chamber. With secret chutes and no exits to speak of, no visitor was ever able to check out of the hotel… alive, that is. As Mr. March's motto goes: if there's no body, then there was no crime committed, which basically made his hotel a burial ground full of missing people who were simply never seen again. In the end, he decided to take his own life rather than get caught by the police, but that doesn't keep him from haunting these hallowed halls even to this day.
Suffice to say, he was not a great guy for the most part and it's a good thing Yelp didn't exist back then because the place would've received horrific reviews. So just in case that creepy mustache alone wasn't enough to put Evans' character on your radar, his cruel tendencies and violent demise should've certainly sent up a few red flags that this is not a dude to be trifled with. I'm just going to say it. This may very well be Evan Peters' most intriguing AHS role yet. Bring. It. On.
Image: Frank Ockenfels/FX