11 Super Easy Halloween Makeup Tutorials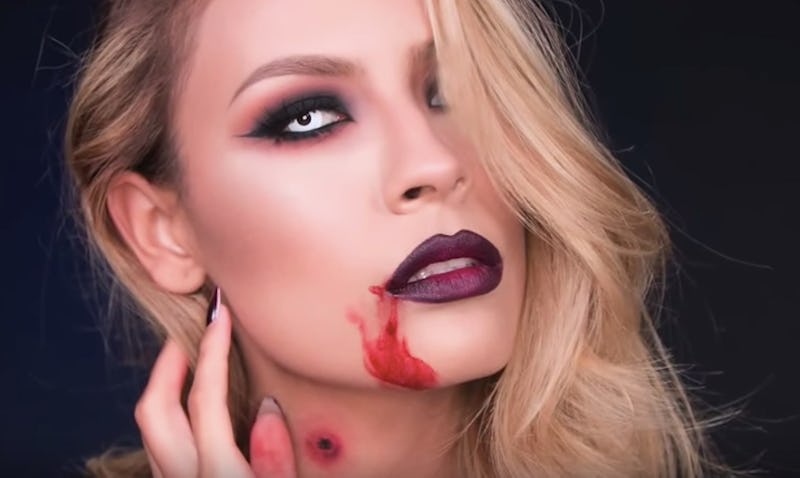 You don't need to be a professional makeup artist to create super cool Halloween looks — there are even a ton of Halloween makeup looks that are easy. You just need to know where to look for advice and make sure you have the basic products you need.
I'm personally a huge fan of Halloween and spend a ton of time trying to find the perfect costume and complementary accessories. The problem is, I'm definitely no expert when it comes to makeup technique and I also don't often have the crazy elaborate array of brushes and products that the average makeup blogger seems to use. That's why while I can appreciate the incredibly elaborate, professional-level costume looks you find all over the internet, what I truly appreciate is a basic tutorial that provides me with actual achievable results — especially considering I'm no professional makeup artist.
And because of this, and in the spirit of Halloween, I've compiled 11 super doable makeup tutorials for an array of different kinds of costumes — some spooky, some pretty, and some just plain hilarious. So if you're not a makeup expert, but want some super cool Halloween makeup tips, here are some easy Halloween makeup tutorials that anyone can master.
1. Cracked Doll Makeup
Creepy doll makeup is one of those looks that appears incredibly complicated, but is actually totally doable, even for the costume makeup novice. Just make sure you have a black eyeliner with a solid consistency and you're good to go.
2. Vampire Makeup
The great thing about this look from beauty blogger Desi Perkins is that it can turn your everyday makeup into a Halloween-ready ensemble. Great if you're going to a spooky event straight from work.
3. Zombie Makeup
This super easy zombie makeup from YouTuber Mareya Ketchum looks incredibly intricate but can actually be done totally last minute. She also includes some great costume makeup hacks, like using eyelash glue for rotting skin.
4. Fairy Makeup
The awesome thing about this how-to video from FashionablyJamie is that you probably have the majority of the products she's using already lying around the house.
5. Lioness/Cat Tutorial
I love this cat tutorial from Kait Nichole because it looks so much more professional than the typical cat eyes and whiskers without being significantly harder to do.
6. Anime Eyes
OK, this look admittedly looks best when you use large color contacts, but the actual makeup portion is super easy and looks super impressive when complete.
7. Marilyn Monroe
This video from Pixiewoo is a great step-by-step how to guide for achieving Marilyn's signature look, and can also serve as a great template for retro glam looks in general.
8. Skeleton Makeup
This one is super creepy, and while it definitely takes some time, isn't really all that hard to do. It also works perfectly with a simple black outfit.
9. Pretty Clown Face
This one may look intense, but as long as you have the right basic colors and materials it is actually technically totally easy. Definitely recommended if you want to go creepy but also maintain some femininity.
10. SnapChat Rainbow Face
Not only is this pretty easy, but it's also incredibly hilarious. This is sure to be crowd pleaser!
11. Vintage Pop Art Makeup
I love this makeup look and if you have the patience for the red dots, it's truly not hard to pull off. A bold vintage wig will also go a long way in completing this particular costume.
You don't have to be a professional or take hours getting ready to achieve some super cool makeup looks this Halloween. Just make sure you have the basics and maybe do a dry run a couple days before any big parties or events, and you're sure to look amazing!
Images: Desi Perkins/YouTube