Put Canola Oil All Over Your Body To Be Super Soft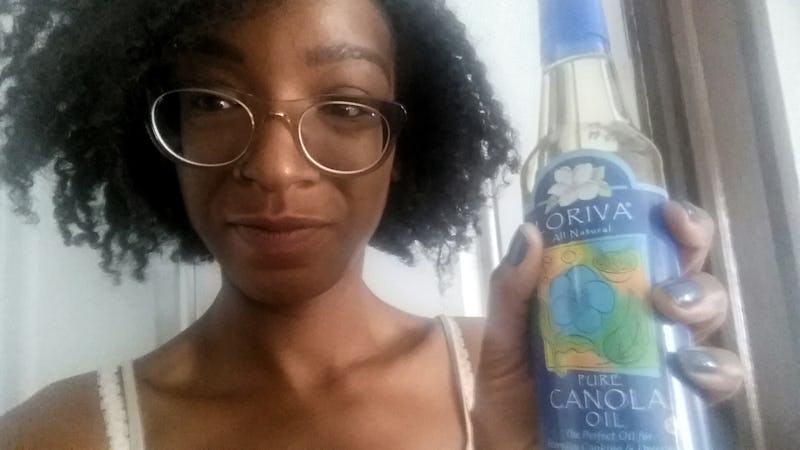 There is no doubt that natural oils can cost as much as over-the-counter moisturizers and conditioners, but using canola oil hair and skin moisturization can be just as effective and cost way less than other oils. After my love affair with camellia oil started to make me hoard my the pricy stuff under my bed in fear that my roommate would cook eggs with it, I realized I needed a cheaper alternative. Finally, it occurred to me that I didn't have to keep my expensive oils locked up in a safe: I could blend my costly oils with the very affordable canola and reap some extra benefits while keeping my hair and skin as soft as a newborn baby's buttocks.
According to sources at Livestrong, this cooking oil isn't just for whipping up a Thanksgiving Day pie. Canola oil contains alpha-linolenic acid and anti-inflammatory properties that are great for your skin and dry tresses. Canola oil is extracted from the edible part of the rapeseed plant, so you'll want to look for labels that say "expeller pressed," "unrefined," and "organic" to ensure the pureness of your oil. Sources at StyleCraze boast about the high amounts of vitamins E and K in canola oil that are amazing for anyone suffering from dryness. Packed with omega-3 and omega-6 fatty acids, canola oil can save you a pretty penny on your natural quest for truly hydrated skin and hair, especially when mixed with a smaller amount of your essential oils.
If you're wondering how you can get all the bennies of canola oil all over your body? These five remedies will save you money and solve your beauty problems.
1. Body Oil
For a tantalizing body oil to use fresh out of the shower, use equal parts canola and jojoba oil. Add your favorite essential oils; my personal favorite blend for this body oil is lemongrass, cedarwood, and frankincense. You won't even need to apply perfume or lotion after!
2. Dry Ends
Hydrating those pesky dry ends that seem to plague your hair regardless of the temperature outside can be a daunting task, but canola oil can help re-up the moisture that your hair has lost. First, spritz water on your ends and then seal in the natural moisture from the water by dabbing canola oil on your ends. I keep my canola oil in a dark container with a pump for easy access.
3. Dandruff Treatment
Those dry flakes on the back of your black turtleneck can be seriously annoying, but look no further for a solution! A blend of canola oil and tea tree oil can keep those dandruff flakes away naturally while moisturizing your scalp.
4. Daily Moisturizer
Keeping my face moisturized without the acne that oil can bring is a hefty task, but canola oil is light and has its own anti-inflammatory properties that can smooth fine lines and wrinkles without erupting your face in blemishes. I tried equal parts canola and coconut oil with about eight drops of lavender tea tree oil for a daily moisturizer and it was seriously heavenly.
5. Hot Oil Treatment
Oils are amazing to restore moisture and get those stubborn locks growing. I have many faves for hot oil treatments, but I'm definitely loving a blend of canola, flaxseed oil, and sesame oil right now. To ensure I don't smell like the inside of Martha Stewart's kitchen, I like to add lavender and clary sage essential oils to my treatment. Trust, these essentials are amazing in hair treatments.
Image: Kristin Collins Jackson (6)