Meet Hillary Clinton's Biggest Supporter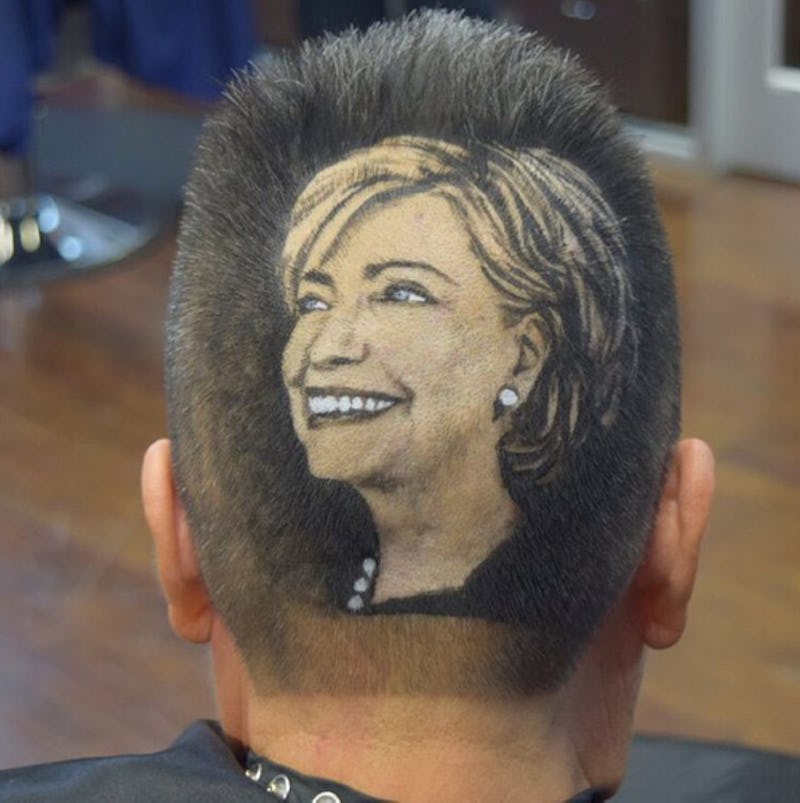 Forget signs, stickers, and buttons. Ahead of Hillary Clinton's campaign stop in San Antonio, Texas Thursday, one super fan decided to show her support in perhaps the most imaginative way possible. Maria Anita "Sammie" Monsivaiz shaved Hillary Clinton's face into her hair, and it's a glorious work of art. But even cooler than the illustration is Monsivaiz herself, who is 70 years old and a total badass. Plus, she's very possibly Clinton's No. 1 fan, given the amount of energy she's put into showing her love. Hopefully, she'll inspire the average sign holder to step up their game.
When Monsivaiz heard that Clinton would be rolling through her city to hold her "Latinos For Hillary" rally, she knew immediately what she had to do. Go online and purchase a Hillary logo bumper sticker? Nah. That's so this level, and Monsivaiz clearly only exists on the next level. What she did instead was call up local celebrity hairstylist Rob the Original, who is well known in San Antonio for using people's hair as canvas for rendering impressive works of art. He's created everyone from Cheech and Chong to the characters from The Walking Dead on people's heads.
And his latest creation was this totally brilliant portrait of Hillary Clinton on the back of Monsivaiz's head.
Boom. Game over. You will never be able to top that — I don't care how big of a supporter you are. Unless you got Hillary's face tattooed over your own, then Monsivaiz will forever be the world champ of showing Hillary love. But that's not all. According to Rob, who spoke to My San Antonio, Monsivaiz also made a painting of Hillary, which she held up at the rally at a restored train station in downtown San Antonio. She makes Beliebers and Directioners' games look weak.
And apparently, this isn't the first time Monsivaiz showed her unparalleled fandom. Besides Clinton, Monsivaiz is also a die-hard Selena fan. Shortly after the singer's tragic death in 1995, Monsivaiz and her friend Esther Alvarado, also 70, tracked down the airbrush artist who worked on a car for a scene in the 1997 movie Selena to create something in honor of the late singer for her own Chevy truck. Again, Monsivaiz is redefining what it means to be a fan.
Since then, Monsivaiz has added additional Selena-themed artwork to her truck over the years, and these days, the San Antonio resident and her Chevy are famous in their own right. I say we all start a fan club for Monsivaiz, because she deserves to see what it's like to be on the other side of the love.
Images: Courtesy of robtheoriginal/Instagram, hillaryclinton/Instagram