Ways To Give Your Skin An Awesome Glow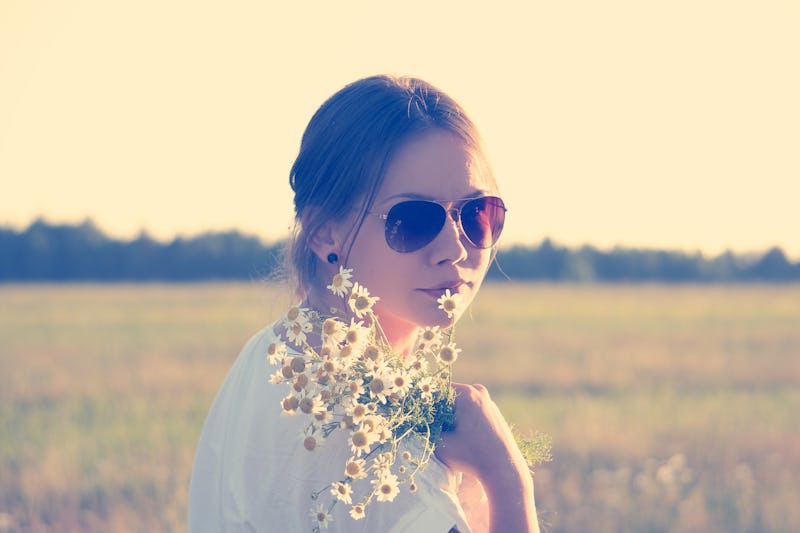 I'm a sucker for a glowing complexion. It's probably one of my most searched items when I'm bored, and I'm constantly perusing sites for tips for glowing, radiant skin that don't cost me loads and loads of money on products or skincare expert appointments. There's just something so appealing about a refreshing, minimal makeup look.
Many dermatologists will first site eating right and sun protection as the first main staples for a healthy complexion. In an article for NBC, New York-based dermatologist Doris Day recommended nuts, as well as salmon and tuna as foods that contain omega-3s that are great for your skin. In the same article, Naila Malik, M.D., recommended cutting your sugar intake, as sugar will break down collagen in the skin over time, making your skin look older and less plump. Other experts in the article suggested making sure you stay hydrated and well-rested as their glowing-skin staples.
However, there are some days (or weeks... or months) when we haven't necessarily been able to stick to that no-sugar, eight hours of sleep a night routine, but we still want our skin to look good. If you're looking for tips for glowing skin, but you aren't necessarily ready for an entire lifestyle overhaul just yet, here are seven go-to tips.
1. Moisturize Right Away
In an article for Women's Health on how to get glowing skin, Macrene Alexiades-Armenakas, assistant clinical professor of dermatology at Yale School of Medicine, recommended moisturizing as soon as you get out of the shower. Alexiades-Armenakas's research shows that applying a moisturizer while your face is still damp locks in moisture for up to 24 hours, improving the appearance of fine lines and plumping the skin.
Paula's Choice Clinical Ultra-Rich Moisturizer, $30, PaulasChoice.com
2. Exfoliate
"Pores appear larger when they're filled with dirt, oil, dead skin cells, and keratin, a protein that lives on the surface of skin," said dermatologist Syed Amiry for Women's Health, "Remove those plugs, and they seem to shrink." Amir recommended exfoliating with daily applications of salicylic and glycolic acid to clear out the gunk as opposed rough physical exfoliants like beaded scrubs.
Paula's Choice 2% Salicylic Acid, $28.00, Paulaschoice.com
3. Vitamin C
In an article for Cosmopolitan on tips for amazingly glowing skin, skincare expert Dr. Terry Loong said, "Vitamin C is a skin superstar: It works to maintain moisturisation, aids skin renewal, and is a damage-fighting antioxidant," and that, "applying it topically is proven to improve radiance." I've personally found that Vitamin C serums can be a little harsh or irritating at first, so don't be afraid to use every other day to build up your skin's tolerance!
Vitamin C Skin Boost, $28, TheBodyShop.com
4. Use The Same Makeup Brush For Various Products
In the same Cosmopolitan article, makeup artist Sharon Dowsett said, "To make skin look beautifully dewy, use the same foundation brush to buff in moisturiser, primer and (luminous) base, one after the other." This will help create a super glowing look.
E.l.f Essential Total Face Brush, $2.00, Eyeslipface.com
5. Use A Facial Spritz
Celebrity makeup artist Charlotte Heyward told Cosmopolitan that she finishes her client's makeup with a few spritzes of facial mist, as she said, "It creates an amazing, glowing complexion." A small facial spritzer in your purse also feels great on days when you just need a little help feeling refreshed.
Evian Mineral Water Spray, $12.50, Sephora.com
6. Highlighting Is Your Friend
One of the absolute fastest ways to create the illusion of glowing skin is with a facial highlighter on your cheeks and in the inner corners of your eyes. Beauty blogger and YouTuber Katerina Williams has a great glowing skin tutorial, and she also recommended using a cream-based blush for an added dewy effect.
7. Wash Your Makeup Brushes
Dirty makeup brushes are one of the fastest ways to clog your pores and create dull skin. "You should wash loose powder brushes every two to three weeks, and those used to apply foundation once a week," said Jessica Wu, LA-based dermatologist and author of Feed Your Face in an interview with Women's Health. Additionally, you should also make an effort to sanitize your cell phone, as a Stanford University study found that the average smart phone has more germs than the average public toilet. Keeping utensils that touch your face clean is one of the first steps towards flawless skin.
Master CleanseL Daily Brush Cleaner, $15, Sephora.com
Glowing skin doesn't have to feel totally unattainable, or just for celebrities on the red carpet. There are a ton of little tips and tricks that will go a long way in helping you see a noticeable difference in your skin, if not even make you feel pretty darn radiant.
Image: Pexels