New Year's Eve Celebrity Snapshots to Color Your Weekend (Or Year)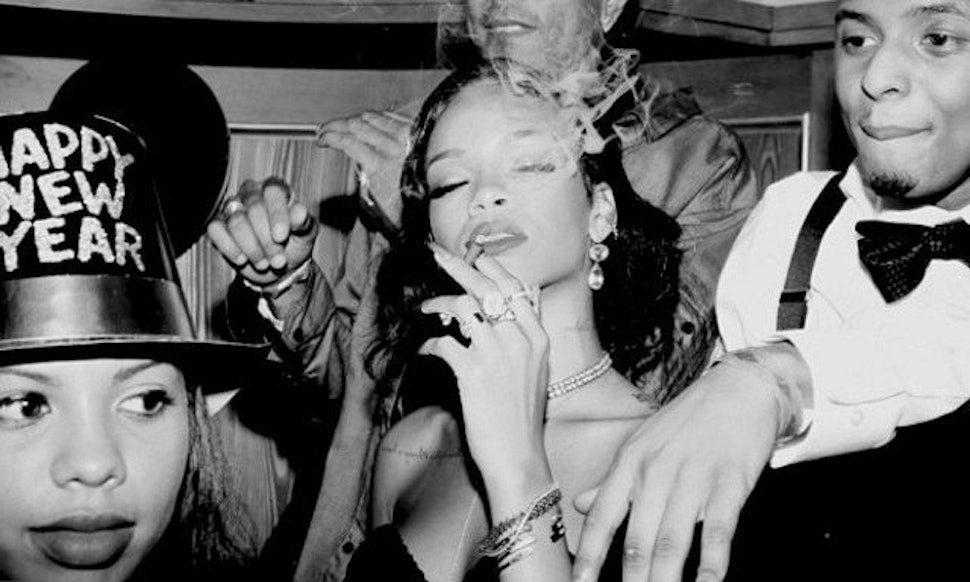 I know, I know, we're a celebrity-obsessed culture and this kind of article is only fueling the fire, but I find that when I'm feeling a little grayscale, sometimes it helps to see what my friends Rihanna and TSwift are up to. This upcoming weekend is the first one of 2014, people, and who says all the ecstatic cheering and frothy, sparkly fashion has to stop? I say it should inspire, and after you see these photos, you'll agree.
Image: @badgalriri/Instagram
Bold lips + best friends
If you're not an all-red-lipstick-all-the-time pro like Taylor Swift, the thought of stepping outside with a bold-hued mouth can be pretty intimidating. That's what easily-wranglable best friends are for.
Image: @taylorswift/Instagram
Re-write those resolutions by hand
If your precious resolutions were haphazardly typed into a Stickies note on your computer desktop, find an antique writing instrument called a "pen," a piece of squished papyrus (that's "paper"), and write them out big and bold.
Image: @elizabethbanks/Instagram
Hang out with your more-than-a-friend
You don't have to get married, like Kaley Cuoco and Ryan Sweeting did on New Year's Eve, but if you were separated over the holidays, this weekend is the perfect time to reconnect. Dancing and fancy dress optional, but highly recommended.
Image: @normancook/Instagram
Wear unusual eyewear
Make 2014 the year of risks on all counts.
Image: @chungalexa/Instagram
Have your girls' backs
It's no secret that we live in a world where women are pitted against each other. See: Gossip Girl. See: the amount of bad-mouthing you and your best friend did behind each other's backs in junior high. Make like Queen Bey and her gaggle of top models and be inclusive, not exclusive, of your own gender this year.
Image: @joansmalls/Instagram
Eat chocolate, then kale, then chocolate
Zooey Deschanel made a chocolate-on-chocolate pie for 2014. Have you resolved, like me, to drink one green smoothie a day or something equally health-conscious? Don't let it kill your lust for life and all its irrational, chocolate-y pleasures.
Image: @zooeydeschanel/Instagram
Go full-on glamorous
One of the things I love about Rihanna is that she just goes for it. While others threw New Year's Eve parties, Rihanna threw THE New Year's Eve party, and hosted it in fur, diamonds, false eyelashes, and a bustier top. Because why be less when you could be straight-up more?
Image: @badgalriri/Instagram
Don't go out at all
Rejuvenate your spirit and your 2014 bank account by curling up in front of the fire. Acceptable substitutions for a fireplace: Netflix account, stove with warm cookies inside, Northern Lights, steaming mug of Nutella mocha.
Image: @laurenconrad/Instagram