5 People You Forgot Were In 'Pay It Forward'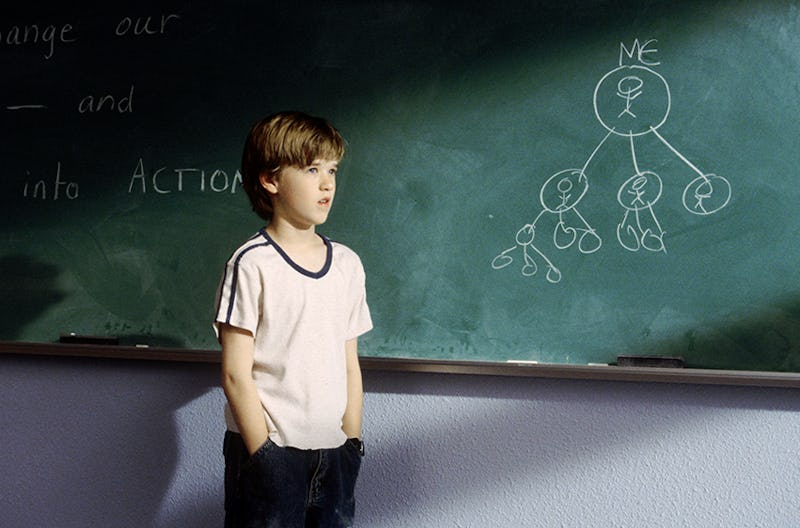 Back in the year 2000, the film Pay It Forward brought three of the biggest actors of the time together in one movie. Audiences were still scarred from Haley Joel Osment seeing dead people in The Sixth Sense, Helen Hun just won an Oscar for the movie As Good As It Gets, and Kevin Spacey was more known for his pre-House of Cards roles. And they're among the many people you forgot were in Pay It Forward , which celebrates its 15th anniversary. If you also forgot about the movie, that's okay — I can get you up to speed.
Pay It Forward is based on a novel with the same name by Catherine Ryan Hide and it follows a young boy named Trevor (Osment) who starts a movement of people doing good deeds for each other — thus "paying it forward" and improving the world. One of Trevor's good deeds? Trying to get his mom Arlene (Hunt) and his social studies teacher Eugene (Spacey) to fall in love. But life and love aren't as simple as paying a good deed forward, thus lots of drama (and melodrama) ensue. The movie got mixed reviews from critics, receiving a 40 percent "Rotten" rating on Rotten Tomatoes.
Aside from Hunt, Spacey, and Osment, here are some people you may have forgotten were in Pay It Forward.
Jon Bon Jovi
The musician appeared in the movie as Ricky, Trevor's estranged father who left the family and makes an ill-timed reappearance in their lives. This isn't his first acting gig, either — Bon Jovi has been in The West Wing, Ally McBeal, 30 Rock, the movie New Year's Eve, and more.
Jay Mohr
The comedian and sports commentator played a journalist named Chris Chandler, who traces the origin of the "pay it forward" fever sweeping the nation. Mohr also starred in the sitcom Gary Unmarried, Ghost Whisper, Jerry Maguire, and — my personal favorite — the movie Picture Perfect, with Jennifer Aniston.
Jim Caviezel
Before he was a Person of Interest on CBS, Caviezel played a homeless man named Jerry who Trevor does a big good deed for — the boy gives the man a home. In return, Trevor fixes Arlene's car. The actor has been in so many other movies over the years, including The Passion of the Christ, Frequency, Deja Vu, and Escape Plan
Angie Dickinson
The Golden Globe-winning actress played Arlene's mother Grace, who gets some love from her daughter finally paid forward.
Molly Bernard
The Younger and The Intern actress played Molly in Pay It Forward.
And the movie helped these actors move forward in their careers. Win-win.
Image: Warner Bros. Pictures