11 Books That Will Put You in a Good Mood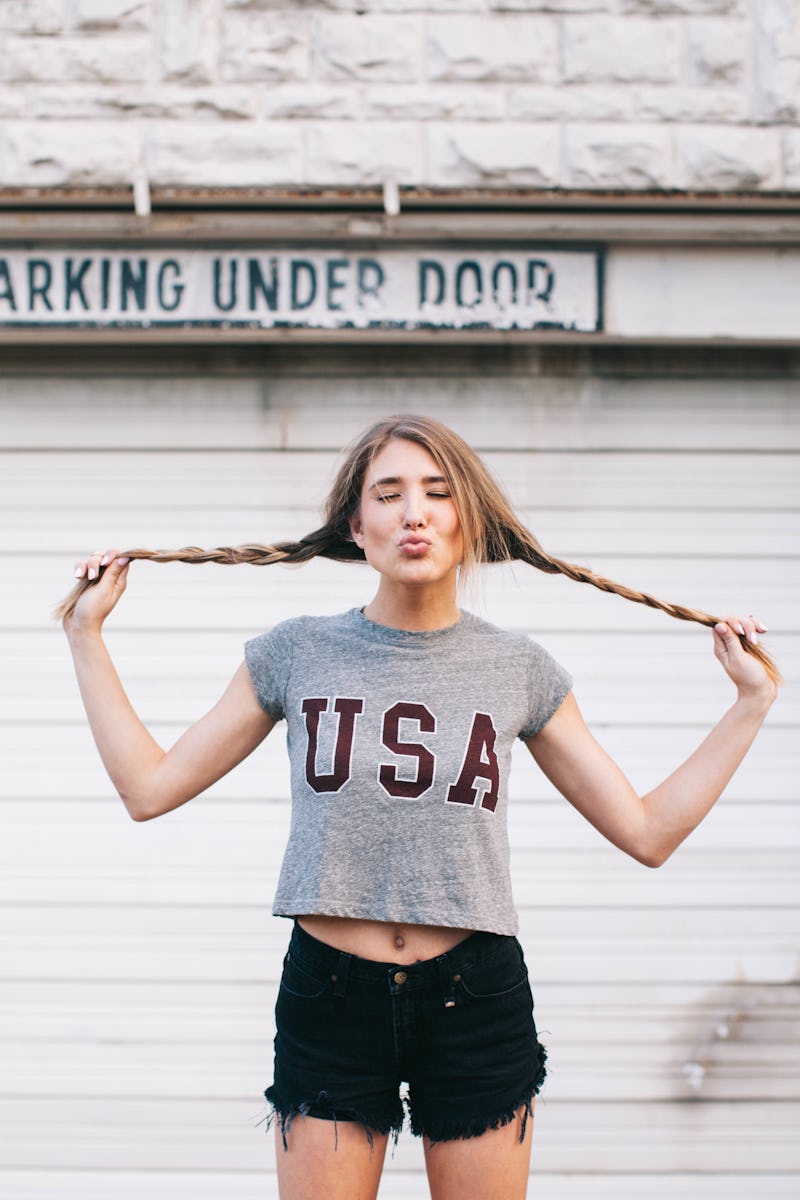 One of the most magical parts of books, by far, is their power to make us feel less alone. They open our eyes, and can change how we think, without us even realizing it. Bookworms are onto something when they chase you down with books, insisting, You have to read this!
When you're in a bad mood, books become (somehow) even more important. When you're in a rut, a good book can make you feel better by taking your mind off of whatever you're going through. Books offer insight, inspiration, and can get you back on your feet. I mean, self-help books exist for this purpose entirely, but fiction is just as powerful. (When you're sad, you don't reach for War and Peace, is what I'm saying.) Revisiting an old favorite, or finally picking up that amazing books everyone's been talking about, will put your bad mood or bad day at the back of your mind, where it belongs.
So, next time your boss is driving you crazy, your friends just don't get it, and you can't even think about talking to anyone else, give one of these 11 books a read. Because really, when all else fails, a good book will never let you down.
Bridget Jones knows the struggles we all go through: the struggle of being single, of maintaining friendships, of nagging mothers, of the workplace, and of course, of weight loss. Bridget Jones's Diary explores every one of those struggles in the most hilarious way possible. Bridget is dramatic and silly, sure, but she will bring a smile to your face, and have you feeling better about your own life in no time! Plus, you can follow up with the movie, because Colin Firth = instant mood boost, yes?
Revisiting a classic childhood favorite is the perfect way to lift your mood, instantly. If Harry could handle not only the Dursleys but Voldemort, you can get through your bad day. It's a good motto to adopt, actually.
We've all had some pretty embarrassing moments. Jenny Lawson just decided to write about hers, making the rest of us all laugh and feel better in the process. Known throughout the internet at The Bloggess, Lawson's first book will be just the pick-me-up you need after a day where things just seem to go from bad to worse.
Francie Nolan didn't have an easy life by any means, but she was always able to make the best of what she did have. Those few minutes with her father at the end of the day. A cup of hot coffee — her one indulgence — was saved for especially hard days, or days when she wanted to make herself feel better. When most bookworms read A Tree Grows in Brooklyn, they relate to her deep love of books and reading, but what we could all learn from, is her unfailing good attitude and good mood, regardless of the world around her.
5. Big Magic by Elizabeth Gilbert
Elizabeth Gilbert made a name for herself forever ago, it seems, with Eat, Pray, Love. But her most recent release, Big Magic, is just as (if not more) uplifting. If you're a creative person feeling bogged down under the weight of your passion, you need to read Big Magic. Gilbert's outlook will help you look at your own life and work in a whole new way, something we could all use every now and again!
Don Tillman is kind of a loner. He's the Sherlock of her workplace, and his romantic life, has been, well, kind of sparse. But Don is on a quest to find a wife. He sets off to find a romantic partner the only way he knows how: scientifically. He titles it "The Wife Project," but he's nowhere near ready for the results. The Rosie Project is a light-hearted, quick read, that is pretty much guaranteed to life your spirits.
We could all use a good laugh every now and then, we just lose sight of our sense of humor sometimes, that's all. Reawaken yours with Hyperbole and a Half. It made headlines when it was first released, and with a sequel on the way, I'd say it's a safe bet that it hasn't stopped spreading the laughter yet. Told in graphic novel form, Hyperbole and a Half will make you feel better about just about everything.
If B.J. Novak didn't win you over through his role in The Office, One More Thing, his collection of short stories will win you over in a heartbeat. Smartly told and hilariously delivered, this one is even better in audio book form, where you can hear it as Novak himself imagined it. If you're wondering what heaven would be life, or if you've ever thought about trying to figure out what Black Matter is, this is definitely the collection for you.
It might be called Aimless Love, but this collection of poetry is anything but. Even if you think you might hate poetry, Billy Collins will be the one to change your mind, and life your mood while he's at it. Trust me.
When you're in a bad mood, or have had a bad day, you might end up feeling like you're on your own personal search for happiness. Francois Lelord's heartwarming tale of one man doing whatever he can to find happiness is one that everyone can relate to. More than that, it might even bring you one step closer to your own search for happiness.
Fried Green Tomatoes at the Whistle Stop Cafe is just a feel-good book. There's friendships, there's love, there's pranks and sarcasm, and tons of quirky, small-town people. If you're looking for something that will lift your spirits, Fannie Flagg is there for you.
Image: Brooke Cagle/Unsplash