Further Proof Constance Wu Is The Best On 'FotB'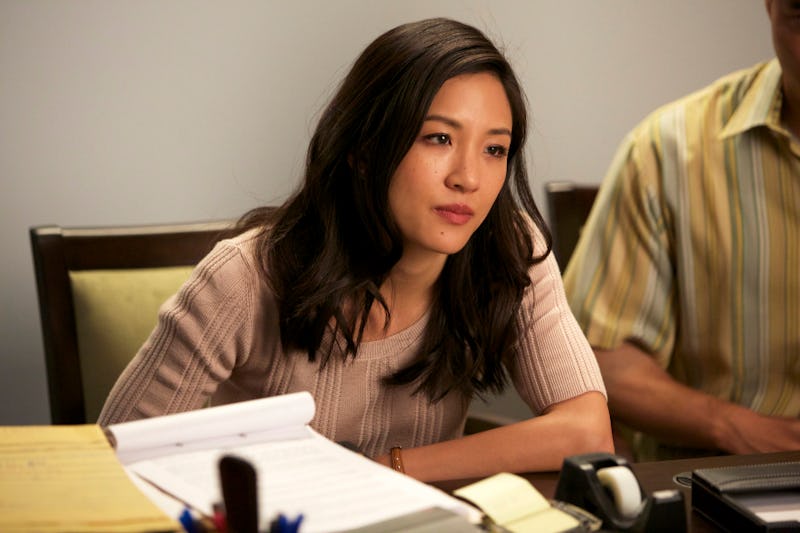 Groundbreaking television shows usually give rise to talented new television stars, and ABC's newish (it's now in Season 2) series, Fresh Off The Boat, is no exception. Constance Wu is by far the breakout star of Fresh Off The Boat (no disrespect to Grandma Huang, of course). As Eddie's mom, Jessica, Wu is the star of many episodes, even when she's not the center of the story. After all, Fresh Off The Boat is supposed to be about little Eddie's experiences. But, no matter — with hilarity, heart, Wu has quickly and effectively become my favorite thing about the show.
Besides being beautiful and talented, Wu is also really, really smart. Born to Taiwanese parents and raised in Virginia, Wu told The New York Times Magazine about her father saying, "My paternal grandparents were illiterate bamboo farmers, so [my dad] really worked his way up and then got a Ph.D., full ride and everything, from universities in America." It is perfect for her to be on a show like Fresh Off The Boat because she understands so deeply what the immigrant experience is like. Wu is also very adamant about diversity in Hollywood, and she likes to explore what it means to be an "other" in Hollywood. In an interview with GQ, Wu said:
I don't think it's bad to say our show is about Asian people, but if you're going to do that, then qualify other shows too. It gives creators an awareness of what they're creating. Right now, shows that are accused of being too whitewashed have this defensive tactic in which they respond with, "I didn't even think about that; it didn't even occur to me." So, instead of using your intelligence to escape culpability, use it to consider the framework from which you speak.
Beautiful, talented, and thoughtful? Wu is certainly hard to beat and her best Fresh Off The Boat episodes prove that time and time again.
"Success Perm"
In "Success Perm," Jessica's sister, Connie, is coming to visit, and the sisters engage in as many activities as possible where they can one-up each other. A success perm? Check. A competition to see who can get in their mother's good graces? Check. The boys sleeping in the pantry so that Connie doesn't know that the Huangs don't have another bedroom? Yep. But my favorite part of the episode was when Jessica and Connie try to out-bargain each other. What can I say? I love a sale.
"Shaquille O'Neal Motors"
And, speaking of sales, it's wonderful that Jessica and Louis decide to celebrate their anniversary by buying a new car in "Shaquille O'Neal Motors." I thought that my own mother was the bargain seeker of the century, but she's certainly no match for Jessica Huang. She got Shaq to give her the best deal possible on a car — with the mats and car washes for free.
"Showdown At The Golden Saddle"
In this episode, we see the usually straight-laced Jessica actually committing a crime — vandalism. Of course, Jessica doesn't see it as a crime because Finnegan wronged Louis on his Golden Saddle deal and thus deserves to be humiliated. So, what do they write on his billboard? "I am a butt." Classic. Also, Jessica loves Caddyshack, which is great.
"Family Business Trip"
You know how you don't know what you've got until it's gone? That's the Huangs in this episode, as Louis begs Jessica to relax on their business trip/vacation. Of course, once Louis gets the bill for the hotel (and all assorted charges), he needs Jessica and Emery's powers of persuasion. This episode also has the best line — "We will be using the sun — nature's towel."
With Constance Wu being this great on a show with just a few dozen episodes, I can't wait to see what else she can do in Season 2 and beyond.
Images: Tyler Golden/ABC; Giphy (4)