7 Ways You Can Still Shop When You're Broke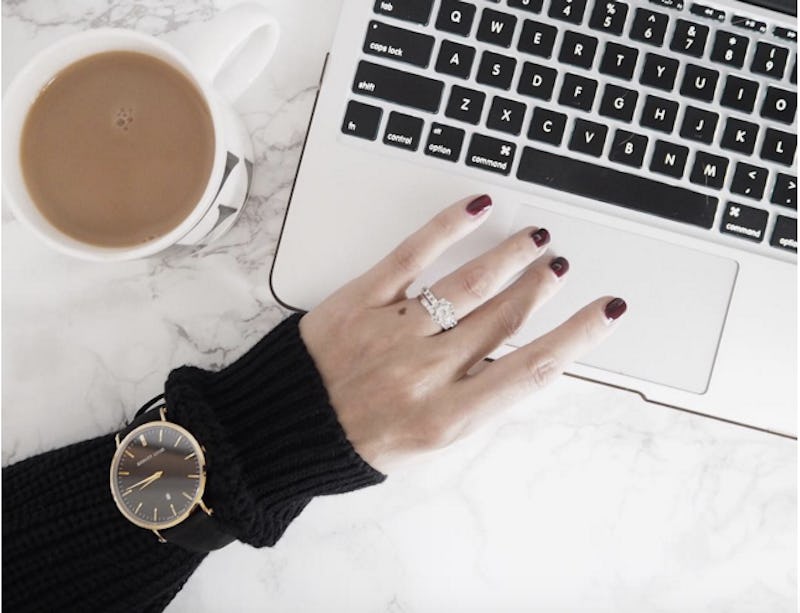 A lot of the times shopping when broke can seem like a no-go. It's just one of those things you have to sacrifice to save money, like your daily latte or your take-me-down-four-blocks Uber rides. The things you put yourself through in order to afford groceries, am I right? But what if I told you you didn't have to lock up your wallet completely and avoid the mall like the plague? What if there's a smart way to shop and still stick to your minimal budget? If there's a will, there's a way, and you can still treat yourself to a new sweater or a fun trend if you keep your head about it.
For example, a lot of the times our shopping cravings are like sugar rushes: You just need a taste to feel level again, but if you have too much you'll feel ill to your stomach. Buying that $200 dress is completely out of the question and will leave you sweating over your credit card all month long, but dabbling in a heavy 80 percent off sale here and there can alleviate some of the withdrawal symptoms. Here are seven ways you can still go shopping when you're broke — because it's completely doable.
1. Wait For The Sales
I know buying that amazing sweater right now is super, super tempting. But honestly, when was the last time you didn't see a full-price item hit the sale rack? A great way to make sure you don't miss those random sales (and get bonus coupons) is to sign up for stores' newsletters.
According to Stephanie Nelson at ABC News, "If you have signed up for the store's email newsletter, you'll be the first to know when their sales begin. Hit the sale while the selection is good. The store may even include a coupon in their sale announcement email. You also can check a coupon code site to find more coupons for the store. By combining the sales price with a coupon or a coupon code, you may save as much as 40 percent to 60 percent well before the season really begins." When you're paying 50 percent of the asking price, there's no real room to feel guilty is there? Not when you're most definitely not blowing your budget.
2. Focus On Accessories Instead
Sometimes that urge to shop hits you, and you want to run down the street with your credit card waving like a white flag. Fight the urge to blow your savings on a whole new wardrobe by just focusing on updating your accessories instead. A sleek new pair of shoes or a gorgeously tailored bag will go a very long way in making old outfits seem fresh, and they won't cost as much as the price of four dresses.
Lifestyle writer Kate Wood shared with LifeHack, "Make your basic wardrobe feel more exciting with inexpensive accessories — think necklaces, bracelets, belts, and scarves that you can mix with outfits you already own...A little accessorizing can make your basics feel fun and special." The lesson? Update your "extras" to give your wardrobe a fun boost, while simultaneously keeping that budget under lock. It gives you the same shoppers high as a spree, but without the remorse.
3. Shop Way Less, But Buy More Expensive
Another great way to allow yourself to go shopping when you're broke is to limit the times you actually hit the boutiques. That might sound cruel, but it's for a good reason. Give yourself a fair trade: If you agree to shop a whole lot less, let yourself buy only luxe, quality items when you do get to go. That way it's a win, win. You not only build a lasting wardrobe, but you also don't blow frivolous amounts of money on at-the-moment trends.
Jill Di Donato, fashion writer for Refinery29 said, "We all know about fast fashion and how to shop at retailers like Zara and H&M for lesser quality designer-inspired looks. But I have secrets for slow fashion and how I learned...to do more with less. A French friend of mine (with impeccable taste) told me that she buys one outfit a year, and it's always Chanel. Over time she's amassed a killer wardrobe." Granted, the bulk of us probably can't afford to walk into Chanel and ask for a blouse, but you can head into other boutiques and buy quality sweaters or gorgeously made dresses.
4. Go Thrifting
If you just have the urge to bring bags heavy with new items, avoid the mall and go thrifting instead. That way you'll spend anywhere between $2 to $20, which is completely guilt-free territory. And sometimes you'll be surprised over the treasures you can dig up. According to finance writer Natalie Alex at Budget Ease, "The truth is you can find tons of stuff in thrift stores that you normally wouldn't in other places for great prices. In addition, many thrift stores have days where the already discounted merchandise is discounted even further. This can make an already cheap pair of pants as cheap as pennies on the dollar." One thing you can always plan to find in thrift stores is basics, but sometimes you can also find a designer dud or a gorgeous vintage piece. It's all about the hunt.
5. Buy For Opposite Seasons
I know buying leather sandals during pumpkin spice season isn't completely satisfying, but if you want to shop when you're broke, this is a great way to. Last season's options will be slashed up to 80 percent off, which means you can nab some pretty amazing items for a complete steal. According to budget writer Trent Hamm at The Simple Dollar, "We buy most of our summer clothes in early fall. We buy most of our winter clothes in early spring. In early fall, retailers are getting rid of their summer stuff and there's often a ton of sales with incredible markdowns on pretty high quality garments." Instead of heading for the sweaters, make a detour and see what's left of the summer rack. You just might find your new favorite dress or a gorgeous pair of shoes for less money than your lunch salad. You'll be happy you did when May rolls back around.
6. Put A Limit On Your Fun Purchases
If you restrict yourself for a long period of time, eventually you may crack and end up buying a large amount at one time. If you're broke, that's a terrible, guilt-riddled occurrence. So to keep yourself from going crazy, setup some fun purchase ground rules.
Tell yourself you're allowed one to two fun, frivolous purchases a season, and spend the next couple of months hunting for that goody. That way you're pretty much just window shopping all season, but with a real chance of taking something pretty home if it rubs you the right way. Lifestyle contributor Erin Roberts at Apartment Therapy advised, "Set a limit for yourself of how many fun, non-basic items you're allowed to buy. I tend to allow myself 2-3 non-basic purchases for each season (summer/winter), but I don't invest the same kind of money in these purchases as in my basics." It's a whole different feeling when you're just allowed to look and when you're allowed to look and take home... just with caution.
7. Don't Shop — Hunt Instead
Sometimes a gal can't wait till the huge mid-season sale and pokes her head into a store when it's all full-price. But because nothing is tagged with red stickers doesn't mean you can't find a total steal. A great way to let yourself shop when you're broke is to come into a store with the mentality not to browse. but to hunt. Every store has a surprising deal, you just have to be willing to find it.
According to Wood, "Stores tend to put the priciest items right in the middle of the sales floor, and especially at higher-end boutiques, they aren't excited to showcase the clearance rack. Walk around the edges of the shop, and keep your eyes peeled for deals. Stores are carefully laid out to try to encourage you to spend money, so the most discounted items may be the hardest to find." Don't just head to the thick of the store and think you've seen all they have to offer. There might be a great sweater for a surprising cost, or a dreamy pair of shoes tucked away underneath a table for an amount you wouldn't expect.
If you have the patience to practice a little self control and put a little extra effort into keeping track of how much you're spending and how much you're saving, then you can still walk away with shopping bags swinging in your hands even if you're broke.
Images: emmahill/Instagram