There Are New 'Mockingjay, Part 2' Images, Guys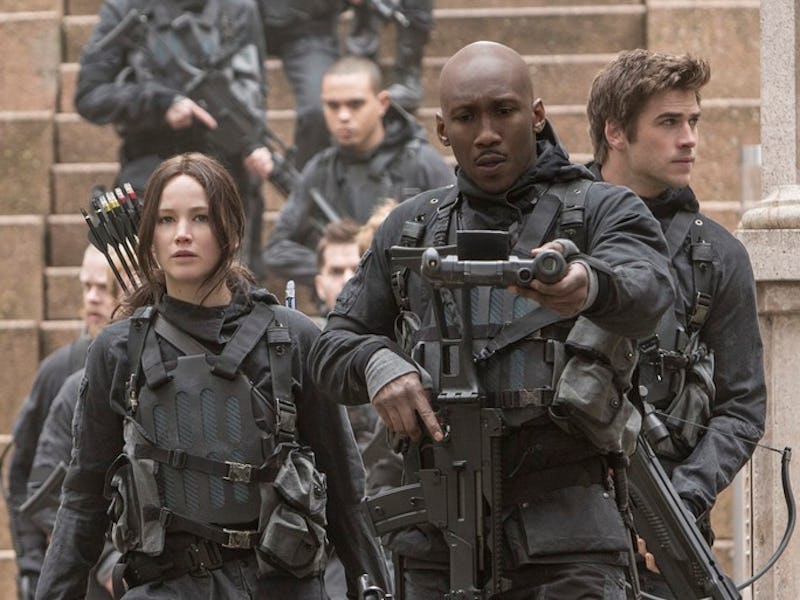 There are only just over two weeks left until the release date of The Hunger Games: Mockingjay — Part 2, and it's no wonder that people are practically tense with anticipation of the final chapter in the saga of Katniss Everdeen. This is the movie series that made Jennifer Lawrence a household name, with everything that came after it adding to the fan fervor and everything that came before it being added to the public zeitgeist as retroactively amazing. Just in case you weren't excited enough, the official The Hunger Games Twitter has spent the weekend releasing amazing new Mockingjay — Part 2 images for fans to enjoy, and, unsurprisingly, they paint a pretty grim picture of the pretty grim movie.
The images released include looks at Pollux and President Coin, Haymitch and Prim, Messalla and, of course, everyone's favorite heartthrob Finnick Odair. If you're expecting any smiling faces here, then you are about to be incredibly disappointed, because these images aren't exactly of moments of happiness during what is essentially a war movie. Instead, the expressions range from determined to scared to angry. All I'm saying is, if I were President Snow, and I had all of these faces looking at me across a battlefield, I'd probably resign right then and there.
Check out the images below.
1. Messalla Looks Worried
Has he been caught in the middle of a mission? Is he just thinking about lunch? Who knows?
2. Finnick Looks Scared
And attractive. Not that, uh, that should be a priority right now. Because it's not. But look at him.
3. President Coin Looks Taken Aback
Did Katniss lay the verbal smackdown on her again?
4. Prim Looks Like She Needs A Hug
Give Prim all the hugs, guys. All the hugs. Before it's too late...
5. Haymitch Stares Into Your Soul
And then he swallows it. Oh, wait, that's Dementors. Whatever. Either way, he still looks like he's trying to psychoanalyze you with a single, sweeping gaze... and like he might succeed.
6. Pollux Looks Kind Of Peaceful
Almost like he's listening to something, like instructions or a speech. Who is he looking at? What is he doing? These questions and more will be answered when Mockingjay — Part 2 premieres on Nov. 4. Until then, we'll just have to gaze upon these pictures and try to draw our own conclusions.
Image: Lionsgate