#PumpkinSpiceHair Is Officially A Thing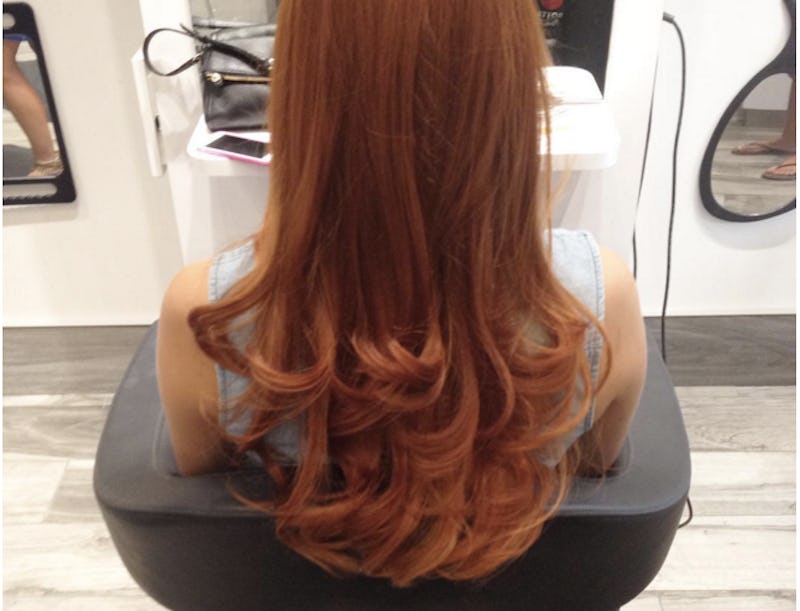 Red hair has long been a coveted shade — after all, from deep burgundy to auburn to strawberry blonde, there's a shade for everyone. This fall, however, it looks like the longstanding trend is getting something of a rebranding — buckle your seatbelts, because Pumpkin Spice Hair is officially a thing. It was only a matter of time, really, what with pumpkin spice making its annual bid for world domination (and, on a smaller scale, domination of your local Trader Joe's). It just makes sense. I mean, when you think about it, it's only logical that humans now come in pumpkin spice.
Besides, it's a fun way to celebrate fall; what's more autumnal than auburn? And come on, most of us have considered dyeing our hair red at least once, right? With all the rad red-headed pop culture icons out there, there's no denying that pumpkin spice has been a popular hair color, long before pumpkin spice lattes even existed. I mean, there's Joan Holloway from Mad Men, Amy Pond from Doctor Who, and Sansa Stark from Game of Thrones — heck, if you play your cards right you can get in on all the #PumpkinSpiceHair fun while also acing your Halloween costume in one fell swoop!
The shades run the gamut from Jessica Rabbit red to a subtly-tinted mahogany.
So pretty.
OK, so maybe it's pretty much just red hair. Call it what you want — it's gorgeous.
As of the writing of this post, the "pumpkin spice hair" hashtag only has just shy of 170 posts on Instagram, but it might just be a trend that blows up, what with all of the (practically) scientifically proven benefits of the pumpkin spice latte.
Will you be pumpkin spice-ifying your hair this fall season? It might finally be time to make the leap — do it to appease your pumpkin spice overlords!
Images: studiomehair/Instagram