6 Audrey Hepburn Halloween Costumes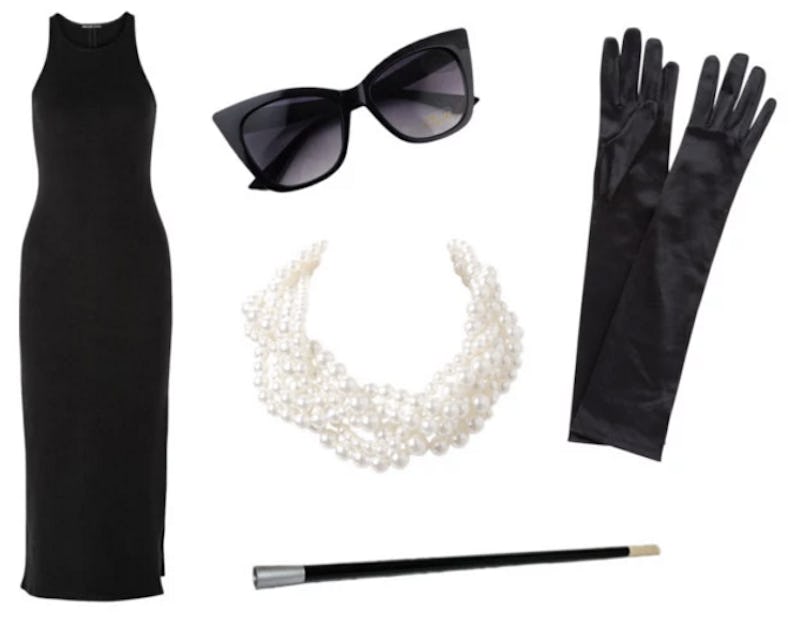 Every year, there seems to be the same repetition of Halloween costume ideas over and over. The most frequent costumes include your usual suspects: cats, pirate, and superheroes. Audrey Hepburn Halloween costumes are a little less common, but are still done pretty often — however, there's something so stylish and chic about an Audrey Hepburn look that they never really go out of style, making them a great choice for the holiday. And why not find a costume that is actually fashionable and you feel fabulous wearing?
As all fashion superstars know, Audrey Hepburn's sense of style is iconic. Off duty, she was a huge fan of put-together ensembles, from full-skirted dresses to fitted pants and off-the-shoulder top combos. On-screen, however, the characters she played during her extensive acting career were equally stylish. Whether you have seen any of her famous films or not, now is a great time to watch them and just soak in the fashion gold. Especially if you intend to dress up as one of the characters she's played over the years.
The best fashionable costumes, in my experience, are those that are relatively easy to put together, look impossibly chic yet are super comfortable, and aren't super recognizable. It shows off your creativity and ability to put together a costume without buying a pre-packaged ensemble. Here are six costumes inspired by the characters Audrey Hepburn played during her lifetime and have a very fashion-friendly Halloween.
1. Holly Golightly (Dressed Up)
The original single and fabulous New Yorker, before Carrie Bradshaw was even born — or hopped around town in designer footwear. Get Holly Golightly's most iconic look from Breakfast At Tiffany's this Halloween with a few pieces you already have in your closet, plus a few cheap buys. Put that LBD to good use and along with some black shades, then add a pile of costume pearls, some black satin gloves, and a long cigarette holder. Now, dig into a pastry and enjoy some diamond window-shopping!
James Perse Stretch-Fleece Midi Dress, $376, Net-a-porter | New Coming Mixed Color Over Sized Cat Sunglasses, $9, Romwe | Humble Chic NY Twisted Bauble Necklace, $38, Humble Chic | Long Cigarette Holder Plastic Costume Accessory, $6, Amazon | John Lewis Long Satin Evening Gloves, $20, John Lewis
2. Holly Golightly (Dressed Down)
My personal favorite Breakfast At Tiffany's look, Holly's "I just hopped out of bed this glamorous" ensemble is equal parts comfy and chic. Simply buy the right supplies — a sleeping eye mask and some fringe earrings — and throw on an oversized button-up or tuxedo shirt (for the most authentic version!). Take a champagne glass with you to complete the costume.
Nasty Gal Risky Biz Shirt Dress, $48, Nastygal | Baublebar Acid Fringe Drop Earrings, $34, Bloomingdales | Breakfast At Tiffany's Sleep Mask, $32, etsy | Camille Champagne Coupe Glass, $11, Crate and Barrel
3. Roman Holiday
Although it isn't super realistic to bring along a vespa and a handsome Italian to your Halloween party, you can still achieve Audrey's Roman Holiday look in no time. Find a light blue floor-length skirt, a simple cotton button-up, and a striped neck scarf to finish off this simple, but adorable look.
Stylish Chiffon Maxi Skirt, $19, May Kool | White Short Sleeve Boxy Shirt, $60, River Island | Xhiliration Striped Fashion Scarf, $9, Target
4. Funny Face (Casual)
Warning: This look requires you have the dance moves to back it up. Pair a black turtleneck with black cigarette pants, some loafers, and white socks and you'll be ready to take the stage, just like Jo Stockton in Funny Face.
Long Sleeve Turtleneck, $39.50, anntaylor.com; Topshop Cigarette Pants, $38, nordstrom.com; Casual Patent Leather Flat Loafer, $25, luxurydivas.com; Hansel From Basel Large Polka Dot Sheer Crew Socks, $25, lanecrawford.com
5. Funny Face (Formal)
For one of the more glam Funny Face options, although there are many, start with a red color palette. You'll need a strapless red number and matching shawl, some white satin gloves, kitten heels, and gold jewelry aka the Old Hollywood movie star look.
BCBG Strapless Crepe Gown, $270, Lord and Taylor | Nakamol Multi-Strand Pearl & Golden Bead Necklace, $49, Last Call | Prada Suede Kitten Heel Pumps, $640, Barneys | Satin Bridal gloves, $21, Luxury Divas | Spring Fling Shawl, $29, Travel Smith
6. How To Steal A Million
Get ready to steal millions and hearts with the mischievous, yet endearing costume. It's all about lace and diamonds — the perfect combo for a fashionable Halloween costume.
Chay Lace Crop Shirt, $270, Whistles.com | Cara 'Look At Me' Crocheted Mask, $25, Nordstrom | Rhineston Geo Clip Earrings, $6-8, Burlington Coat Factory
See? There are countless outfits for after Halloween with these costumes, and that's the best part of all.
Images: Giphy (6); Courtesy Brands