9 Halloween Makeup Ideas Using Only Eyeliner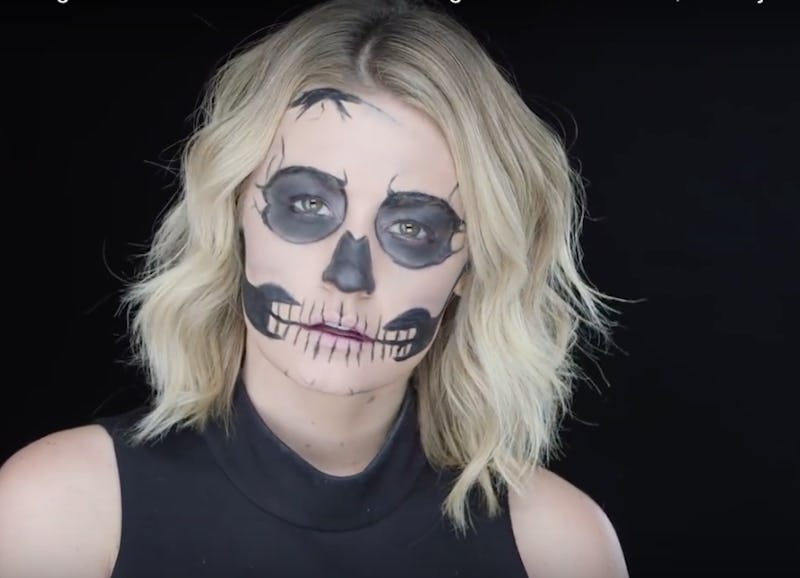 Are you not quite ready for Halloween? All of a sudden, you have office parties and friend gatherings and you don't have a costume. No worries, because you can create looks with things you already have. Here are some last minute Halloween makeup ideas using mostly (or only) black liquid liner because you don't have the time, money, or energy to use a million makeup products for a look you're only going to wear for a few hours. Black eyeliner — whether its gel, liquid, or a kohl pencil — is a necessity for creating stunning Halloween looks. You can outline adorable kitten whiskers and leopard spots, or illustrate a skeleton or elaborate mask. Whatever look you're drawn to, you can likely create it right at home with the supplies you already have. Below, I rounded up some of the best looks you can make using black liner. While some of these call for solely liquid liner, I would encourage you to work with whatever liner formula you feel more comfortable with. Some of these are really intricate and best used with a gel or liquid liner and fine pencil or liner brush. Other looks are a little easier, and can be pulled off with a pencil or chubby eye shadow stick. Basically, the rules are that there aren't any rules. Feel free to adjust any tutorial to fit your comfort level.
Here are my top favorite Halloween looks that put black eyeliner in the spotlight.
1. Mummy Halloween Makeup Tutorial
Basically, all you need is a black eyeliner gel and pencils to recreate these scary eyes. If you don't have the super fair foundation for the rest of the look, use white powder.
2. Instant Costumes Using Only Liner
Can't decide what to go as? This quick tutorial gives you lots of options and a short supply list.
3. Eyeliner Halloween Masquerade Ball Mask
If you're a pro with a tiny liner brush and gel liner, this one is for you. It's ambitious, but the end result is stunning.
4. Black Swan Halloween Makeup
This is a great idea if you want to throw together a quick costume. With a quickly made (or bought) tutu, some tights, a black body suit and a ballerina bun, you are easily the scariest version of Natalie Portman.
5. Black Widow Makeup
There are so many ways to interpret this costume. You could go as scary or sweet as you want, or settle for something deceptively in-between.
6. Mime Makeup
This one is my favorite. With a dramatic set of false lashes, this costume looks feminine but still fierce enough to win you any costume contest.
7. Sexy Black Cat Makeup
This classic costume can be individualized based on how you approach the makeup. This look is spooky as is, but colored contacts would take it to the next level.
8. Queen of the Dead Makeup
Nikki is usually focused on pretty makeup, so this stunningly scary look isn't something fans are used to. Recreate the mouth with black eyeliner. The eyes can be as scary as you can handle!
9. Real Housewife from Hell Makeup
RHONY fan? This is a great costume idea that you can throw together with what exists in your closet.
Want more Halloween fun? Check out the video below and subscribe to Bustle's YouTube channel!
Images via Popsugar Beauty/YouTube