9 Super Quick Halloween Makeup Tutorials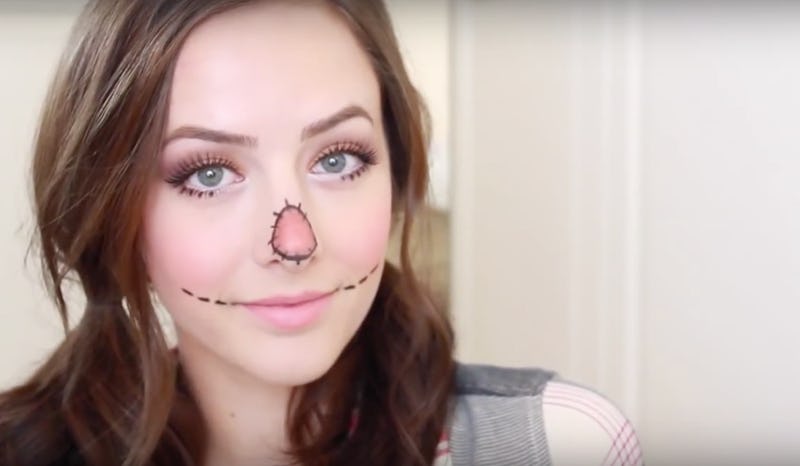 Costumes can be expensive, but you don't have to spend tons of cash on your Halloween makeup. You can do elaborate, intricate, and killer Halloween makeup using products you already own, like black eyeliner and that too-light foundation at the back of your drawer. Don't believe me? Here are nine last minute Halloween makeup ideas using products you already have.
From fall eye shadow palettes to bold red lipstick and gold glitter, chances are you have everything you need this Halloween sitting right in your current makeup collection. The only reason you haven't already realized this? You have to get creative and step outside the box. A gray eye shadow can be used to carve out a hallow skeletal cheekbone while a red lipstick can be used to create dripping blood. When it comes to makeup, there are really no rules. Challenge yourself to think up some seriously unique makeup ideas. I think you'll be impressed by what you come up with.
If you feel intimidated by a tutorial, know you can do as much or as little as you feel comfortable with. When in doubt, keep it simple: If you mess up, you can always wet a Q-tip with makeup remover and touch up any slips.
Here are my favorite, easy Halloween tutorials you can do with the makeup (and skills) you already have. From scary to sweet, here's all the options you have for a last minute costume.
1. Halloween Drugstore Scarecrow Tutorial
This look is pretty and sweet, and totally easy to do no matter what your level of makeup skill. If you already have a fall eyeshadow palette and a dark kohl liner, you're set.
2. Easy Zombie Bride Tutorial
Zombies are a go-to costume that can easily be individualized. Want to be a zombie ballerina? A zombie princess warrior bride? Go for it! Don't forget to use a lighter foundation than usual to look extra dead.
3. Drugstore Vampire Makeup
While the heyday of Twilight is mostly over (forgive me, Twi-hards) going as a vampire is as classically Halloween as pumpkins and black cats. You can vamp it up (heh, get it?) with a cool toned red lipstick — a color that looks great on every skin tone.
4. Morticia Adams Makeup
Remember this classic, moody character? If you already have a stash of black and purple lipstick, this one is for you.
5. Jessica Rabbit Makeup
Create this classic sexy Halloween costume with some of your favorite makeup must-haves.
6. Comic/Pop Art Makeup
This costume allows you to be super creative with your clothes — you can go as Wonder Woman or Black Widow, or any comic character in-between. If you don't have a cape (or time to track one down) you can go as a standard comic character. No one will care because they won't be able to stop staring at your face!
7. Star Wars Droid Costume
If you're a Star Wars fan, this costume is for you. It's super pretty and easily achieved with gold makeup (Urban Decay's "Half Baked" is practically a staple in every makeup collection). If you have pigments handy, spray glitter glue or drugstore setting spray on your brush before applying.
8. Cheshire Cat Tutorial
Cats are a pretty common costume, but you don't have to go as an adorable kitty. This mischievous take is part spooky and part cute, and guaranteed to get some nods in the costume competition.
9. Jack Skellington Tutorial
This one is pretty scary, but think of it as a smoky eye gone extreme. Remember, blend until your hand feels like it will fall off, and then keep blending.
Want more Halloween fun? Check out the video below and subscribe to Bustle's YouTube channel!
Image via GettingPretty/YouTube