Nobody Puts Bindi In A Corner On 'DTWS'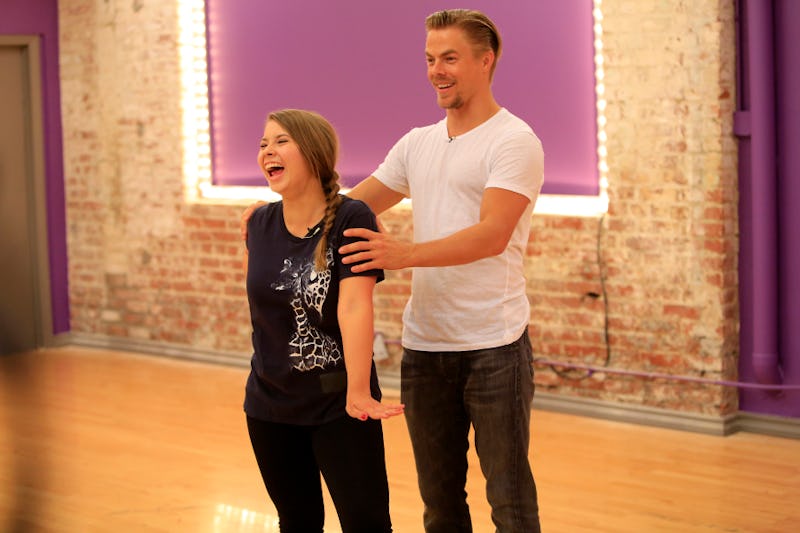 Halfway through Season 21 of Dancing With The Stars, and the dances are getting better while the stakes get higher. You know what else got higher on Dancing With The Stars this week? The drama, because Bindi Irwin and Derek Hough did the Dirty Dancing lift. Yes, you heard that right—Bindi Irwin and Derek Hough were assigned the mega-iconic dance between Patrick Swayze and Jennifer Grey (who made an appearance) to "(I've Had) The Time Of My Life" in Dirty Dancing, and boy, oh, boy was it fun to watch.
It was especially fun because no one—not even Bindi and Derek—was sure that they would actually nail the lift. I mean, it's not exactly easy to lift a human being over your head, and Derek even said that it was the most scared he's ever been during a dance. That was music to Bindi's ears (not). The dancing duo even tried the lift in a very smelly creek (just like the movie did), and it didn't go well there either. Probably because they kept complaining that it smelled so bad. Luckily, when it came time for the big show, Bindi and Derek gave it their usual all, and the lights went up and the song slid into a crescendo and bam—Bindi was up in the air like she was supposed to be. Barely even a quake on Derek's part.
As with nearly all things that Bindi and Derek do together, this dance was a smash hit with both the audience and the judges. Bindi and Derek earned a perfect "40" score, making them only the third couple of the competition and the second of the night to get straight "10s" from Carrie Anne, Julianne, Olivia, and Bruno. The competition is getting stiffer, folks, and Derek and Bindi are totally in Dancing With The Stars and on the hunt for that Mirror Ball Trophy.
Images: Greg Zabilski/ABC